Message from the director of the Western and Central Africa Division
A year ends. A year starts. As Western and Central Africa struggles to meet the Millennium Development Goals, it seems that few countries in the region are likely to reach the targets of halving extreme poverty and hunger by 2015. The region continues to face a number of serious development challenges.
However, there are positive trends to build on. Overall in 2007 economic growth has been robust in the region. Growth in agricultural production in many countries has averaged more than 4 per cent. Population growth constitutes an opportunity as urban markets for agricultural products expand. Farmers' organizations and civil society are playing an increasing role in policy development, programming and facilitating farmer access to inputs and markets. With increased stability in the region, prospects could be bright if major constraints are addressed.
The IFAD portfolio in the region comprises 49 ongoing loan-financed programmes and projects, for a total amount of about US$1.3 billion including cofinancing. IFAD's role is to help governments produce enough food to feed their people and generate enough income to lift a substantial number of poor rural people out of poverty.
This entails supporting water control and small-scale irrigation, technology, and access to input supply and local and regional output markets and rural financing. As agriculture is central to the livelihoods of the majority of poor people and the national economies in most of the region, investments in agriculture and rural non-agricultural opportunities remain critical.
IFAD promotes innovative and effective programmes that can be replicated and scaled up. It also supports policies that contribute to ensuring expanded agricultural and rural development growth. The vision here is that West Africa will be enabled to lift itself out of poverty and hunger.
Taking into account IFAD's strategic objectives for the period 2007-2010 and the challenges faced by poor rural people, IFAD's loan and grant programme in Western and Central will focus on the following priorities in 2008:
supporting the building of inclusive value chains and rural enterprises
increasing equitable access of rural households and enterprises to financial services and local, regional and international input supply and output markets
increasing access of poor rural people to technology and innovations to promote sustainable agricultural productivity and food security
fostering equitable access to natural resources (especially land and water) and maintaining the quality of the resource base for agriculture in the context of climate change
increasing resilience to vulnerability, natural disasters and pandemics, and food insecurity, particularly in the Sahel
Institutional development and capacity-building, particularly for farmers' organizations and microenterprises will remain a cross-cutting priority. IFAD-supported activities will also contribute to improving agricultural policies and Poverty Reduction Strategies to ensure positive impacts on the livelihoods of poor rural people.
The division plans to mainstream knowledge-management activities in a more systematic way in country and regional programmes and projects. It will improve monitoring and evaluation, focus on learning from field experience, especially in thematic areas such as community-driven development, rural finance and gender, through direct supervision and evaluation, using thematic and regional networks such as FIDAfrique to disseminate the knowledge acquired.
This year, IFAD will hold two learning events in Western and Central Africa: a regional innovation workshop/fair and a regional implementation workshop with the participation of all IFAD partners. Both these occasions will be an opportunity to meet, learn, share and create the best conditions for us to contribute to development effectiveness in the region.
There are big challenges ahead. But with a renewed and strengthened partnership with all stakeholders, we will meet our goal.
Dear readers, I would like to complete this message by wishing all of you a very happy New Year for 2008.
---
Special features on innovation
Scouting and sharing innovations to improve the livelihoods of poor rural smallholder farmers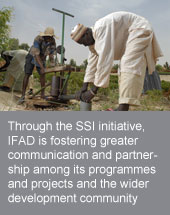 In Western and Central Africa, many innovations have been identified and developed within IFAD programmes and projects. However, often there is limited knowledge of the existence of innovations outside the project context. No systematic approach or mechanism exists to identify, harvest and disseminate innovations between IFAD programmes and projects and with the wider development community.
To address this gap, IFAD initiated the Scouting and Sharing Innovation (SSI) Initiative in Western and Central Africa in mid-2007. The initiative will identify and document innovations and foster a forward-looking process of exchange and partnership among producers, the private sector and international organizations involved in developing and sharing innovations in the region. It will also contribute to the regional agricultural policy and strategy processes, such as the Economic Community of West African States (ECOWAS) Agricultural Policy (ECOWAP) and the New Partnership for Africa's Development (NEPAD), that are being developed. The SSI initiative deals with innovations that have a regional scope or those that have the potential to be adapted to different contexts in countries in Western and Central Africa.
The SSI initiative will:
promote, develop and build on innovative processes, technological innovations and promising practices developed by IFAD programmes and projects, development partners and producers
document, analyse and disseminate innovations that have potential to be implemented in IFAD-funded programmes and projects
develop communication tools, in collaboration with programmes and projects, regional partners and various actors in order to present the innovations
support the development of wider innovation identification and sharing processes in the region and create an innovation sharing mechanism between the programmes and projects financed by IFAD and its partners
The initiative is carried out in partnership with a range of development actors and partners, including the West Africa Rural Foundation, the Technical Centre for Agricultural and Rural Cooperation, the Sahel and West Africa Club/Organisation for Economic Co-operation and Development and FIDAfrique.
The SSI initiative involves a process of scouting for innovations in the region alongside consultations with regional actors through electronic surveys and face-to-face meetings. Over 70 innovations have already been identified and documented, and will be made available on the FIDAfrique website.
IFAD will hold a regional innovation workshop/fair in collaboration with regional partners in March or April 2008 in Ouagadougou, Burkina Faso, to provide an opportunity for people to share innovations widely across the region. This will bring together a variety of actors, from farmers to representatives from the private sector, development agencies and regional institutions, both from within the region and outside to maximize impact.
For more information, please contact:
Useful links:
---
Innovative solutions for reducing rural poverty in Western and Central Africa
Financial Services Associations: providing access to financial services in rural areas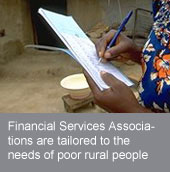 IFAD developed the Financial Services Association (FSA) model in Benin in 1997 to address the constraints poor people face in gaining access to financial services in rural areas in Africa. The FSA model offers a lower-cost and potentially sustainable solution in rural areas that are initially unattractive to formal financial institutions.
FSAs are set up at the community level. They are owned and managed by community members who buy shares in the FSA. The main challenges are ensuring locally-based self-management of the FSA, its outreach and sustainability. In terms of outreach, FSAs operate in rural communities that would not be viable for many other forms of financial services organization.
In 2004, IFAD's Rural Finance thematic group carried out an in-depth review of the FSA model by conducting a field study of more than 200 FSAs in Benin and Kenya – the two countries where they have had a far-reaching impact. The aim of the study was to build on experience gained so far, formulate ways to further strengthen FSAs to make them more sustainable and prepare for the replication of the FSA model in other countries and regions.
In Benin, the success of the FSAs encouraged project coordinators there to engage in policy dialogue and advocate for microfinance with national institutions responsible for overseeing savings and lending systems. IFAD projects have provided support to the Government of Benin in defining the country's rural microfinance policy. The government approved the microfinance policy in 2006 and has recently established a vice-ministry for microfinance development.
The innovative FSA model has since been extended and implemented in Guinea, Mauritania, the United Republic of Tanzania and Uganda and more recently in Sierra Leone.
For more information, please contact:
---
Video viewing clubs to train cocoa farmers
Across West Africa cocoa extension efforts remain weak. Traditional cocoa extension methods in use locally tend to focus on blanket technical messages or involve input-driven strategies. While participatory training approaches such as farmer field schools (FFSs) have proven effective in training cocoa farmers, the success of such approaches is highly dependent on the quality of facilitators. Recent experience in several countries suggests that ensuring good technical and facilitation skills among FFS facilitators is a key challenge.
The International Institute of Tropical Agriculture's Sustainable Tree Crops Program (STCP) recognized the need for innovative farmer training and extension approaches to improve cocoa productivity in West Africa. The institute chose to use video. This tool for training farmers and rural people is not new in West Africa but there are few examples of its application for training tree crop farmers.
In 2006, the STCP started video viewing clubs in Côte d'Ivoire and Ghana. Video viewing clubs are a method for group learning using video coupled with guide books, guided discussion and field activities. The videos used in the clubs are either developed in a participatory manner, with farmers involved in the conceptualization and filming, or by video professionals. The STCP is testing both approaches, using participatory videos for training in Ghana, while videos developed by communications professionals are being used in Côte d'Ivoire.
Using videos for training tree crop farmers makes it possible to visualize new techniques and practices, and to show in a short time something that takes place over a long period. Farmers who cannot read and write are able to learn. It also allows information to be packaged in such a way that it is transmitted accurately from technical sources to farmers. The clubs are thus a more effective way to convey technical information and knowledge about cocoa production to small-scale farmers. There are still challenges to be addressed though, such as difficulties finding power sources to run the videos.
For more information, please contact:
Sonii David, Regional participatory extension specialist, STCP, International Institute of Tropical Agriculture, s.david@cgiar.org
---
Stories from the field


Cameroon: empowering women through village coordination committees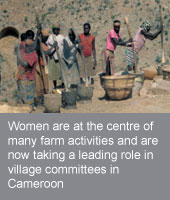 Emilie Nyate used to depend on small-scale farming for subsistence. Today, thanks to training she received from the Roots and Tubers Market-Driven Development Programme (PNDRT) in Cameroon, she is a consultant for setting up cassava multiplication farms and a major producer of cassava cuttings. With the proceeds from her activities, she is able to finance the education of her six children, two of whom are in university.
Emilie Nyate is the president of the local coordination committee for roots and tubers in Ngam, the village where she lives in Cameroon's South Province. She is also the secretary general of the cassava producers' basin of Sangmelima.
"I am respected today in the community. Officials of the Ministry of Agriculture and Rural Development invite me to teach other women how to plant cassava," she says.
The story of Emilie Nyate is the story of the over 5,000 women taking part in PNDRT activities to boost cassava production, processing and marketing in Cameroon.
"The project has a dual purpose," says Ngue Bissa, the PNDRT national coordinator. "It works to increase the revenue of rural women and to build their capacity to take decisions."
The PNDRT structure comprises antennas, basins, villages and village coordination committees (comité villageois de concertation [CVC]). The CVCs are the link between the programme and the beneficiaries at the village level. CVCs comprise all the people involved in roots and tubers activities in the villages, including producers, processors, traders and distributors. There are some 250 CVCs in Cameroon.
The PNDRT has a long-standing policy that six of the eleven executive members of each CVC should be women. They can occupy any executive position, but the post of treasurer is exclusively reserved for women.
According to Benjamin Bidjoh, the PNDRT chief of antenna for Ebolowa, 48 of the 50 CVC presidents in his area are women, and women constitute more than 80 per cent of the CVC membership.
The CVCs are responsible for drawing up development plans for roots and tubers in their areas and ensuring their implementation, mobilizing resources and enabling villagers to gain access to new farming techniques and inputs.
The CVCs are also involved in the selection, construction and management of rural infrastructure such as markets, bridges and road maintenance. They facilitate access of products to markets at a profitable price.
"At first people were individualistic. Everyone wanted to go it alone. So the first thing we did was to assemble people into groups in villages so as to inspire the spirit of joint venture," says Bidjoh. "Then we provided training to the farmers and improved high-yield varieties of cassava cuttings."
The PNDRT and CVCs have set up 14 farmer field schools in Ebolowa-Sangmelima. The PNDRT provided training to a first group of people who in turn trained the others in the villages.
"There are 70 farmer field schools nationwide, 14 in each antenna," says André Mbairanodjo, officer in charge of production and processing at the PNDRT head office in Yaoundé. "There are also over 600 cassava multiplication plots across the country."
These measures led to an increase in production in the Ebolowa-Sangmelima area from 8-10 tons per hectare in 2005 to 25-30 tons per hectare in 2007. The PNDRT constructed two warehouses for cassava products at a cost of 17 million CFA francs (US$38,300). Five drying facilities were also constructed at a cost of 29 million CFA francs (US$65,300) for those wishing to produce cassava pellets for eventual processing into flour. The PNDRT is also working to put producers and traders together to boost marketing.
"We happen to be near the border with Gabon and Equatorial Guinea, where the bulk of our customers are. We have made a list of traders from these countries and their contacts, which we distributed to the CVCs," says Bidjoh.
The success of the PNDRT cassava activities in South Province has attracted the interest of villagers outside the area covered by the programme. According to Bidjoh, over 60 common initiative groups in Mfou subdivision in Centre Province have requested that the programme be extended to their area. People like Emilie Nyate, who has already set up 12 cassava multiplication farms in villages not covered by the programme, will be extremely helpful to this expansion. As the activities supported by the programme draw to an end, the PNDRT wishes to see the farmers take over control of them.
For more information, please contact:
Useful links:
---
Cape Verde: a showcase for social solidarity and good governance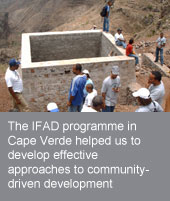 Over a decade after the Government of Cape Verde introduced substantial reforms through a policy of economic liberalization, privatization and decentralization to the municipality level, the country's economic situation has improved beyond recognition. Cape Verde is ranked first among African countries for applying good governance and democracy. Furthermore, the government succeeded in mobilizing the energy of its people to develop the country and overcome harsh natural conditions and the lack of agricultural resources.
As a result, Cape Verde has graduated from the category of Least Developed Countries, and is expected to reach the Millennium Development Goals even before 2015. The country is today one of Africa's success stories.
"Between 2001 and 2006, Cape Verde had an impressive growth rate of 5.8 per cent per annum, with a strong social cohesion at the same time, which makes it even more remarkable," says Mohamed Manssouri, IFAD's country programme manager for Cape Verde. The World Bank has projected a growth rate at almost 7 per cent for 2007.
From the start, IFAD supported the government's reform programme to fight poverty through its Rural Poverty Alleviation Programme launched in September 1999. The programme is financed under the Flexible Lending Mechanism, whereby funds are released in three phases. The initial loan amounted to US$9.2 million over a ten-year period from 2000-2009, for a total cost of US$18.34 million, with the remainder funded by the Government of Cape Verde.
"This was a model programme and Cape Verde served as a laboratory for us to develop effective approaches to community-driven development and to apply the lessons learned in other countries in the region," says Mohamed Béavogui, director of IFAD's Western and Central Africa Division.
The Rural Poverty Alleviation Programme has been so successful in the areas of the country where it has operated so far that it will now be extended to all rural areas throughout Cape Verde.
"Not only has the programme delivered, but we are scaling up," says Manssouri. "It is becoming a major national policy instrument to fight poverty in rural areas."
The programme has stimulated the establishment of autonomous community and development associations, known as ACDs (associations communautaires de développement), which harness the energy and potential of the local communities. By the end of the programme's second phase, some 177 ACDs had been formed, involving about 10,000 families or about 40,000 people out of an estimated 51,000 poor rural people in the programme area.
A major factor contributing to the programme's success was the creation of regional committees of private partners, known as CRPs (commissions régionales de partenaires), at the outset of the programme. The CRPs are responsible for designing a poverty alleviation plan for their area and managing financial resources. CRPs are made up of local stakeholders, such as the rural communities benefiting from projects represented by the ACDs (which have the majority of votes), and representatives from the municipalities, NGOs and the private sector.
"From the start, the programme was based on partnerships, and nothing was imposed. The communities and their local partners managed their own development," says Manssouri. "That worked very well in Cape Verde because the values of solidarity and inclusiveness are deeply rooted in the culture of every Cape Verdian."
Based on the poverty alleviation plans that were prepared through participatory processes and approved by the CRPs, the communities were free to choose exactly what type of micro-projects they wanted for a specific community, provided they met the general requirements agreed on in the plans. The communities had to discuss their proposals with the CRPs and submit them for approval. The communities then implemented the micro-projects with the support of the CRPs. A global budget was allocated for a three-year period for the communities to use, and they could do so without specifying in what micro-projects it would be invested.
The government's strong willingness to implement the necessary economic reforms and its recognition of the CRPs was instrumental to the programme's success. The programme succeeded in establishing and strengthening CRPs and provided them with the appropriate instruments and mechanisms to function as institutions.
"The programme was very innovative because the CRPs and the ACDs were given the power to decide on the type of micro-projects they wanted to develop," says Romano Pantanali, a senior consultant who was part of the initial design team for the programme. "We put of lot of emphasis on their autonomy."
The initial loan agreement had four programme components: a component to finance micro-projects, which received 64 per cent of the total funds; a component to inform and educate communities about the programme (12 per cent of funds); a component to train CRPs to fulfil their duties, mainly during the first phase (7 per cent of funds); and a component to manage the programme (16 per cent of funds).
"What was really innovative was the implementation of a mechanism to transfer funds directly to the CRPs, which managed them themselves," says José Maria Veiga, the project coordinator in Cape Verde. "It shows that when people are interested in a programme and get what they want, they are extremely capable of managing it."
Within six years, about 1,300 micro-projects had been implemented in areas such as micro-irrigation, rainwater collection, drainage, running water in villages, weaving and other handicrafts, carpentry, ceramic production and fruit processing. Many communities chose to invest in social housing projects as a first step to fight extreme poverty and marginalization.
"The communities took the view that once accommodation was guaranteed, the very poor people felt less poor and could concentrate on other economic activities," says José Maria Veiga. This changes people's behaviour. They feel empowered because they no longer look at themselves as poor people.
The programme put a great emphasis on training and education within the communities. "That is also a key element of the programme," says Veiga. CRPs organized for trainers to come to the communities to help people improve the skills and knowledge needed to develop additional income-generating activities. "For instance, some CRPs worked with associations in Portugal to provide training in ceramic and pottery, showing their capacity to work outside the realm of the programme," says Veiga.
Initially the programme was implemented on five of the country's islands, namely in Santo Antão, São Nicolau, Fogo, Brava and Santiago (in the municipalities of Tarrafal and São Miguel), and CRPs were created for each. To build on the success of the first two phases, the upcoming third phase will extend the programme nationwide, and the IFAD loan will increase by US$4 million to reach US$13 million. The government will also significantly increase its contribution.
However, improvements will be required in the third phase to make the programme's results sustainable. In particular, CRPs will have to become more open to working with partners outside the programme to be able to leverage more sources of funding. CRPs will also have to be more innovative and strategic in setting up development projects, and improve their design and preparation. While the programme contributed to strengthening the role of women at the grassroots level, it needs to further raise their profile so as to enable them to participate more effectively in decision-making at local and national levels. "Those are the objectives for the third phase," says Manssouri.
For more information, please contact:
Useful links:
---
News and events


IFAD Executive Board approves US$76.1 million in loans and US$1.2 million in grants to finance projects in Western and Central Africa
During its 92nd session held from 11 to 13 December 2007 in Rome, Italy, IFAD's Executive Board approved more than US$236 million in loans and US$20 million in grants for programmes and projects that will help poor rural people in developing countries overcome poverty. The Board also approved US$6.24 million in grants to support agricultural research and development activities in rural regions of poor countries.
In Burkina Faso, a loan of US$11.0 million and a grant of US$400,000 will help 20,000 poor rural households intensify and diversify their agricultural production through new and newly refurbished small-scale irrigation schemes, including innovative micro-irrigation technologies. The Small-Scale Irrigation and Water Management Project will promote local negotiation processes to enhance participants' access to land and water. It will also support marketing activities.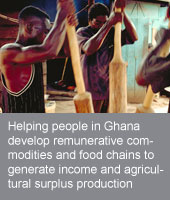 The Northern Rural Growth Programme in Ghana willhelp poor rural people – particularly women – create profitable commodity and food chains, while improving links with the domestic and export markets. The programme, backed by an IFAD loan of US$22.33 million and a grant of US$400,000, will cover the rural areas of the three northern regions and the adjoining districts with similar agroecological characteristics in the Brong-Ahafo region, the poorest in Ghana. Nearly 45,000 households will benefit from the income-generating activities of the programme and about 100,000 from infrastructure improvements.
Nigeria will receive a loan of US$42.76 million and a grant ofUS$400,000 to develop rural microenterprises. The Rural Microenterprise Development Programme, which will strengthen Nigeria's Medium and Small Enterprise Development Policy Framework, will support opportunities in the off-farm rural microenterprise sector to boost incomes, increase food security and improve the livelihoods of poor households, particularly those with limited or no access to agricultural land. Participants will be poor rural people living below the poverty line. These are mainly households headed by women, unemployed young people, and those who are physically challenged. Over eight years, about 700,000 people will benefit.

---
FIDAfrique: connecting people in sub-Saharan Africa
FIDAfrique, the regional information network for Western and Central Africa (WCA), was launched in 1999 to improve the management of IFAD programmes and projects by increasing their capacity to share information and knowledge, best practices and lessons learned. During its second phase from 2004 to 2007, FIDAfrique has focused on developing an electronic web-based portal and related tools. It held a series of knowledge-sharing events such as forums, workshops and project-to-project exchange visits. And it increased information sharing and related capacity-building activities among IFAD-supported programmes and projects and their partners.
The International Institute for Sustainable Development undertook an independent end-of-project evaluation of FIDAfrique Phase II in July 2007 and recommended moving to a new phase, recognizing a number of achievements as well as challenges and areas that could be developed. The evaluation team noted that the network was evolving positively from a predominantly electronic-based information-sharing system to a network of people and institutions.
IFAD is now exploring the possibility of expanding FIDAfrique from Western and Central Africa to the whole of sub-Saharan Africa, incorporating Eastern and Southern Africa for its next phase. The vision is to create a unified knowledge network for sub-Saharan Africa to enhance rural development effectiveness, in line with IFAD's Strategic Framework for 2007-2010. The proposed network would thus connect people and networks for learning and for sharing experiences and innovations for rural poverty reduction throughout sub-Saharan Africa.
For more information, please contact:
---
Strengthening IFAD's gender approach in Western and Central Africa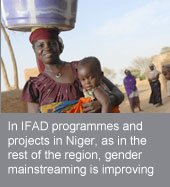 The Western and Central Africa rural poverty assessment carried out in 2001 emphasized that gender inequality is one of the main causes of rural poverty in the region. In response, IFAD launched the Programme of Action to Assist IFAD Projects and Programmes in Western and Central Africa to Reach Rural Women in November 2001. The initiative was financed with a total amount of US$1.3 million by the governments of Italy and Norway through their voluntary contributions to IFAD's supplementary funds.
The primary objective of the six-year programme was to assist IFAD-funded projects in Western and Central Africa to achieve greater impact in poverty reduction and increased household food security by better reaching rural women. The programme's objectives were to:
ensure that the design of projects are more gender-sensitive and adequately respond to the needs of poor rural women and men

increase rural women's access to assets and resources through directly funding activities and providing training to project staff to raise productivity, reduce poverty and contribute to household food security

strengthen advocacy for women at the national and regional levels, empowering rural African women to influence the design of rural development policies and programmes at the national, regional and international levels
The programme linked up with activities carried out in 15 countries in the region. It has provided IFAD with key financial resources to invest in research, training, development and implementation of pilot projects through which the organization has improved its gender approach in Western and Central Africa.
In Niger, the Gender Integration Project (Projet d'intégration de l'approche genre [PIAG]) was implemented as a pilot in the district of Aguié from January 2003 to June 2005. The project was financed by a US$95,000 grant and had four specific objectives to:
improve women's and their groups' capacities to innovate and develop activities to increase their economic and decision-making power and improve their lifestyles

consolidate the approach of active participation of men and women in activity planning

contribute to the preparatory phase of the Project for the Promotion of Local Initiative and Development in Aguié (PPILDA)

build the technical and organizational capacities of PPILDA's human resources (staff, partners and beneficiaries)
A final review conducted in the framework of the self-evaluation of IFAD's Programme for Gender Equality and Women's Empowerment, defined the IFAD grant to PIAG as the "lynchpin that permitted gender to be mainstreamed and become an integral part of the planning for PPILDA implementation with the communities. The IFAD grant allowed the team and all other project actors to systematically include gender issues in the pre-project identification of activities for PPILDA."
Recent project evaluations and reviews in Benin, Cape Verde, the Gambia, Ghana, Guinea and Senegal have noted success in the participation of women in IFAD's programmes and projects. They clearly indicate that performance with regard to gender mainstreaming is improving in Western and Central Africa, against the findings of the baseline survey conducted in 2003.
For more information, please contact:
---