This newsletter is produced by IOE Evaluation Communication Unit
evaluation@ifad.org

For a full list of IOE recent products, please click here
---
About the Independent Office of Evaluation

The Independent Office of Evaluation (IOE) conducts evaluations of IFAD-financed policies, strategies and operations to promote accountability and learning.
---
About IFAD
The International Fund for Agricultural Development (IFAD) is a specialized agency of the United Nations, dedicated to eradicating poverty and hunger in developing countries. Its work in remote rural areas of the world helps countries achieve the Millennium Development Goals.
Evaluation news
Issue n. 7 - December 2014
New publication: Independent Office of Evaluation of IFAD and Swiss Agency for Development and Cooperation: A partnership for better results
The purpose of the publication is to document the overarching experience accumulated over more than 10 years of partnership between the Independent Office of Evaluation of IFAD (IOE) and the Swiss Agency for Development and Cooperation (SDC). The publication aims to highlight ways in which the partnership has, directly or indirectly, contributed to improving IFAD's development effectiveness through strengthened independent evaluation.
Impact evaluation of the Jharkhand: Chhattisgarh Tribal Development Programme - Approach Paper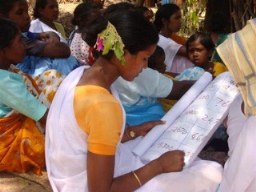 IOE is undertaking an impact evaluation on the IFAD-supported Jharkhand-Chhattisgarh Tribal Development Programme in India (JCTDP), with a view to: (i) assessing impact in a quantitative manner, paying due attention to qualitative aspects, and, (ii) generating valuable evidence for the India country programme evaluation in 2015/2016.
While this evaluation focuses on assessing impact, it will also include assessments across the entire set of evaluation criteria adopted by IOE, such as effectiveness, efficiency and sustainability. Based on the programme's theory of change, the evaluation will assess the results and impact "with or without" and "before and after" the programme, using a mix-methods approach applying quantitative quasi-experimental and qualitative participatory methods. To this end, IOE is collecting primary data through an impact survey - covering 8,800 households in the two concerned States - from both treatment and control groups.
Insights from the Bolivia Country Programme Evaluation: Business plans and business support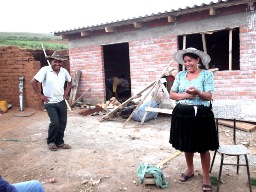 The support provided by IFAD to the Plurinational State of Bolivia during period covered by the country programme evaluation (2005-2012) was based on technical assistance and focused on the support to the development of business plans and the production and development of rural businesses and services.
Business support provided reached a larger number of beneficiaries than expected. Under the Small Farmers Technical Assistance Services Project (PROSAT), output targets were exceeded, and women participated at high levels as both recipients and providers of technical assistance (respectively 42 and 32 per cent). The Management of Natural Resources in the Chaco and High Valley Regions Project (PROMARENA) financed 951 business propositions, 73 per cent of the target. The Enhancement of the Peasant Camelid Economy Support Project, with implementation of 45 per cent of its resources, has achieved 67 per cent of its target.
Although these figures are impressive, they do not speak to the sustainability of the businesses supported and their impact on the wellbeing of the beneficiaries, measured in terms of income, knowledge, food security and social capital.
Season's greetings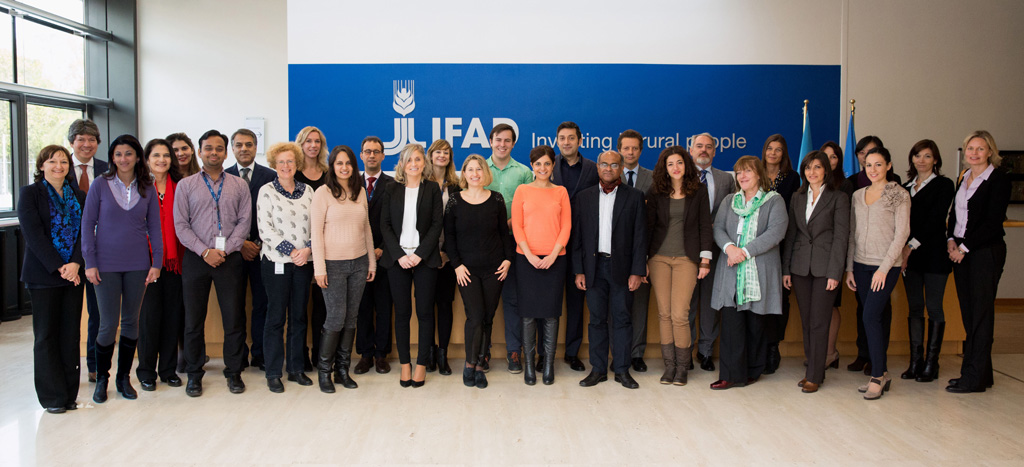 As 2014 comes to a close, IOE would like to express sincere appreciation to IFAD Management and staff, members of the Executive Board and Evaluation Committee, representatives from partner governments, colleagues from the United Nations and international financial institutions, academic institutions, civil societies and other partners for the continued support and collaboration. We look forward to working closely with you in the coming year . We wish you a very happy Holiday Season and a New Year filled with peace and prosperity.