Issue number 21: Promoting Rural Enterprises Growth and Development in Sub-Saharan Africa: Lessons from four projects in Sub-Saharan Africa 2011 - December 2011
Message from the Director: Big role for small enterprises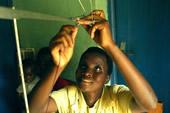 From a development perspective, non-farm enterprises provide additional sources of employment and income to people in the rural areas. In addition to agriculture, promoting this type of enterprises is therefore an important activity, to strengthen rural economies by stimulating diversification of employment and distribution of income in the rural areas.

As a result, rural small-scale industries are getting increasing attention for their capacity to generate employment and income for rural development. Also for IFAD, our emphasis on rural development has increased our efforts and resources that have been allocated for the promotion of community businesses in Sub-Saharan Africa, in particular Ghana, Madagascar, Rwanda and Senegal. This support has witnessed the expansion of rural non-farm enterprises, providing additional employment and income, often complementary to regular agricultural activities and making use of the availability of labour during the agriculture off-season. Various strategies and approaches have been adopted by the countries in promoting non-farm employment.

The experiences of these countries show that diversification of the rural economy, which generate activities with a high employment potential for rural people, can be successfully stimulated through promotional policies and efforts. These include among others, capacity building, targeting, micro-financing schemes , entrepreneurial development and marketing support all with a special focus on women and young entrepreneurs and proving there is a big role for small enterprises to play in rural development!

To review the present situation and learn from rural enterprises development in Sub-Saharan Africa, a "Capitalization Workshop" was organized by IFAD's West and Central Africa Division, working in cooperation with the East and Southern Africa Division. The workshop, which was held in May 2011 in Ghana, provided an opportunity for those managing rural enterprise programs supported by IFAD, as well as rural entrepreneurs involved in the program, to exchange experiences and lessons learned. This newsletter highlights some of the conclusions of the workshop and shares some good practices with you. I hope that it will serve as a useful reference on the subject in the region.

IFAD is grateful to the Government of Ghana for hosting the workshop, in particular to the Rural Enterprises Project, and to the resource persons and participants for their valuable contributions.

Enjoy your reading and learn from the stories!

Ides de Willebois
Director
Western and Central Africa Division
---
Good practices in rural enterprise development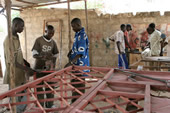 Rural enterprises can play an important role in reducing rural poverty. Identifying and analysing the rural enterprise technologies, policies, procedures and support systems that have worked well is useful for promoting and scaling up these kinds of efforts.

Many organisations, including IFAD, focus part of their interventions on rural enterprise development. In their programmes, activities are established with the aim of improving access to credit, promotion of entrepreneurship of farmers and youth, and improving the performance of local service providers.

From 16 to 24 May 2011, representatives from the Ghanaian Government, IFAD headquarters and different IFAD programmes in Madagascar, Senegal, Rwanda and Ghana, came together in Accra to attend the workshop, 'Rural Enterprise Development: Challenges, Progress and Lessons Learned'.
Read more
Learning and experience sharing platform on rural enterprises development

It was the second in a series of four workshops on the documentation of IFAD experiences. The workshops are meant to enhance organisational learning by sharing experiences and identifying good practices and innovations. Face-to-face interactions, field visits and participatory tools help to document these experiences and to collect practical and replicable information.
It was a delight to see the enthusiasm with which the projects were eager to learn from each other and to share experiences'
(Nana Asantewaa Boateng, specialist in marketing, management and credit systems for micro and small enterprises. Nana Asantewaa Boateng was facilitator of the workshop).
The results of the workshop are documented in the 'Technical report on lessons learned in implementing rural enterprises programmes' which will be published in the coming weeks.
In the Rural Enterprise Development workshop in Accra, discussions and identification of good practices were grouped into some key development areas, which are summarised below:
Targeting and accessibility of business development services

Effective business development services

Effective business financial services

Availability of materials and tools

Client-market connection

Enabling environment for sustainable enterprises development

Sustainability

Gender
Targeting and accessibility

In providing enterprise development support, a demand-driven focus appears to be important and more effective. Projects should base their interventions on the priorities of the enterprises or individuals who are initiating their business, to better respond to their needs and challenges. The effectiveness of this approach becomes clear according to the willingness of clients to pay fees for the offered services. But for specific groups such as women and youth, directly targeted and subsidised activities may help overcome specific problems like lack of capital, knowledge and confidence. In this case, transparent qualifying criteria and a clear exit strategy are needed to avoid market distortions that subsidised interventions tend to bring.
Effective business development services

Using local service providers is cost-effective, cheaper for enterprises and more efficient for a number of reasons; that is, trainees are very responsive to the teaching of a successful person from their region, who speaks the same language and who has experience with the same kind of business as them. The most successful training programmes are easily transferred back to the workplace: content is relevant and methods are appropriate, pragmatic and of high quality. The case of Boubacar Keita from Senegal is obvious in this.
Ten years ago, Boubacar had his first training. Now he is a succesfull traditional baker and very motivated to improve his business and the network of traditional bakers

The capacities of service providers need to be strengthened though, to ensure quality service delivery. As the case of Madagascar demonstrates, this can be effectuated by the promotion of a network of network providers.
Effective business financial services

Screening of enterprises and the inclusion of savings instruments in financial packages are very useful for rural enterprises, to mitigate risk and increase resources for further financial investment. These actions allow for internally generated funds to be accumulated for use in the future and facilitates enterprises to become self-sufficient. The provision of financial services needs to be complemented by financial literacy education for the indispensable skills needed for good money management. Technical assistance to banks is crucial for developing the banks' ability to target rural enterprises through clear internal procedures - and specialised, commercially viable lending operations.
Availability of materials and tools

The provision of tools and equipment to youth is a strong vehicle to stimulate the establishment of new enterprises and thus the creation of jobs for youth in rural areas.
Client-market connection

Access to markets is critical for the growth and expansion of enterprises and can be achieved through compliance to quality standards, product adaptation and development, active sales and marketing, and integration into value chains. Training in marketing, advertising, packaging and labeling is fundamental, and such courses are ultimately less expensive building blocks for strengthening rural enterprises' access to markets. Capacity building should be complemented with an interactive database on major buyers, suppliers, market prices and other market support information, and must be regularly updated and easily accessible to clients. Furthermore, the promotion of clients' market access through district Trade Shows has been another important and potent marketing tool that helps to facilitate trade.

Enabling environment for sustainable enterprises development

Mainstreaming project activities for business enterprise development into local governance systems increases commitment and investment by the government. It has a direct spin-off into policy making and institutional capacities for service delivery. Such mainstreaming will more likely result in the continuation of a supportive environment to rural enterprises after the project ends. However, an enabling environment also depends on improvements in infrastructure and information networks to open up rural economies, as well as on the representation of rural enterprises in local and national policy dialogues.
Sustainability

The use of district-level government structures to promote and develop rural enterprises consolidates sustainability efforts. See for an example the case of the Business Advisory Centers in Ghana. Furthermore, a systematic approach and relevant interventions that meet the needs of businesses at every level of the growth ladder can ensure the success of rural enterprises. For the various stages of business growth, the following training services are the most appropriate in achieving sustainability goals:
Business start-up stage: literacy and numeracy skills, strategic mindset, entrepreneurship, basic financial management, general business management, marketing;

Business survival stage: business planning, production planning & management, financial management (budgeting, working capital management, credit management, investment decisions) and marketing (market research and product development); and

Growth-oriented stage: strategic planning & management, marketing for exports, investment finance, production management.
Gender

Gender sensitivity is not about focusing on women only, but rather considers both women and men; emphasis must be placed on age and economic status of people –as well as their sex. Functional literacy and numeracy are essential for women's self-confidence, and peer-learning (mentorship) appears to be successful for making these educated women real leaders. Gender sensitivity should be reflected in every project component, including management.

The conclusions and the good practices collected during the workshop in Accra are comprehensive and useful. The participants appreciated the good ambiance and the sharing of knowledge in the workshop locality. Now it comes to spreading and scaling up. The lessons learned need to be incorporated into new IFAD programmes. Facilitator Nana Asantewaa Boateng advises IFAD to 'Encourage, where appropriate, replication in other projects and feeding these experiences in new project design'. Let's start good practice now!

Contact: Zoumana Bamba
---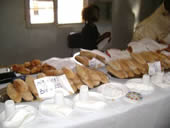 A product that people consume daily must provide an interesting economic opportunity. Boubacar Keita from Senegal must have thought about this when he started his traditional bakery in the year 2000. And indeed, his monthly turnover increased from 300,000 to 2,400,000 CFA within eleven years.
In 2000, when Boubacar was 26 years old and unemployed, he decided to give up his illegal trading practices and get trained in traditional baking. The PROMER project, which has goals of rural enterprises development, job creation and recognition of local agricultural produce in Senegal, helped him work out a business plan. He participated in courses on book-keeping, hygiene and traditional baking. When Boubacar started his own business, he produced 80 loaves of bread a day - today he produces 800 loaves a day.

In the last ten years, Boubacar has trained twenty young people in baking, all of whom have started up their own small enterprises. He is determined to increase the recognition of traditional bakers and the use of maize, millet and beans as ingredients in bread. He has therefore created a network for rural bakers and wherever he can, he informs people about hygiene, traditional bakery techniques, improved stoves and environment.

Boubacar has developed the right entrepreneurial spirit, thanks to training he received in different fields of interest. He has found financial and procurement management to be particularly crucial courses for him. However, Boubacar also finds that the professionalisation of the value chain has been essential to the sector and to his personal development.
The network of traditional bakers facilitates exchanges on how to meet standardised demands on quality and hygiene, and how to deal with legislation about selling and trading in rural and urban settings. Besides this, the network has increased recognition, which has resulted in higher sales of traditional bread.

Read more
Projet de promotion de l'entreprenariat rural (PROMER - seconde phase)

Contact
---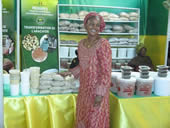 Trade shows can provide wonderful opportunities for small producers to showcase their products and to network with their (potential) clients and colleagues.

For twelve years, the International Agriculture and Livestock Fair (FIARA) has been a major West African venue for promotion and dialogue around agriculture products and technologies. During this fair, Senegalese farmers present and sell their goods, network with other producers, discuss and exchange ideas. This year, FIARA coincided with the 8th edition of the World Social Forum, which meant that many of its international participants could also attend the fair.

As with other years, FIARA was a rich collection of colours and odours. Visitors (25,000 people over ten days) attentively looked at the overwhelming number of tables piled high with local products: syrup made of ginger, mangos or bissap, skin products based on shea butter, palm oil, palm wine and palm leaf products, ratan furniture – an overwhelming lot to see and taste.

Producers are able to expand their markets at the fair, and become true marketing agents for their products. This results in increased sales and incomes -very good motivation for the entrepreneurial spirit. Besides this, there are machines and other innovations on hand to process nuts, vegetables and fruits into more valuable, consumable and conservable products. These possibilities make a big difference to local rural producers and traders. Having contact with colleagues and other professionals is very valuable.

Thanks to FIDA support, eight people from PROMER 2 (Promotion of Rural Entrepreneurship Project - Phase II) were able to participate in this year's FIARA. PROMER 2 has been working in the regions of Kolda, Kédougou, Tambacounda, Kaolack, Kaffrine, Fatick and Thiès in Senegal since 2006. Its goal is to develop rural enterprises, create jobs and get better recognition for local agricultural produce in Senegal. Since PROMER's activities began, 350 new enterprises have been created and 550 consolidated, resulting in 1300 permanent and temporary jobs.

The eight participants at FIARA 2011 were selected because of their products' quality, sales and negotiation capacity. Those coming from an enterprise contributed 10,000 FCFA, while representatives of farmers' organisations paid 20,000 FCFA. During the fair, the participants also represented other traders from their region. PROMER promotes its clients and the project at FIARA through a well-equipped stand; the stand has been situated just to the right of the main entrance for the last three years. It has attracted the attention of a number of official visitors –even Prime Minister Souleymane Ndéné Ndiaye of Senegal– over the years.
FIARA 2011 proved to be successful for the PROMER-supported enterprises. In total, 130 contracts (compared to 80 in 2010) for a considerable number of sales were established, including 40 that were directly settled at the fair. In addition, eight news items about the PROMER stand were presented on television and in newspapers. Although this is still modest in scale, these kinds of positive results are very important for small enterprises as they start to get acquainted with urban clients.

Read more
Projet de promotion de l'entreprenariat rural (PROMER - seconde phase)

Contact
Hawa Sow Bousso
---

Madagascar: Network for better work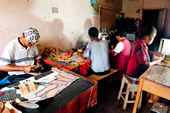 Enterprises need not only financial but also non-financial business services to make good products. Uniting service providers in a network, can lead to better services, and thus better products.

Rural enterprises often face problems similar to those affecting the Upper Matsiatra region in Madagascar: a marginal supply of business services. Service providers are typically located far away from rural areas, their profiles are difficult to compare and the costs related to their services are too high for most rural producers. Besides this, their services (training courses, for example) are in many cases not recognised by other institutions. To change this situation, 28 business development service providers in the Upper Matsiatra region united to form a network in 2009, with the aim of improving the quality and relevance of their services for rural enterprises.
'In my view, the most practical and easy-to-replicate lesson learned during this workshop was the practice of networking by service providers to ensure service quality and value for money for beneficiaries'
(Nana Asantewaa Boateng, facilitator)
With the help of IFAD's 'Support Programme for the Rural Microenterprise Poles and Regional Economies' (or PROSPERER), the Upper Matsiatra service providers decided to standardise procedures, content and fees for their technical training programmes. One of their courses, on 'entrepreneurial culture', has been the result of a collaborative effort.
Currently, the network counts 46 members, and has already provided training to 3,046 rural enterprises in different technical fields of interest. Its impact is starting to get recognised by other regional organisations.

Of course there are also challenges. For example, not all the enterprises' training needs can be covered; the training courses are not yet officially certified; and the costs are still too high for many producers. However, being together in a network has facilitated the exchange of experiences and knowledge to improve services. The service providers have been able to expand their markets and to serve a more diversified clientele.

Read more
Support Programme for the Rural Microenterprise Poles and Regional Economies (PROSPERER)

Contact
Lucien Ranarivelo
---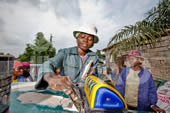 Rural youth in Ghana who seek work and who have invested a few years in an apprenticeship, are now eligible for an equipment support grant to help them start up their own businesses.

In Ghana, apprenticeships are a popular and common way to learn a profession. An apprentice typically works for two or three years with a master craftsperson and thereby gradually learns all the required skills on the job. The apprentices bear the cost of education themselves, and are not paid for their work during this period. However, once they complete their apprenticeship they can set up their own businesses and earn a living from their new skill. But, there is still one problem: graduate apprentices lack start-up capital to buy their own equipment and to fund their working capital. As a result, they need to first find other ways to earn some money. They often get jobs for which they have not been educated - or they remain with their 'masters' for years on end, earning nothing or next to nothing.

Since 2006, the Rural Enterprises Project (REP) has been supporting graduate apprentices with basic equipment and tools to start up their businesses in rural areas. The project collaborates with the District Assemblies, which finance 20% of every grant. Graduate apprentices between the ages of 18 and 30 years who are willing to use their skills in their own community, can apply for a grant. Selection is carried out according to specific criteria.
Once their new enterprises have been set up, the recent graduates continue to receive training to build their capacity. It also allows them to learn about other innovative concepts that can help them provide higher quality services to their clients.

Providing equipment support to graduate apprentices has led to the creation of both direct and indirect jobs in new rural enterprises. As of December 2010, 2,227 direct jobs had been created and equipment was provided to 3,182 rural youth graduate apprentices. The businesses and jobs created have resulted in the generation of more revenue, a reduction in rural-urban drift and a contribution to the GDP at the district level.

This initiative requires some other changes to be more sustainable, however. For one, the District Assemblies should be encouraged to allocate budgetary funds for this purpose on a yearly basis. Local business associations should also be involved in the selection of beneficiaries, to ensure transparency and to minimise political interference. In addition, more young women should be encouraged to go into male-dominated trades and be provided with equipment upon graduation.

Read more
Booming business In Ghana, BACs are booming. These Business Advisory Centers facilitate business service development in rural areas. They provide trainings and support with the aim to develop local small and micro enterprises. BACs are operated by private enterprises, but function under the District Assemblies. After 16 years of experience in 66 districts, the concept of Business Advisory Centers has proven to reach the rural poor, create jobs and to contribute to rural economic development. Mainstreaming of the BACs in District Assemblies is the key success factor: it ensures ownership, commitment and outreach, for staff salaries and accommodation are ensured by the districts. For the project, the exit strategy is real and realistic from the beginning. In Ghana, the BAC concept has been introduced in the Rural Enterprise Programme (REP). This programme recently received further IFAD financing [link to http://www.ifad.org/media/press/2011/62.htm].

Contact: Kwasi Attah-Antwi
---
Rwanda: Save your money to be able to spend it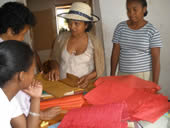 Enterprises need start-up and working capital, which is not easy to get in rural areas. Financial institutions and their services can help fulfill this need. The following example from Rwanda shows how the relationship between banks and enterprises can improve by paying attention to proximity, allowing for greater information exchange and mutual trust.
Rural enterprises need to develop a culture of saving money, which will help them to get access to more loans from banking institutions. 'This sounds easy', admits Muzungu Callixte of PPPMER, the Rural Small and Microenterprise Promotion Project in Rwanda, 'but there are a lot of problems to overcome in the relationship between rural enterprises and banks before this can become the reality.'

Skills and information

Many enterprises are not even aware of the kinds of banking products and services that exist. These actors often do not fulfill all the requirements of the banks, such as registration with the chamber of commerce or acquiring other official documents. They lack the skills to prepare good, bankable projects and do not have access to the necessary collateral. As a result, their loan applications are very often rejected. 'We provide information and training to enterprises on entrepreneurship development, making business plans and organisational management, ' explains Callixte, 'but we also try to help them market their products and to use modern technological equipment to produce high quality goods in an efficient way. Equally important is the sensitisation of entrepreneurs on the need to save money.' In addition, the PPPMER project provides assistance to the banks, training staff in the reading and understanding of business plans, credit analysis and management of development funds.

Trust

Besides the common lack of skills and information, there is also a problem of lack of trust: banks are reluctant to finance project funding requests by rural enterprises because they fear non-repayment of loans and intangible security. This is not without precedent as many banks have had bad experiences with rural enterprises failing to repay according to the agreed conditions. They feel insecure about whether the rural market is big enough to permit adequate profits for these enterprises. 'Our project has an important role to play in bringing people together and facilitating the different parties to learn more about each other,' explains Callixte. These kinds of meetings have allowed small producers and financial institutions to evaluate problems in rural finance together and to seek ways to overcome them. The project has also set up 'recovery meetings' between defaulting enterprises and banks, in which banks get credit management support, while enterprises are sensitised and informed on banking conditions and the importance of saving. 'In addition, we have signed a Memorandum of Understanding with financial institutions,' explains Callixte, 'which formalises flexible terms on loan conditions for rural producers. A special credit line is also included, with conditions such as lower restrictions on account movement and the option of collateral in the form of equipment.'

Proximity

The PPPMER case shows that rural enterprises and financial institutions are not always easily connected. Banks are not present in most rural areas and they know too little about rural enterprises to offer products and conditions specifically geared towards their needs.
Bringing these two actors together helps to strengthen services that will benefit both sides. As summarised by Callixte: 'There are eight commercial banks in Rwanda, most of which working exclusively in urban areas. One of them, the Popular Bank of Rwanda (BPR), also has a large network of around 200 branches in rural areas. PPPMER is now working with 63 of these rural branches. The Government of Rwanda recently supported the creation of Umurenge SACCOs, a Savings and Credit Cooperative programme that allows rural people to get access to financial services within their area. Municipalities have been divided into sectors, each of which has one Umurenge SACCO. This adds up to 416 SACCOs in the whole country. For the development of rural enterprises, access to finance with good conditions and within close proximity is crucial.'

The importance of proximity is not only about having offices nearby, where people can conveniently deposit their savings and hand over their applications for new loans. It is also about getting to know the people involved and their businesses. 'We have introduced community groups for the evaluation of loans (CEACs)', tells Callixte, 'to help rural enterprises in the screening of loan applications before introducing them to the banks. This has greatly improved the level of acceptance.' Screening clients is important for reducing and mitigating risks for banks. It is positive for clients too, for it increases their trust in the credibility and commitment of financial institutions to deliver credits and services they need.

Read more
Contact
Muzungu Callixte