Message from the Director and Season's Greetings
2007 will be an exciting and challenging year for the Eastern and Southern Africa Division. We'll have a higher lending programme and increasing resource flows to sub-Saharan Africa due to the move from regional allocations to worldwide country allocations and IFAD's focus on Africa. At the same time, IFAD will begin implementing its new operating model and we will focus on enhanced quality of country strategies, better project design and better implementation and impact. Knowledge management and innovation at regional and country levels will also be high on the agenda and we will be looking at new partnership initiatives.
To this end, we intend to use this newsletter as a pro-active tool for sharing knowledge and experience within and across the region, and continue to promote team work. Starting next year, Progress in Eastern and Southern Africa will be published quarterly and will have a dedicated theme for each issue. We rely on your active participation to make this newsletter an effective knowledge management tool, and a useful forum where we can share ideas and debate issues.
Wishing you a happy holiday season, we look forward to an exciting New Year in Eastern and Southern Africa!
Ides de Willebois, Director of the Eastern and Southern Africa Division of IFAD
---
This issue's theme: Targeting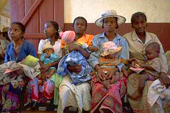 IFAD's purpose as an institution is to alleviate rural poverty. To this end, IFAD has to ensure that poor rural people are being targeted in all of the programmes and projects it supports.
In September 2006, IFAD adopted for the first time a dedicated policy on targeting to bring a coherent approach to designing all future programmes and projects. . The policy itself is the result of months of work, discussion, and thinking about how to best fulfil IFAD's mandate to fight rural poverty and hunger in developing countries. Annina Lubbock, IFAD's Senior Technical Adviser, Gender and Poverty Targeting, was one of the draft's co-authors. She explains the process that led to the newly adopted policy on targeting.
Interview with Annina Lubbock, Senior Technical Adviser, Gender and Poverty Targeting
Why a policy on targeting?
Targeting, namely making special efforts to ensure that projects reach and benefit the poor and vulnerable, has been central to IFAD's work for a long time – at least for the last 20 years. The approach has changed as projects have evolved from blue-print, technically-driven projects, to ones that are increasingly demand-driven and participatory. The focus is on the needs of local communities, and how to respond to them through project activities. However, the community-driven development approach has been criticised from a targeting perspective, in the sense that projects often benefited the local elite, who are more vocal and better equipped to formulate demands and obtain resources, rather than vulnerable poor people who are often excluded or exclude themselves.
So now, the goal is to have the local community as the driver of development. In 2004, we started to review our approach to targeting accordingly. We also needed to respond to criticism from the external evaluation of IFAD that came up with the conclusion that IFAD's work was not effective at reaching the extremely poor, although it was effective in geographic targeting
What's new about IFAD's targeting policy?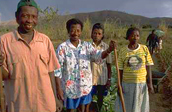 What's new about IFAD's targeting policy is the fact that we brought in, under the heading of targeting, aspects not generally associated with targeting, such as capacity-building and empowering people typically excluded from the decision-making process. These are as important, if not more, than measures which are conventionally described as targeting measures, such as eligibility criteria. We put a strong focus on promoting inclusion of the poor and vulnerable - and women in particular in development processes and decision-making - rather than exclusionary targeting of people singled out as "poor", which can be stigmatising and inappropriate. Above all though, we have sought to embed our concerns for targeting within the policies of the governments we work with.
What are the different criteria?
For instance, applying eligibility criteria (e.g. a level of income) has limitations to the extent that it is difficult to find out about people's income; the application is time consuming, costly and often inaccurate. It can also be conflictual and it does not capture vulnerability. We can have geographical targeting – which is an effective way of reaching populations which are poor, but often poverty is concentrated in pockets within less poor areas. The Millennium Development Goal poverty criterion of "income below one dollar a day" works as a national reference point, but cannot always be used as a criterion for targeting, because it is difficult to find out about incomes, because poverty is not just about income and because even among those who earn less than one dollar a day there are significant differences which have to be taken into account.
How did you go about the process?
We started with a study, financed under the IFAD's Innovation Mainstreaming Initiative, on targeting in demand-driven projects. We had some case studies to work from: two in Peru and Nicaragua, one in Cape Verde, and one in India that used demand-driven approaches and provided good lessons learned. We looked at direct targeting measures, applied through community-based targeting where communities themselves set and apply eligibility criteria, at geographical targeting, and at efforts to build the capacities of farmers' organizations and to select project activities fitting the needs of specific groups of poor people. In the case-studies we saw that success in targeting in these projects depended on a combination of all these measures, which we clustered into five categories of measures and which now provide the backbone of IFAD's framework for targeting described in the policy: geographic targeting; self-targeting measures; enabling measures; empowerment and capacity-building; and direct targeting. We found that this analytical framework is applicable to targeting in the context of all IFAD's operations, from sector-wide programmes in which IFAD participates to area-based projects. Developing a policy that was not only applicable to projects was a key task of the Policy Reference Group, which was established to develop the policy.
What were the conclusions?
The framework identifies the measures which make up a targeting strategy. But first it is necessary to identify in each situation the poor people that we should target. That depends on a much better poverty and livelihoods analysis than what we do now. This will require additional time and resources. Also, we will need to pay more attention to monitoring who actually benefits from IFAD's support.
For further information, please contact:
Annina Lubbock, Senior Technical Adviser, Gender & Poverty Targeting
Useful links:
IFAD Targeting Policy
---
New Markets for Mozambique's Remote Fishing Communities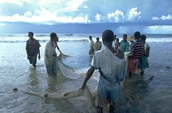 The Sofala Bank is a long, narrow stretch of land running 950 kilometres along the Indian Ocean and 20 kilometres inland, half way through Mozambique and covering the country's eastern provinces of Nampula, Zambezia and Sofala. Most of the area is extremely isolated, with very limited access to even secondary roads going to market towns. About 26,000 households, or 130,000 people, live off small-scale fisheries that provide them with scarce and erratic income. They are among the poorest people in the country and therefore, very vulnerable to natural disasters or other crises.
The seven-year Sofala Bank Artisanal Fisheries Project (PPABAS), launched in 2002 with an IFAD loan of US$18 million and co-financing grants from NORAD (US$ 5.8 million) and the Belgian Survival Fund (EUR 3.7 million), is gradually improving life for those fishing communities, helping them gain access to markets and credit, financing new investments and technologies and improving local social services. PPABAS was set up following the success of a similar project in the Nampula province and is locally managed by the Institute for Development of Small-Scale Fisheries (IDPPE) in Mozambique.
Improving access to markets
More than 400 kilometres of roads have been built, linking isolated hamlets to secondary roads leading to market towns, and enabling them to bring fish and other locally produced goods to consumers markets.
"Villages are now connected with market corridors, as secondary roads go on to the main North-South national road. Villagers can go to the main town, where consumers and wholesale markets are," says Rui Falcão, the project's coordinator. "The infrastructure is not very developed yet, but still, it's changing the situation. And we are in the process of identifying new roads to build."
Keeping fish fresh for consumption
One of the issues with bringing fish to market is keeping it fresh. Fish has to be sold as fresh as possible. Without tools to help keep the fish cool, local fishing communities were not able to transport it. Today, the project is piloting two ice production plants in Quelimane in Zambezia province and in Moma in Nampula province – both nearby towns that are connected to the electricity grid – to provide the local communities with large blocks of ice. "They used to transport homemade ice in old fridges," says Falcão. "We've introduced ice blocks of about 10 kilos in size, and have shown the villagers how to crush the ice just before setting off to go to the market. That way fish can keep fresh. "We've also introduced affordable polystyrene boxes to store the ice," says Falcão.
Local communities have also been encouraged to improve traditional preservation techniques, such as drying and smoking fish. Dry timber racks were built to replace sun drying on grass, and new smoking facilities, such as kilns, were introduced. Communities are also encouraged to go for higher value fish but often they lack the incentive and the technology for that kind of catch.
Improving fishing technologies
Another part of the project was to improve fishing technology and equipment, but so far progress in that area hasn't been as fast as anticipated. "They used to go fishing in dugout boats," said Falcão. "Now they've improved to planked canoes with a bigger freight capacity – but they are still paddling to get out to sea.
"We're planning to introduce motorised boats. We're working on a design for a low-cost engine made in China that they'll be able to afford. We'll test them in the next nine to 12 months and assess feasibility. If successful, they'll be able to go further offshore to fish."
The type of fishing nets used by the villagers – sometimes even mosquito nets – are also not very effective and can be damaging to local sea resources. Falcão reports that the project is promoting improved nets and other fishing gear, but so far local communities have been slow at adopting them.
Improved technology extends to better access to credit facilities as well. The savings and credit system introduced under the project has been one of its most successful components, with nearly 200 groups created in the three provinces. These savings and credit groups now need to be connected with financial institutions to get access to larger amounts of credit. The villagers will need such credit to invest in new and improved fishing equipment and technologies.
Building facilities for local social services
From the start, local communities were very keen to build new facilities for basic social services, such as health care and education. "They said they wanted more health centres, schools and better access to water," says Falcão. "So we have been very committed to building them!"
The project provided the building materials and certified builders. The local communities managed the rest of the work. So far, 10 out of the 14 planned schools, 7 out of 10 health clinics and more than half of the water points have been built in the region.
"The commitment and enthusiasm from both the communities and the local managing agency has been one of the most exciting aspects of the project," says Falcão. "But local communities still tend to attribute their success to IDPPE rather than their own efforts," he says. "Time and human resources investments are still required to give them the confidence they need to take their destiny into their own hands."
For further information, please contact:
Rui Falcão, Project Coordinator, Sofala Bank Artisanal Fisheries Project
Alessandro Marini, Country Programme Manager
Custodio Mucavel, IFAD Country Officer
Useful links:
---
Targeting for impact in Kenya
Change of geographical focus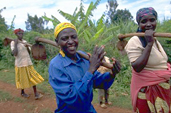 Building upon geographical poverty data released by the Government of Kenya, IFAD moved away from its previous approach of targeting marginal and "dry-land" areas to focus on addressing poverty in the high- and medium-potential agricultural areas where most poor people are located, specifically around Lake Victoria, Mount Kenya, and the coastal areas. The average population density in these areas is around 400 to 600 people per square kilometre and even reaching 1000 persons per square kilometre, compared to about 50 to 100 persons per square kilometre in semi-arid lands and less than 10 persons per square kilometre in arid areas. Even if relative poverty levels in more populated areas may be lower (30 to 50 per cent of the population compared to 60 to 70 per cent for semi-arid and arid areas), the absolute number of poor people is much higher. By concentrating on reaching large numbers of poor people in densely populated high- and medium-potential areas, IFAD is trying to achieve a greater impact.
Focal areas selected according to level of poverty
To address the fragmentation of physical investments across large areas, a focal area approach has been adopted. The focal areas are selected on their level of poverty based on clear criteria developed locally by project and district staff. Thus, all project activities (i.e., support for drinking water, agricultural activities, etc.) are concentrated in specific limited geographical areas at the community level. The size of the focal areas is determined on the basis of the agro-ecological zone and population density in the selected project area, in order to reach a manageable number of households, usually between 400 and 600.
Identification of the poorer and poorest communities has been the first step in the targeting process in the very early stages of the project design process of two new projects in Mount Kenya and South Nyanza. Using pre-implementation start-up funds, specific targeting work has been carried out by Project Management Units (PMUs) with district staff, with technical backstopping from IFAD. In the case of the Mount Kenya Project, the focal areas have been limited to river basins to address some of the environmental issues. Focal area development plans are then prepared together with local communities, and the preparation of the project's annual work plan and budget is based on the financing of investments in the focal area.
The new targeting approach has also been implemented under the ongoing IFAD-supported Central Kenya Dry Areas Project, and has been well-received. Consistent efforts have also been initiated to address gender issues both at the project management level and at the field level.
Two sectors identified to target poor farmers and stimulate growth
The change in the geographical focus of IFAD operations to densely populated areas has opened the way for a strong emphasis on promoting pro-poor growth. This growth will be facilitated through support for market-driven development targeting poor smallholder farmers, in line with the government's emphasis on agriculture as the principal growth sector for addressing poverty. After an extensive consultative review, IFAD and the Government of Kenya have identified two sub-sectors where focusing on small-holder producers can bring pro-poor growth: the informal dairy sector and the domestic horticulture market. Most poor farmers with small land holdings are already engaged in both types of activities, so the approach is to help farmers get better returns from activities that they already know and understand. This has required a refinement of the targeting approach. IFAD has worked with the International Livestock Research Institute, using its extensive Geographic Information System (GIS) database to match informal dairy sector market potential with poor smallholder producers' capacity. A similar approach has been adopted under the IFAD-backed Smallholder Horticulture Marketing Programme currently under appraisal, where the crops to be supported have been selected because they are cultivated by most poor smallholders.
Lessons to learn from targeting in Kenya
There are several lessons emerging from pro-poor targeting arrangements in Kenya. First, there has to be a clear understanding that poor people are not a homogenous group; there are many different categories of 'poor people'. It has, therefore, become apparent that context is important when determining categories of poor people. Communities have their own categories of who is considered poor based on local characteristics and causes of poverty depending on local circumstances.
Second, appropriate participatory pro-poor targeting activities should be part of project planning activities when specific actions and attitudes need to be used in engaging poor people in project activities. Third, pro-poor targeting should be a continuous process whereby sub-strategies are continually refined so that they are integrated into project cycle activities. The reason for this is because changing circumstances, such as drought, could easily make moderately poor people slide backwards into extreme poverty in a short period of time.
Fourth, project implementers need to have the capacity to engage with poor people. Having implementers trained to utilize poverty profiles on the basis of available socio-economic baseline surveys, relevant available poverty data and unique local knowledge is essential in order to enable them identify the relevant methods of dealing with the different categories of poor people. Due to the need to quickly show results contained in annual workplans and budgets, most implementers usually engage better-off members of communities – that are better educated, and often readily available to respond to officer-lead activities. Poor people are shy and feel intimidated when in group activities with better-off members. Experience has shown that most poor people do not have the financial resources and learning ability like the better educated members to keep pace with project planning processes that are a basis for priority setting for project interventions. Subsequently, when their voices and specific needs are not heard they eventually drop from group activities leaving the better off to benefit from the project. Implementers' ability should be enhanced to make it possible for them to communicate with poor communities without being imposing, frightening or intimidating and in addition to technology transfer, they should be tuned to counselling with a high degree of patience.
Last but not least, while implementing staff have to be encouraged to look for very simple, cheap, low input technologies commensurate with the adoption potential of poor people, they ought to adapt a gradual, step-by-step attitude of tolerance and patience as poor segments of the communities are usually shy and slow in learning given their situation.
---
Recent news on Kenya country programme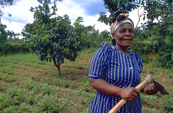 IFAD has recently approved a small country grant to the Kenya National Federation of Agricultural Producers (KENFAP) to help build KENFAP into a stronger farmer's apex organization. A total grant support of US$225,000 has been approved, made of an IFAD small-country grant of US$200,000 and an additional US$25,000 grant from the Italian Government through its "Farmers' Africa Programme". The bulk of the grant will finance capacity-building for members of farmers' organizations and institutional-building for KENFAP, while the rest of the funds will finance policy and legal advocacy activities, and the establishment of farmers' fora.
A grant financing agreement was signed on 2 November 2006 by representatives of the Government of Kenya and IFAD to provide US$4.7 million to support incremental GEF-financed activities under the Mount Kenya East Pilot Project for Natural Resource Management (MKEPP). The goal of the integrated project is to contribute to poverty reduction through a more productive, equitable and sustainable use of natural resources and integrated ecosystem management. Overall, there will be a reduction in the risk of wildlife damage to crops and agricultural infrastructure, while anti-poaching activities will lead to the protection of mammal biodiversity in the Mount Kenya National Park and Forest Reserve.
The Smallholder Dairy Commercialization Programme (SDCP) was officially launched in Nakuru, Kenya, in October 2006. The programme is a US$19.8 million, six-year investment largely financed by a US$17.5 million IFAD loan and a US$845,000 IFAD grant. The overall goal of the programme is to increase incomes among poor rural households that rely on the production and trade of dairy products for their livelihood by improving financial returns and enabling more rural households to create micro-enterprises and employment opportunities. The programme will target resource-poor and small-scale intensive dairy farmers who cultivate less than 1.5 hectare on average, mobile milk traders and small-scale "milk bars" (small-scale shop bars or kiosks where customers buy and/or are served with milk products).
For further information, please contact:
Marian Bradley, Country Programme Manager
Tom Mwangi Anyonge, Senior Programme Support Officer
John Mutunga, KENFAP Chief Executive Officer
Faith Muthoni Livingstone, MKEPP Project Manager
Useful links:
---
Success stories from the field



IFAD and Africare: a "drought resistant" partnership in Zimbabwe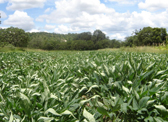 Zimbabwe is in a dire economic situation. Since 2000, the country has suffered from hyper-inflation, a recent currency devaluation of 60 per cent and the introduction of a new, weak currency. As a result, the cost of living continues to skyrocket, resulting in an increasing number of people living in poverty. Today, 83 per cent of the Zimbabwean people are said to live on less than US$2 per day. At the same time, years of drought combined with poor management have hampered agricultural output, even as the rainy season is about to start. To make matters worse, development assistance to the country hase been substantially reduced due to poor governance and subsequent international isolation. Moreover, Zimbabwe has one of the world's highest HIV-infection rates, which is having serious consequences on the country's agricultural sector.
IFAD suspended all of its loans due to unpaid arrears in February 2002. However, to facilitate full-scale reactivation of its Zimbabwe portfolio at some point in the future, the organization has decided to maintain a presence through small grants given to non governmental organisations (NGOs). Within this framework, the Zimbabwean branch of the American NGO Africare has been receiving grants since February 2003 to continue the Pro-FOOD initiative Project (Promotion of Food Security Opportunities Opposing Droughts), which is being implemented in regions of low and erratic rainfall, which experience crop failure almost three seasons out of every five.
Re-introducing roots and tubers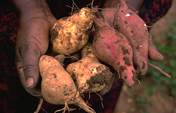 The main objective of the project is to improve household food security and smallholders' income by promoting drought-resistant cassava, sweet potato and pigeon pea production. The project also aims to boost local communities' capacity to process, utilize and market these crops for both human and livestock consumption. For years, such crops were neglected for growing maize, considered the king of crops under the influence of larger-scale farmers. But small communities didn't have the material and fertilizers to grow maize successfully, resulting in crops failing. Re-introducing roots and tubers and changing local perception was quite a challenge.
Today, the project, which targets smallholder households within the Zvishavane, Mberengwa and Shurugwi districts of the Midlands province, has reached the end of its third phase, after two successive IFAD grants. It has benefited over 3,000 households, representing more than 15,200 participants, and established 357 hectares of sweet potatoes, 32 hectares of cassava and 14 hectares of pigeon peas. Considering the macro-economic situation of Zimbabwe, it is undoubtedly a success story.
Such success was mainly based on a participatory-approach and by training large numbers of trainers, drawn directly from the community, and government extension staff. This cascade training enabled trainers to reach out to many poor households in a short amount of time. The training now continues even as project funding comes to an end.
Moreover, the project assisted the setup of roots-and-tubers associations at the provincial, district and ward levels.The provincial association developed a constitution, which is currently being registered. Participating households moved from being highly vulnerable to being self-supporting through increased production of cassava and sweet potatoes. They gained a new daily income source through the sale of sweet potato tubers and vines, which helped them purchase day-to-day household needs and generate income to pay for school fees.
Families now supporting themselves
The Dzivas, a family located in Mberengwa, survived the 2003 drought thanks to consumption of cassava and sweet potato tubers, confectionaries from cassava, sweet potato flour and relish from cassava and sweet potato leaves.
"My family has been able to support more than 30 households with cassava and sweet potato planting material and tubers for consumption," Mr Dziva recently told project staff. "If it was not for these high-yield, drought-tolerant crops, many lives could have been lost. Initially the main goal of production was food security. But what I have learned over the past years is that these crops are cash cows. I managed to generate income that I later invested in assets."
Meanwhile, in Shurugwi district, the group members of Budiriro Garden had resorted to vegetable production and never thought of any better way of utilizing the scarce water resource. The group was reluctant to take up root and tuber crops in their small garden. Following the training on processing and utilization, the group decided to give it a try by planting a few plants of cassava and sweet potatoes. Eventually, they were able to expand the garden without using more water, since the root and tuber crops were drought-tolerant.
Life changing crop
The local diet has changed since cassava has been introduced to the region. This tuber was almost totally abandoned in the past, which helps explain why smallholder farmers involved in the project were initially reluctant to take it on board. However, after a series of talks focusing on how cassava can be used for a variety of products, such as flour, cakes, scones, bread and chips, and extensive training, people eventually adopted cassava farming.
"My family and I are now able to pay for school fees, buy clothes and school stationary," said Mrs. Chinogwenya, a member of Budiro Garden. "I'm now better prepared to counter the harsh economic conditions the country is facing. When foreign visitors ask me how I manage to make a living in Zimbabwe, I simply answer that I do just fine – because I grow cassava," she added, smiling.
The project aims to not only scale up but also to institutionalize the approach in the country's national agricultural research and extension programmes, especially in rural dry areas, given that the Ministry of Agriculture has been so impressed by the results of the project in Zimbabwe, as well as by similar activities undertaken in Mozambique.
Overall, the project has enabled thousands of rural women and men to transform their lives not only in terms of food security, but also to make them properly understand the changes that affect them and how to react. Today, the Root and Tuber Association is ready to take up its responsibility to make sure profits end up in smallholders' pockets. Needless to say, empowerment has been a key component of the project. Often farmers in this area sing a song that says, "If you want to change your life, don't remain seated and wait. Just stand up and decide." These project participants know exactly what they want for today – and tomorrow – and how they are going to get there.
For further information, please contact:
Paul P. Chimedza, Agriculture Programme Director, Africare
Jens Sorensen, Country Programme Manager
---
Results from regional thematic workshops
Annual UNOPS/IFAD Regional Implementation Workshop (Blantyre, Malawi, 13-17 November 2006)
The objectives of the annual workshop, hosted by the Government of Malawi and United Nations Office for Project Services (UNOPS), were to share experience and knowledge on programmes and projects in the region, to present IFAD's new operating model and to introduce the new head of UNOPS Africa Regional Office, Jose Salema.
As a first step to developing knowledge management practices, the first issue of IFAD's Eastern and Southern Africa Division newsletter, Progress in Eastern and Southern Africa, was introduced to participants and was very well received.
The new operating model is a set of operational changes aimed at improving IFAD's relevance, effectiveness and efficiency, and eventually, its development impact. As the centre of a serious of reforms at IFAD, one of the objectives of the new model is to better integrate IFAD engagements into national priorities and systems. To date, it comprises a new result-based country programme approach – driven by countries and supported by IFAD – more active engagement at the country level, new modalities for supervision, implementation and effective partnerships, and a more effective framework for managing results.
Participants also went on field trips to visit the Rural Livelihoods Support Programme (RLSP) and the Smallholder Flood Plains Development Project (SFPDP) – both IFAD-supported activities. On the whole, they felt it was a great opportunity to interact, and said they would like more exchange of information and experience rather than formal IFAD presentations.
For further information, please contact:
Rose Heraniah, UNOPS Portfolio Manager
Miriam Okong'o, Country Programme Manager
---
Rural Finance Workshop (Addis Ababa, 24-26 July 2006)
The 2nd Rural Finance Thematic Workshop for Eastern and Southern Africa, hosted by the Government of Ethiopia in collaboration with IFAD and the United Nations Office for Project Services (UNOPS), was held in July in Addis Ababa.
The theme was "Deepening financial services outreach: experiences, challenges, and the way forward," with a special focus on cost effectiveness. Participants presented experiences from the Rural Finance Intermediation Programme (RUFIP, Ethiopia); CARE (Rwanda); OCSSC (Ethiopia) and from the Projet de Mise en Valeur du Haut Bassin du Mandrare (PHBM, Madagascar). They also attended presentations from the Improved Management of Agricultural Water in East and Southern Africa (IMAWESA), an institution dealing with agricultural water management, and learned about an innovative tool developed by one microfinance practitioner working with Omo Microfinance.
In the last few years, IFAD has provided more than US$ 80 million in financing for rural finance programmes in several countries in the region, including Ethiopia, Mozambique, Tanzania and Uganda. All of these programmes are guided by IFAD's Rural Finance Policy and its accompanying Rural Finance Decision Tools, which focus particularly on how to improve the access of poor rural people to financial services.
For further information, please contact:
Edward Heinemann, Regional Economist
Miriam Cherogony, Rural Finance Knowledge Management Partnership
Useful links:
---
News & Events
Video produced by IFAD-funded project in Swaziland
The Lower Usuthu Smallholder Irrigation Project (LUSIP) is a poverty alleviation initiative in the south-eastern Lowveld of Swaziland. The project promotes the allocation of water rights to smallholders who have historically been denied water rights in favour of large commercial ventures. LUSIP provides irrigation water to an estimated 2,600 farmers to convert more than 6,500 hectares of land that is currently used for rain fed subsistence agriculture into irrigated commercial cash-crop production.
For further information, please contact:
Louise McDonald, Country Programme Manager
Dr Lukhele, CEO Swaziland Water and Agricultural Development Enterprise Ltd (SWADE)
---
Two High-Level Meetings with Kenya and Tanzania Officials at IFAD Headquarters
On 31 October, H.E. Dr. Ali Mohammed Shein, Vice President of the United Republic of Tanzania paid a courtesy call to the President of IFAD. Tanzania awaits the start of the Agricultural Sector Development Programme (ASDP), which IFAD is jointly funding with other development partners. The programme aims to revolutionize agriculture and reduce rural poverty. During his visit, Dr. Shein expressed a desire for stronger IFAD-Tanzania cooperation in the future.
On 17 November, a delegation from Kenya, headed by Mr Joseph Konzolo Munyao, Minister for Livestock and Fisheries Development, paid a courtesy visit to the President of IFAD. The Minister emphasised the importance of dairy production and processing in enhancing the livelihoods of poor rural people, particularly rural women.
---
New Assignments in the Eastern and Southern Africa Division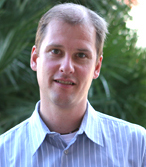 We are pleased to announce that Ms Louise McDonald has been recently appointed as the Country Programme Manager for Swaziland and that Mr Martin Rokitzki joined the Eastern and Southern Africa Division on 1 November 2006 as an Associate Professional Officer (APO).
Congratulations to Louise and a warm welcome to Martin!
Full listing of country assignments in the Eastern and Southern Africa Division
---

AFRACA 15th General Assembly
The 15th General Assembly of the African Rural and Agricultural Credit Association (AFRACA) was recently organised in Ouagadougou, Burkina Faso. This very active meeting elected a new leadership for the Association. The new Chairman is Mr L. Kone from Banque Agricole et Commerciale du Burkina. The important post of the Secretary General for the years 2007-2009 will be held by Ms. Mary Nandazi, who is currently the Chief Executive Officer of Micro Bankers Trust of Zambia.
The new management of AFRACA faces a number of interesting development challenges. Its large membership demands more and more sophisticated services. MFIs want to up-scale their services to achieve a wider clientele and improve their sustainability. Commercial and agricultural banks want to reach to the large rural clientele but do it in a profitable manner by using new service technologies and products. Central banks in most African countries need to solve the problems of regulating and supervising the non-bank financial institutions, such as MFIs and rural SACCOs.
At the same time, AFRACA has to improve its own sustainability. While the members already pay all AFRACA's administrative costs and a significant share of its development budget, it needs partners to secure its future delivery of high-class services to the member institutions. AFRACA is currently developing a Strategic Plan for the years 2008-2012, which will include a fundraising strategy aiming at active and continuous partnership formation with such donors and private corporations that have an interest in the development of rural finance activities in sub-Saharan Africa.
For further information, please contact:
Edward Heinemann, Regional Economist
Useful link: