Message from the Director
Long before Muhammad Yunus and the Grameen Bank won the Nobel Peace Prize last year, rural microfinance had been attracting increasing media coverage. The topic is not new; institutions such as IFAD have been working in the field of rural finance and supporting microfinance services for many years, including providing early support to the Grameen Bank. What has changed is the approach. From subsidized credit delivered mostly through state banks, the focus is now on developing sustainable (especially rural) financial institutions that provide a wide range of financial products and are firmly built on savings. There are many examples of projects in the Eastern and Southern Africa region which have successfully introduced rural finance ventures. This newsletter presents some of them.
Ides de Willebois
---
Special Feature on Rural Finance: Providing the means to grow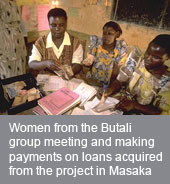 Rural finance, or the provision of financial services to poor rural people living in remote areas, has become a priority in IFAD's development projects and programmes. Providing microfinance services is an efficient way to reach people, particularly women, who are limited by the lack of financial services that could help them improve their economic situation. With a small loan of US$50 or more, a villager can set up a life-changing microenterprise, or a mother can buy medicine and food when needed or send her children to school.
Currently, about 20 per cent of IFAD's total loan portfolio is in rural finance, representing an investment of around US$720 million, while two-thirds of IFAD's individual projects have a rural finance component, which focuses on one or more of four main areas: credit, savings, insurance and remittances. "Poor rural people need continued access to a wide variety of financial services, not only credit," said Francesco Rispoli, Technical Adviser in Rural Finance at IFAD. "People typically find savings more important than credit and need a safe place to put their money and withdraw it when needed."
Increasing access to money transfer services is a new area of interest for IFAD. Remittances, estimated at US$160 billion in 2005, now represent the second largest inflow of foreign capital to developing countries, just behind foreign direct investment. However, many poor people in rural areas are unable to access these inflows because of lack of financial service facilities.
Microfinance as a concept has changed considerably over the last 25 years. In the early 1980s, IFAD and other donors supported agricultural state-owned banks through subsidized credit. These interventions were not successful because this kind of support was often misperceived as a donation and not a loan, which depleted the capital of lending institutions. "In addition, these funds never reached poor and vulnerable people. Instead they were often used to give loans to an established, connected elite," explained Jamie Anderson, also a Technical Adviser in Rural Finance at IFAD.
Soon after, IFAD shifted its focus to building inclusive rural finance systems and institutions. It supported a variety of financial institutions, including the Grameen Bank, one of the pioneers in providing financial services to poor rural people. In 2000, IFAD adopted its Rural Finance Policy Paper. One of the priorities of the policy paper was to improve the regulatory framework and build a diversified rural financial infrastructure with sustainable institutions that reach and involve poor and vulnerable rural people. Two years later, a set of financial decision tools was adopted to help implement the new policy.
IFAD continuously seeks the most effective models, delivery mechanisms and innovative approaches for providing rural finance services. "The idea is to establish ongoing linkages between microfinance providers and mainstream, commercial banks that live beyond the life of an IFAD project, allowing financial services to rural communities to further grow and develop," said Rispoli.
In the Eastern and Southern Africa Division alone, rural finance represents about 20 per cent of IFAD's loans in the region, or around US$144 million. The portfolio is extensive, ranging from national programmes to financial components in individual projects, to regional grants. For instance, different types of institutions are put in place, depending on the local environment, from Savings and Credit Cooperative Societies (SACCOs) owned by members (Tanzania), to village banks based on the Grameen model (Mozambique), to microfinance institutions or MFIs (Ethiopia or Kenya). "There is no one perfect fit, but a host of institutional arrangements that need to be adapted to the local context," explained Dan Vadnjal, Regional Economist in the division.

In terms of programmes, national rural finance programmes represent the largest part of the division's rural finance portfolio. They are large-scale programmes aimed at rural finance and implemented nationwide. Currently, such programmes are operating in Ethiopia, Mozambique, Tanzania and Uganda, while in Zambia a rural finance programme is just starting, and another one is about to be approved in Lesotho.
The Rural Financial Intermediation Programme (RUFIP) in Ethiopia is the largest in the division, with an IFAD contribution of US$25.7 million out of a total cost of US$88.7 million for the programme period 2003-2010. Part of the programme is devoted to establishing about 3,400 SACCOs owned and managed by members, and training poor rural people to use financial services.
"The RUFIP is quite unique because it starts in rural areas and then expands to urban areas. It's the opposite of how microfinance has evolved in the region," explained Miriam Cherogony of the Rural Finance Knowledge Management Partnership in Nairobi. "In fact, our lending partners don't like it as much; they say their urban clientele is too risky!" The RUFIP programme is also one of the few that has a high utilization of funds. "The programme has been very successful, it has already used up its loan portfolio and funds are revolving," she added.

In the Amhara region of Northern Ethiopia, the Amhara Credit and Saving Institution (ACSI), the largest of the 27 MFIs currently operating in Ethiopia, is one of the MFIs borrowing from the RUFIP programme. ACSI operates in all the districts of the region, and covers about 75 per cent of the communities. In terms of outreach, it has over 530,000 poor clients with an active balance, and another 210,000 voluntary savers with an average saving balance of 250 Birr (about US$29) per individual. However, there are still many economically active poor people who have not yet been reached. The repayment rate stands at over 98 per cent, while portfolio at risk is about 3 per cent. ACSI is now able to cover costs of operation with internally generated income. The programme's success was helped by the fact that in the late 1990s, the Ethiopian government liberalized the regulatory framework for microfinance operations and lifted interest rate caps.
Another successful programme is the Rural Financial Services Programme (RFSP), which started in Tanzania in 2001 and for which IFAD's contribution represents US$16.3 million of the US$23.8 million total. The aim of the nine-year programme is to support development of a comprehensive financial system, at village or ward level, that is owned, operated and managed by members. Now in its second phase, the number of savings and credit associations continues to increase, while membership, capital and loans disbursed are growing regularly. Although some elements of the programme still need to be improved – such as Internet connectivity, training and women's participation – the links between MFIs and commercial banks have been strengthened and more financial services are being provided to rural areas.
"What is very interesting in Tanzania is the fact that the SACCOS provide loans against warehouse receipts developed under another project," said Cherogony. "It is a very good example of projects working together to create synergies." Under the IFAD-supported Agricultural Marketing Systems Development Programme (AMSDP), a system of warehouse receipts for agricultural produce was created in which farmers can deposit crops at harvest in a safe and independently run warehouse against a receipt that can then be used as collateral (see the Tanzania Success Story).
In Mozambique, the Rural Finance Support Programme started in 2005 with an IFAD loan of US$9.5 million and a total cost of US$34.3 million. The programme was set up to help smallholders, fishers and other poor people in remote communities organize into self-managed financial associations to help them manage their own resources. "This programme is unique because it is the only one in the division to target fishing communities," explained Cherogony. The savings and credit associations are 'savings-led' – the local communities mobilize their own savings and lend them to members. This system was introduced under the Sofala bank fisheries project, which had a specific rural finance component for fishing communities and was so successful that it opened the way to a wider programme.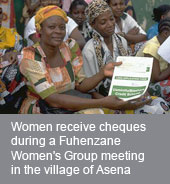 The division is also involved in rural finance in other countries through individual projects that have a strong financial component, and through grants to local organizations and non-governmental organizations. Through substantial grants of US$1 million or more, IFAD supports the African Rural and Agricultural Credit Association (AFRACA), the Rural Finance Knowledge Management Partnership (RFKMP) and the Kenya Women Financial Trust (KWFT), among others.
The work done by KWFT is particularly notable. After a number of loan recovery and allocation problems at the start, KWFT was able to turn the situation around through major changes in staff and by reviewing its membership base. Since then, more women have joined and members regularly repay loans. In the first nine months of 2006, KWFT membership in Western Kenya increased by 32 per cent to reach nearly 27,000; the outstanding portfolio rose 61 per cent to 525 million Kenyan shillings (US$7.6 million); members' savings went up 49 per cent to 254 million shillings (US$3.7 million); and the recovery rate is an impressive 100 per cent.
There are of course many more projects – in Madagascar, Uganda and Rwanda, for example – that have introduced successful rural finance ventures. It is only the start of an ambitious programme that will give poor and vulnerable people in Africa and elsewhere permanent access to financial services to empower and enable them to control their lives and livelihoods.
For further information, please contact:
Francesco Rispoli or Jamie Anderson, Rural Finance, Technical Advisory Division
Email: f.rispoli@ifad.org, j.anderson@ifad.org
Dan Vadnjal, Regional Economist, Southern and Eastern Division
Email: d.vadnjal@ifad.org
Read more:
---
Success Stories from the Field


ETHIOPIA: Promising Community-Driven Development approach in pastoral communities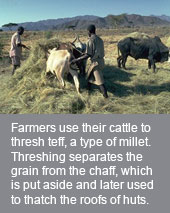 Ethiopia is one of the poorest countries in the world, ranking 170 out of 177 on the Human Development Index, with wide disparities between regions. Eighty per cent of the country's population relies on agriculture, particularly livestock, for their livelihood. The most vulnerable people in the country are the pastoral communities living in the remote lowlands bordering Somalia in the East, Kenya in the South and Eritrea in the North East. The lowlands are arid regions highly prone to drought due to scarce and erratic rainfall. Productivity is very low as agriculture is still mainly based on rainfall rather than irrigation.
The Pastoral Community Development Project, which started in 2004 for a five-year duration, was designed to bring sustainable development to those pastoral communities and integrate them better into the national economy. It aims to harmonize development between Ethiopia's lowlands and the more fertile highlands, and reduce vulnerability to drought as well as risks of local conflict. In its current first phase (2004-2009), the project is targeting one third of the pastoral communities in the four regions of Afar, Somali, Oromiya and the Southern Nations, and Nationalities and People's region. IFAD has provided a US$20 million loan toward a total project cost of US$60 million, of which half has already been disbursed.
"The project is quite innovative as it is based on the Community-Driven Development (CDD) approach," said Mohammed Hagos, Project Coordinator in Addis Ababa. "The approach has been particularly successful in this project so far." Under the CDD approach, the communities themselves select the type of project they would like to implement and decide how they would like to implement it. They only receive technical support from the outside. "There's a great motivation within the communities to solve their own problems," explained Hagos. "They quickly learn a lot in terms of planning and project management."
After only two years, the project is showing very promising results, especially in the sustainable livelihoods component. At the start of the project, local communities identified 2,057 micro-projects in 465 kebeles, or villages; 981 of them (47 per cent) have already been completed and are providing the required services. Of the total identified micro-projects, 38 per cent are water supply projects, 14 per cent are for new schools, 13 per cent are for human health posts, 10 per cent are for animal health posts, 13 per cent are for income-generating schemes, and the remaining are for small-scale irrigation works and access roads.
As an example of an income-generating scheme, one community chose to buy a grinding machine to replace hand grinding of grain, a traditional task for women. The investment saves women in the community two hours of work per day, time they can use to develop other activities, such as handicrafts. In addition, surrounding communities can use the machinery for a fee, providing extra income to the community. "The CDD approach is very crucial in this project," said Hagos. "The communities decide on their project. It gives them power and ownership, and opens their mind to business. They realize they can do it by themselves, and the money stays and grows within the community."
Other community members chose to set up small businesses such as restaurants or shops. However, at this stage many of the small enterprises are not yet profitable, if all costs are taken into account, and their owners have not yet developed plans for how to use the income, such as distributing dividends or reinvesting in the enterprise.
Implementation efficiency tends to vary across regions. Some regions have a high rate, with 94 percent of identified projects already completed, while others hover around 48 percent, mainly because too many micro-projects were started at once, which made implementation more difficult.
Although the project is doing well in its livelihoods component, it is lagging behind in its two other components: risk management, under which a pastoral early warning system and drought contingency plan are being established; and monitoring and evaluation. "We are currently working to establish effective monitoring at community level, but it is not as advanced as the livelihoods component," explained Hagos. "It is more difficult, the communities are not so aware of the importance of data collection and information. In most cases they are illiterate. We are working on methods based on verbal information at kebele level and written at wereda or district level only, and hopefully we'll soon have an efficient monitoring system."
For further information, please contact:
John Gicharu, Country Programme Manager, Ethiopia
Email: j.gicharu@ifad.org
Mohammed Hagos, Project Coordinator
Email: mohammed.ahagos@ethionet.et
Read more:
---
TANZANIA: Empowering smallholder farmers through the warehouse receipt system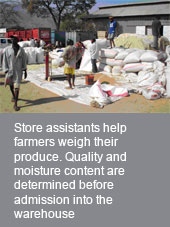 In Tanzania, the agricultural sector is the main contributor to the economy, accounting for almost 50 per cent of the country's gross domestic product and employing over 80 per cent of the population. Despite its importance, the sector has not been showing good growth rates. One of the factors hindering performance are constraints in the agricultural marketing systems.
To address these issues, the Agricultural Marketing Systems Development Programme (AMSDP) was set up to improve the structure of the country's agricultural marketing systems, enhance their performance and encourage the participation of smallholder farmers and small- and medium-scale enterprises in agricultural marketing activities.
As part of the programme, a warehouse receipt system (WRS) was put in place, an initiative that has had an immediate and positive impact on the incomes and livelihoods of farmers. The WRS not only allows farmers to obtain higher prices for their agricultural produce, but also provides them with the opportunity to access affordable financial services at the appropriate time.
Crop prices usually decrease drastically during the harvest season, but after three to six months the prices can double or triple. The lack or inadequacy of storage facilities often forces the farmers to sell their produce when the market prices are low. This situation is often exploited by traders, who have the necessary facilities to store the produce and then sell with a good profit margin once the market prices improve. The WRS provides the farmers with a facility to store their produce until the market prices are more favourable.
The warehouses have been established and rehabilitated in areas where SACCOS have considerable experience. Once the harvesting season begins, the management of the SACCOS assesses their funding requirements and, if needed, submits a loan application to the bank. Once the produce has been deposited in the warehouse, the Collateral Manager, who manages the warehouse, issues a receipt to the farmer. The farmer can use this receipt to obtain a loan from the SACCOS of up to 75 per cent of the value of the stock deposited in the warehouse.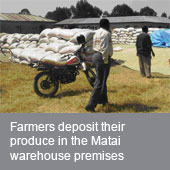 Historically, banks have been reluctant to finance agricultural-related activities due to the uncertainty caused by external factors beyond the control of the farmers (for example, droughts and floods). The WRS provides the collateral that banks require to finance agricultural activities.
As collateral volume rose, farmers increasingly used the WRS. As a result, the SACCOS have been able to obtain bigger loans at more favourable terms, which again has had a positive impact on the income of the farmers. It has also resulted in a high demand from farmers to extend the WRS to new areas. Another positive development is that farmers have started implementing the WRS outside the programme area on their own initiative and with their own funds.
For further information, please contact:
Samuel Eremie, Country Programme Manager, Tanzania
Email: s.eremie@ifad.org
Anne-Marie Roed, Associate Portfolio Manager, UNOPS
Email: Anne-MarieR@unops.org
Read more:
---
COMOROS: Interviews with microcredit users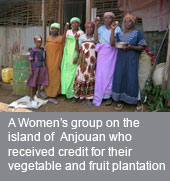 The MECK (Mutuelle d'Epargne et de Crédit ya Komor, or Comoros Savings and Credit Association) is a network of microfinance institutions that was established with the support of an IFAD project to help develop the economy (Projet d'aide aux initiatives économiques de base, AIEB, 1997-2004). It counts 35,000 members and eight branches managed by the Union of MECKs on the three islands, and has a portfolio of US$20 million in savings and US$10 million in credit. One of its branches, the MECK Domoni, which covers the regions of Domoni and Nyumakélé on the island of Anjouan, opened three years ago. In this series of interviews, initially published in French in MECK's newsletter, members explain how microcredit has helped them improve their daily life and business activities.
One of the difficulties in providing microfinance services is that too many loans are used for social purposes (for example weddings, purchases of goods), rather than for generating business. The examples in the interviews show how loans can be used for productive and entrepreneurial economic activities.
Yssouf Houmadi Oussene, Ylang-ylang producer from the village of Komoni in the region of Nyumakele, has been a member of MECK since 2005.
How did you start?
I had already had a bank account elsewhere, but a friend of mine told me the MECK offered better conditions and gave loans to people with limited financial resources. So I went there, to the MECK Domoni, the closest in my region.
Was it difficult to get a loan?
I got a bit of help to prepare the application, but once the application was done it was relatively easy, and I got a loan for 2 million francs [about US$5,500]. I paid it back in eight months instead of 12 to avoid high interest charges.
What did you do with the loan?
I reorganized production and sales activities of Ylang-ylang, which I distil myself. Thanks to the loan I was able to solve some of the problems I had in my business.
What do you do with your profit, when you generate a profit?
I pay for the education of my 16 children. I believe this is my duty. Some of them are at university at Grand-Comoros.
---
Abdallah Mirsoidi is a cattle farmer in a small village one kilometre away from Domoni. He has been a member of MECK Domoni from the start.
How did you start?
I have been a member from the start. I've got membership number 196 to show! I took out my first loan in 2004, for 500,000 francs [US$1,360]. I took a second loan for the same amount in 2005, and last year I was able to borrow one million francs, which I paid back early. I'm currently applying for my fourth loan.
What do you use your loans for?
I use the money mainly to buy cattle: cows, goats and others, which I sell on the market or slaughter to sell meat. With the fourth loan I would like to diversify into poultry, and maybe sell meat further afield, in Grand Comoros if I can. Before the MECK Domoni opened, I was doing the same type of work but I was restricted. I didn't have the means to develop.
Was it difficult to get a loan?
I had difficulties at first. I didn't have the required guarantees. I had a piece of land but no deeds to prove it. I had to give gold as a guarantee. After that, it became easier. I got a certificate for my land and had all the papers in order.
How long did you have to wait for your loan?
It usually takes 30 days from filing the application. This time I was hoping it wouldn't take as long, as I would like to travel and come back in time for Ramadan. I'm now trying to convince other people in my village to access this service. At the moment, only four people have an account. For me it is too risky to keep money at home. There are risks of theft, fire and so on.
---
Mohamed Saindou is from Domoni, where he owns a shop selling motorbike parts. He has also been a MECK member from the beginning.
How did you start?
I am member number 125 so I was one of the first there! I started with a 500,000 franc loan [US$1,360]. I paid on time and was able to get another one, which I used to open a communication agency. After that, I borrowed 2.5 million francs [US$6,800] to start my current business.
How many loans have you taken out at MECK Domoni?
In total five loans: two of 500,000 francs each and three of 2.5 million each.
Do you have other projects?
Yes I do. I'd like to diversify into electronics. That's my background, after all. I think I'll probably aim to start in 2007.
Do you have any advice to give to someone who wants to take out a loan?
I think there are many problems in our country and many poor people, so I would tell them not to hesitate to get a loan. It can really improve your life. But I would advise them to borrow for a long-term project that can really improve their standard of living, not to borrow for a wedding. It's too dangerous, loans are hard to pay back.
For further information, please contact:
Benoit Thierry, Country Programme Manager, Madagascar and Comoros
Email: b.thierry@ifad.org

---
News & Events


IFAD Staff Help Fund helps build a school in Kenya
IFAD Staff Help Fund contributed US$4,500 towards the construction of a classroom at the Loo Rateng school community in Kayoo in the Nyanza region in Kenya, where pupils were previously taught in an unsafe mud-walled structure. The Kenyan government also contributed US$1,400 towards the school through its Constituency Development Fund, a recent rural development initiative.
The school needs were highlighted during the installation of two water storage tanks to provide safe drinking water to pupils, under IFAD's Southern Nyanza Community Development Project. IFAD Staff Help Fund was made aware of the issue at the regional implementation workshop held in Malawi last November. "The pupils have already started enjoying clean drinking water as they await completion of the new classroom block," said Ben O. Onyango, Southern Nyanza Community Development project manager.
For further information, please contact:
Ben O.Onyango, Project Manager
Email: pmusncdp@west.nbnet.co.ke
---
Strengthening Management for Impact Programme (SMIP) starts online network
The SMIP regional programme for Eastern and Southern Africa started work on its "Managing for Impact" network at a workshop help in Nairobi, Kenya, on 19-29 March 2007. A total of 23 representatives from most countries in the region attended the workshop, whose purpose was to develop a pool of practitioners and experts in the region to improve the poverty reduction impact of IFAD's programmes. During the workshop, the programme launched a new website which will be a key tool for network members to share knowledge and interact. Part of the website is open not only to network members but to all actors in the region and outside who have an interest in the programme.
For further information, please contact:
Fumiko Nakai, IFAD Programme Manager
Email: f.nakai@ifad.org
---
Staff give back lecture fee towards financing scholarship
Members of IFAD staff lecturing at the Università di Roma III took the initiative to give back their lecture fee, to enable students from developing countries to study in Rome. The university uses the fees to help finance student scholarships.
For further information, please contact:
Cristiana Sparacino, IFAD Country Programme Manager
Email: c.sparacino@ifad.org
---
New appointments in the division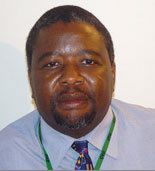 Robson Mutandi was appointed Country Programme Manager in charge of the Kenya portfolio, as of 1 April 2007.
---
Grants and loans approved in April
Regional grants
World Soil Information (ISRIC): US$1.4 million for a pilot operation for the Programme for Green Water Credits. Target country: Kenya.
World Agroforestry Centre (ICRAF): US$1 million for the Programme for Pro-poor Rewards for Environmental Services in Africa. Target countries: Kenya, Tanzania and Uganda.
International Rice Research Institute (IRRI): US$1.5 million for the Programme for Alleviating Rural Poverty by Improving Rice Production in Eastern and Southern Africa. Target countries: Burundi, Kenya, Malawi, Mozambique, Rwanda, Uganda and Tanzania.
International Food Policy Research Institute (IFPRI): US$196,000 for Assessing the Potential of Farmer Field Schools to Fight Poverty and Foster Innovation in East Africa. Target countries: Kenya, Tanzania and Uganda.
Country grants and loans
Burundi: US$14 million grant for the Livestock Sector Rehabilitation Project.
Comoros: US$4.65 million grant for the National Programme for Sustainable Human Development.
Ethiopia: US$20 million loan plus US$20 million grant for the Participatory Small-Scale Irrigation Development Programme.
Kenya: US$23.43 loan plus US$0.5 million grant for the Smallholder Horticulture Marketing Programme.
---