Message from the Director
Cyclone Ivan hit Madagascar on 18 February 2008, leaving devastation and 150,000 people homeless in its wake. Despite the ferocity of its storms, the cyclone-proof infrastructure built by the IFAD-supported Rural Income Promotion Programme has remained intact. This will provide an important basis for the recovery effort.
Climate change is a serious threat that will affect all of us, but will have a disproportionate impact on millions of poor rural people, especially those in sub-Saharan Africa. This is a threat that IFAD and our regional division are taking seriously. At a recent Farmers' Forum meeting during IFAD's Governing Council, farmers' and producers' organizations from all over the world made requests for IFAD's assistance at a variety of levels. At the corporate level IFAD will participate in a variety of fora to influence the development of pro-poor international policies and strategies. At the international level, IFAD and FAO will collaborate in an effort to develop a financing mechanism for smallholder farmers to mitigate the effects of climate change.
At a more practical level, for the long term, IFAD is identifying how to address climate change in any new programme and project designs. In the short and medium term we need to focus on mitigation and adaptation strategies and actions for farmers with whom we are currently working. The division is looking at a variety of strategies such as "real time" information exchange, focus on soil regeneration for better retention and release of moisture and nutrients to secure and enhance agricultural productivity.

To this end we need more than ever to work together, and we are open to new ideas and innovations from the field. You will notice, in fact, that we have opened our newsletter to contributions from other regions, to stimulate new ideas and share experiences. Adaptation measures will vary from place to place. However, as we learn and gain experience we hope that we can reduce the negative impacts of climate change. With your input we will also work closely with the governments in the region, and the Comprehensive Africa Agriculture Development Programme (CAADP) of the New Partnership for Africa's Development (NEPAD), to ensure that they too support relevant and responsive pro-poor smallholder policies and strategies.
Ides de Willebois
---
Special feature on climate change: Agriculture at the forefront to combat climate change
"Parties have recognized the urgency of action on climate change and have now provided the political response to what scientists have been telling us is needed." – Yvo de Boer, Executive Secretary of the United Nations Framework Convention on Climate Change (UNFCCC)
It is now unanimously recognized that climate change is a reality and has become a major concern for all of us. The United Nations issued alarming forecasts a year ago: global warming is accelerating and the world will warm by three degrees this century unless greenhouse gas emissions are cut. Global warming would result in severe weather, water shortages and lower crop yields. The United Nations has requested reductions in the order of 60 to 80 per cent by 2050 to stabilize the concentration of greenhouse gas emissions in the atmosphere at a level which would prevent the worst consequences.
For sub-Saharan Africa in particular, where we are already seeing the effects of climate change on agriculture, the consequences are potentially devastating. Crop failures and livestock deaths are already causing higher economic losses and increasingly undermining food security. Food prices are rising. In some areas, rainfall has decreased by as much as 50 per cent since the 1960s, and it is estimated that crop yields could decline by as much as 50 per cent by 2020, an alarming figure for the African continent. Even the Food and Agriculture Organization (FAO) admits that it did not anticipate such a rapid change.
In December, the United Nations agreed on the Bali Roadmap at the United Nations Conference on Climate Change held in Bali, Indonesia. The roadmap consists of a number of forward-looking decisions that represent the various tracks that are essential to reaching a secure climate future. The Bali Roadmap includes the Bali Action Plan, which charts the course for a new negotiating process designed to tackle climate change. This process would ultimately lead to a post-2012 international agreement on climate change, based on the four building blocks of adaptation, mitigation, technology and finance, and will be the successor to the 1997 Kyoto Protocol on climate change. Adaptation includes all activities that help people and ecosystems reduce their vulnerability to the impact of climate change, and that minimize the costs of natural disasters, while mitigation involves reducing greenhouse gas emissions.
Poor rural people are the most vulnerable to the effects of climate change because they live on ecologically fragile land and depend on agriculture, livestock, fisheries and forestry. Yet agriculture and forestry can play a key role in tackling climate change. The World Bank estimates that agriculture and deforestation account for 26 to 35 per cent of greenhouse gas emissions, but to some extent the process can be reversed if mitigation measures are taken. They include all measures to absorb carbon dioxide, such as nurturing and replanting forests, producing renewable energy, practicing conservation tillage and agro-forestry, and rehabilitating degraded crop and pasture land.
Global efforts will be more effective if the role of poor rural people as custodians of the natural resource base is recognized, and they are enabled to become key players in designing and implementing mitigation measures. As an organization with a mandate to enable poor rural people overcome poverty, IFAD is particularly concerned with the effect climate change has on their environment. To this end, it is increasingly integrating adaptation into its operations and contributing to mitigation programmes to make them beneficial to poor rural people.
In Ethiopia, IFAD's Pastoral Community Development Project has developed an environment warning system to warn local communities of upcoming risks of droughts and help them prepare against them. The system is currently being tested.
In Sudan, the Western Sudan Resources Management Programme has also integrated an environmental warning system as part of the programme's monitoring and contingency planning. "The programme is also building community resilience to drought by improved range management, water distribution and grain storage capacity," said Alessandra Grazioli, a Consultant in environment and natural resource management in IFAD's Technical Advisory Division.
In Madagascar, under the Upper Mandraré Basin Development Project, the improvement of agriculture techniques and technologies will contribute to reducing soil erosion and increasing water flow.
In Niger, tree regeneration activities of the Aguié Rural Development Project resulted in new trees being planted on a 100,000 hectare area, which contributed to restoring soil fertility and crop yields. Trees in that area had been cut down for fuel and building, and the land was used for crops, but without the trees it quickly became unproductive. The benefits of encouraging tree regeneration have been so dramatic that farmers not directly involved in the project are also following suit.
Moving across to Asia, the Xinjiang Uygur Autonomous Region Modular Rural Development Programme in China aims at setting up solar power systems to help poor households obtain energy from the abundant sunlight in the area. In addition, biogas as a source of energy was a key component of a six-year, IFAD-funded project that was implemented in 2002 to improve and sustain the livelihoods of poor rural people while rebuilding and conserving natural resources (see full story below).
These are only the first steps. IFAD is reviewing its strategy to ensure that climate change measures are included in every project and programme and that poor rural people are given access to the technologies and innovations they need to adapt to climate change and help reduce greenhouse gas emissions. By December 2009, to coincide with the Bali Action Plan, IFAD will implement its own climate change strategy with a special focus on youth, agriculture and the rural environment.
Useful links
For further information, please contact:
Louise Mc Donald
Country Programme Manager, Eastern and Southern Africa Division
Email: l.mcdonald@ifad.org
Alessandra Grazioli
Consultant in environment and natural resource management, Technical Advisory Division
Email: a.grazioli@ifad.org
---
Success Stories from the Field
Progress in Eastern and Southern Africa opens up to experiences from other regions and continents

Starting from this issue, you will find success stories from different parts of the world that provide examples of innovative approaches which have could potentially be adapted or replicated in Eastern and Southern Africa.
KENYA: Mount Kenya - recharging Kenya's largest water tower by protecting the environment
Environmental degradation and changes in climate in the Mount Kenya area are threatening the mountain that is the country's largest water tower. Mount Kenya provides close to half the flow of the Tana River, which produces 50 per cent of the hydropower generated in Kenya. Mount Kenya is a source of water for irrigated agriculture, fisheries, livestock production and biodiversity conservation and is strategic to the country's economic development. Restoring vegetation cover and protecting water catchments and sources have become a priority for communities and the government. An IFAD-funded project, the Mount Kenya East Pilot Project for Natural Resource Management, is also responding to the challenge.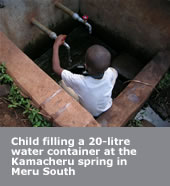 Mount Kenya was listed as a world heritage site in 1998 – it is the second highest mountain in Africa and its massive forest cover provides home to a wide range of animal and plant species. Through vast underground lakes and a wide network of rivers that originate from the mountain, the mountain's ecosystem provides water to over two million people in rural areas and supplies Nairobi's three million inhabitants with drinking water and electricity. But over-usage of this water source and deforestation are rapidly destroying water catchment areas all over the country, and water scarcity is reaching worrying levels. Only 30 to 40 per cent of Kenyans have access to potable water, and water quality is a growing concern.
Communities are responding by forming water users' associations along the main rivers flowing from the mountain. With the support of the government and IFAD, the associations plant trees and cover vegetation to protect riverbeds and natural springs, monitor the pollution levels of the rivers and work to gain legal status to obtain the rights to manage and sell water for their communities.
"Given the importance of Mount Kenya for water supply, something had to be done around the mountain to ensure sustainable protection of the environment and a continued supply of water to the people, while making sure that people living around the mountain have sustainable livelihoods," explains Robson Mutandi, IFAD's Country Programme Manager. Working in partnership with the government and the Global Environment Facility, IFAD funds the Mount Kenya East Pilot Project for Natural Resource Management (MKEPP), which combines environmental conservation with improved farming practices and income-generating activities, with the aim of improving the lives of Mount Kenya's poorest people. The project started in 2004 and is expected to reach over 60,000 household over a period of eight years, for a total cost of US$25.7 million. IFAD contributes US$16.7 million in loan and the Global Environment Facility provides a US$5 million grant to support to the Kenya Wildlife Service for managing the project's activities and for monitoring and evaluating their environmental impact.
Cleaning up rivers a priority
The poor people in Mount Kenya's rural areas are equally concerned about water supply and quality. "Our rivers are so bad," says Margaret Muthanje Simbah, Secretary of the Ena River Water Users' Association, a group formed by the project to protect one of the rivers flowing from Mount Kenya. "They are so spoiled. The water we fetch is dirty and contaminated. We need the water to be clean for ourselves and for our children, so we decided to act. We formed the water users' association to do something about it – to clean up and preserve our water resources."
Without proper vegetation cover to protect the soil and prevent water from evaporating, springs progressively dry up and water sources that were once abundant and clean can no longer be used. Washed-out sediments, agrochemical pollution and trash contaminate water sources across the country.
Bringing water closer to home

In drier areas, women and children usually have to walk long distances to fetch water for cooking, washing and drinking, and finding adequate water for irrigation is a widespread problem. Typically, women and children as young as five years old have to walk between 1 to 6 km for water, bearing 20-litre containers on their heads. By protecting springs and building earth dams to collect flood flow, the project helps rural communities bring water closer to their homes and reduces the burden of carrying water such long distances. This also allows communities to revive or build new irrigation schemes, which in turn help improve household food security.
"During the dry season, the water from our spring would drip so slowly that we would have to line up and even sleep at the spring just to get some water," explains Lucy Njoki, Chairperson of the Rumbia Women's Group. When the project came to her village, in Mbeere district, the first thing the group asked the project to do was to support them in rehabilitating the spring. The women even manually built 1 km of road so that vehicles with construction material could reach the spring and start work. Now water flows from a tap and the queues are gone. Hygiene has also improved as a result.
In some communities, environmental protection of water sources started even before the start of the project in 2005. Jane Mary Wambeti Joe, a participant in the Kirurumwe Valley River Rehabilitation Programme, a programme set up by the local water users' association, started her own tree nursery some years ago as a source of income and to provide seedlings to plant along the river banks. The demand for tree seedlings to plant is so high that she is now able to earn enough to cover her two children's secondary school fees. "The trees are important in preventing soil erosion," she says. "We need them in order to get rain, too."
Creating strong water users' associations as a key to sustainability

A river water users' association was formed in each of the five pilot river basins in the project area. Each association is in charge of the overall protection of the basin, while community-based common interest groups coordinate all of the associated activities through local project management committees. Activities include the rehabilitation and conservation of springs, rehabilitation of water supply and irrigation schemes, construction of new schemes and construction of earth dams. Members of the water users' associations are elected by village groups that represent each community in the river basin. "These associations need to be strengthened and become legal entities to be able to enforce the regulations related to good management practices and to punish offenders," says Richard N. Mbogo, water resources specialist for the project. With legal status, associations will be able to assist regional water resource management and supply authorities to manage and commercially supply water to their communities.
Long-term sustainability is one of the reasons why water users' associations and project management committees are encouraged to sell water, although at a very low price, rather than give it away, in the water kiosks that they manage. Fees cover the costs of infrastructure repairs and chemicals for water analysis and treatment. Buying water was once an unpopular idea, but communities are quickly realizing the benefit of paying for clean and accessible water.
"In the long run," adds Mutandi, "the aim is to have institutions at the community level that are fully aware of their responsibility to manage their resources in a sustainable manner. They also need to be able to generate enough income to sustain themselves and to feed back into protecting the environment."
Useful links:
For further information, please contact:
Robson Mutandi
Country Programme Manager, Eastern and Southern Africa Division, IFAD
Email: r.mutandi@ifad.org
Faith Muthoni Livingstone
Project Manager, Mt. Kenya East Pilot Project for Natural Resources Management
Email : pmu@mkepp.or.ke
---
CHINA: Biogas - helping poor farmers help the planet and themselves
Animals are an important source of food and income for many poor rural people, but their manure is a source of one of the world's most potent greenhouse gases. One sow and her piglets will produce about 9 tonnes of carbon-dioxide through the methane generated by their droppings. Turning manure into biogas is a triple-win situation: it improves the lives of poor rural people by giving them an affordable source of energy for cooking and lighting, replaces the time spent for fuelwood collection with money-making activities, and reduces the release of greenhouse gases that cause global warming.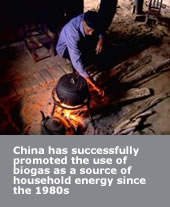 In China, an IFAD-supported biogas project has helped about 30,000 poor households by providing nearly 23,000 biogas tanks. As a result, methane emissions have dropped, incomes have risen and household sanitation has improved.
Methane is a major greenhouse gas. It is second to carbon dioxide in the amount generated but its global warming potential is 22 times more damaging. Burning bio-methane reduces methane's more damaging global warming effect.
In the 1990s the strategy was extended to remote communities in west Guangxi, where wood for fuel was in short supply and rural electricity was not available. In 2002 the strategy was a key component of a six-year IFAD-funded project to improve and sustain the livelihoods of poor rural people while rebuilding and conserving natural resources.
Improving health, saving money
Most of the farmers who live in Guangxi province don't earn enough to pay for fuel or electricity, and few are connected to the power grid. Women, who generally have the responsibility of collecting fuelwood, spent hours every day collecting firewood and then spent more time cooking in their fume-filled homes.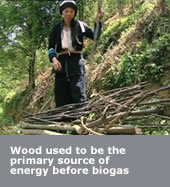 "We used to cook with wood," says Liu Chun Xian, a farmer involved in the project. "The smoke made my eyes tear and burn and I always coughed. The children too were often sick and had to go to the clinic, which was expensive. Now that we're cooking with biogas, things are much better."
Biogas units turn human and animal waste into a mixture of methane and carbon dioxide gases that can be used for lighting and cooking. Each household builds its own plant to channel waste from the domestic toilet and nearby shelters for animals, usually pigs, into a sealed tank. The waste ferments and is naturally converted into gas and compost. In addition to producing energy, the project has resulted in better sanitary conditions in the home. The poorest households, which had only one pig, built small units that could produce enough gas to provide lighting in the evening. Households with two or more pigs built larger units that could produce gas for cooking as well as for lighting.
Huge payoffs lead to high adoption rate
The double bonus of energy and compost motivated poor people to adopt this technology in significant numbers. By 2006, the project had exceeded its target by providing more than 22,600 biogas tanks and helping almost 30,000 households in more than 3,100 villages. As a result, 56,600 tonnes of firewood can be saved in the project area every year, which is equivalent to the recovery of 7,470 hectares of forest.
"Farmers used to spend a lot of time collecting wood," says Lu Gui Hong, the Mayor of Fada, a village in the project area. "As you can imagine, it wasted a lot of time. Since we constructed the biogas digesters, farmers have a lot of time to find other ways of earning money. For example, in my village we now grow tobacco and organic tea."
In the last five years, with more time to spend improving crops, farmers in Fada have increased tea production from 400 kg to 2,500 kg a day. Average income in the village has quadrupled to just over US$1 per day. This is significant in a country where the poverty line is US$0.26 per day.
Towards a more viable future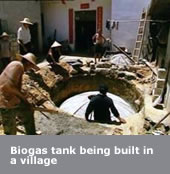 "We hope to continue to improve living conditions and to make the environment greener and people's lives richer," says Lu Gui Hong. "Twenty years from now, you won't see any wood smoke at all coming out of houses here."
Through the use of biogas, people's living conditions and the environment have improved, forests are protected and the labour force has more time for agricultural production. A large amount of straw, which was previously burned, is now put into biogas tanks to ferment. This further reduces air pollution from smoke and helps produce high-quality organic fertilizer.
The lives of women, in particular, have been transformed by the project. Since Liu Chun Xian's family began producing biogas on their farm, she no longer spends three hours a day collecting wood for cooking. Instead, she has taken training that has helped her improve the family's tea farm, which now generates more money. Thousands of poor farmers across the province have done the same, contributing to a drop in rural poverty.
The Guangxi project has become a catalyst for other initiatives in the region. To date, 2.73 million biogas tanks have been built in villages, benefiting about 34.2 per cent of the rural households in Guangxi. It is estimated that 7.65 million tonnes of standard coal and 13.40 million tonnes of firewood are saved annually in Guangxi because of the use of biogas.
Useful links:
For further information, please contact:
Thomas Rath
Country Programme Manager, Asia and the Pacific Division
Email: t.rath@ifad.org
---
TANZANIA: Bahati Tweve - the honest 'middleman' brokering deals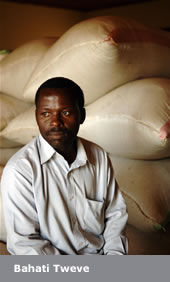 Bahati Tweve, a farmer living in the southern highlands of Tanzania, is an interesting character who is in great demand by local farmers and traders because of the crucial role he plays in helping them improve their lives. Bahati lives in Magunguli, a remote village in Mufindi District. He has five children, three of them in secondary school, and he is a 'market spy', known locally as Mkulima shushushu.
Like the majority of Tanzanians living in rural areas, Bahati's main economic activity is agriculture. But Bahati has become an icon in his village because he has helped so many local farmers through the services he provides. He is an honest middleman who finds and makes good deals for farmers. He provides market intelligence and brokering services that many of his fellow villagers could only dream about a few years ago.
As a Mkulima shushushu, Bahati helps his fellow farmers who are organized in different groups to gather comprehensive information on the kind of produce needed at particular markets, the quantity and quality of produce, the ways and time for delivering the demanded goods, and who the potential buyers are.
The market intelligence services that Bahati provides to his fellow farmers are not only about prices, but also about going out and exploring opportunities that can help farmers make better deals and earn more money. Without market intelligence, farmers have no way to make better deals. It is this circumstance, and his motive to make bigger profits, that convinced Bahati to become a Mkulima shushushu.
Bahati is not like ordinary middlemen, who usually aim to make profits at the expense of poor farmers. He operates his business in an open and transparent manner and has helped farmers bypass the middlemen who have for a long time been taking advantage of them, since the farmers are not aware of what is going on at distant markets. Middlemen usually don't reveal information to farmers on who the customers are and at what price they are going to sell the produce. Helping farmers make direct contact with buyers puts them in a better bargaining position. It also helps farmers to identify other available market opportunities, and to make informed choices. In this way, the risks of selling at a loss are minimized.
Farmers are now able to make good deals that earn them significant profit. The use of information and communication technology (ICT) is making things even simpler. In his own words, Bahati's mobile phone is his best companion in his daily work of soliciting market information. He uses his phone to speak with contacts at distant markets to get the information he needs about where to sell and to whom, so as to get the best price. He tracks information by using his mobile phone and keeps in contact with farmers who need his services.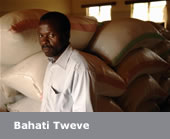 Bahati and his fellow farmers have benefited through their participation in the IFAD-funded Agricultural Marketing Systems Development Programme (AMSDP) and the associated First Mile Project. Through the two initiatives, local farmers' organizations have been strengthened and farmers have learned how to use ICT to gain better access to markets and market information.
Farmers at Magunguli village are happy with the help Bahati provides. "Farmers and everyone are satisfied, as we are all aware of what is taking place in the market," Bahati says. "I work openly and farmers know what I am going to get out of the deal."

According to Bahati, the challenge ahead is the willingness of his clients to pay for the services he provides. "We need to make farmers as well as traders see the urgency of contributing the cost of soliciting market information and brokering deals," he says. "I am able to collect and disseminate market information because I am supported by AMSDP and First Mile. What will happen when they phase out?" He sees no easy solution to this challenge.
What should be the way forward? That is the question he poses. Bahati and his colleagues have thought of something to ensure sustainability of the services currently being provided by making them commercially viable. They have worked on establishing a private business entity, Mufindi Rural Marketing Service Company (MURUMASECO).
"Currently, MURUMASECO is in the process of being registered so as to make it operate smoothly as a legally binding entity. I am the manager of the company" says Bahati. The company links about 50 groups of farmers, processors and traders as well as individuals. It aims to provide marketing services to its clients, with a certain percentage charged as commission for the services rendered.
Bahati is working hard to ensure that he can continue to provide his important market intelligence and brokering services to local farmers on a sustainable basis – even after the AMSDP and First Mile come to an end.
Useful links:
For further information, please contact:
Samuel Eremie
Country Programme Manager, Eastern and Southern Africa
Email: s.eremie@ifad.org
---
News & events


Leaders of farmers' organizations discuss climate change issues with IFAD
The second global meeting of the Farmers' Forum took place this year on 11 and 12 February in Rome, bringing together delegates from more than 70 global, regional and national organizations representing millions of farmers from all parts of the world. One of the discussions focussed on climate change and how IFAD can support farmers' organizations to cope with its consequences.
Participants identified the six main areas where IFAD can help farmers' organizations become more involved in climate change adaptation and mitigation measures. They recommended that IFAD:

include climate change in Country Strategic Opportunity Programme (COSOP) formulation, and take it into account in its project and programme design and implementation, and support "climate-friendly" agriculture
develop and provide access to risk management tools such as insurance options and guarantee funds for smallholder farmers
strengthen the role of farmers' organizations in their advocacy role at national and international levels
create new models for research on climate change with stronger participation of farmers in the process, and facilitate dissemination of the results
strengthen partnership between IFAD, FAO and farmers' organizations to advocate on behalf of poor rural people in regional and international arenas, as is done, for example, in the context of the Economic Partnership Agreement negotiations between the European Union and African, Caribbean and Pacific countries (in particular farmers' organizations requested IFAD to support their participation in FAO's high-level conference on climate change and food security and agriculture in June 2008)
facilitate access by smallholder farmers to existing adaptation and mitigation funds.
"Some financing mechanisms exist," said Sid Ahmed Ould Abeid, President of the National Fisheries Federation of Mauritania. "But they only benefit the big fishing industry. We need training and credit to upgrade our fleets and get up to the standards in fish processing. With rising temperatures, our fish are already spoiled when we get back from the sea."
Smallholder farmers already play a critical role in mitigating climate change. They must benefit from mitigation mechanisms, which are rarely designed for them, and they must be remunerated for the environmental services they provide. By adopting improved farming practices, they can have an even larger impact in mitigating the effects of climate change.
"We have to think of a mechanism at the country level to ensure that smallholder farmers adopt sustainable agricultural practices," said Jacques Bonou, Secretary General of the Federation of the Union of Producers of Benin. "One must not forget that farmers are traditional custodians of ecological farming systems."
Participants agreed that training and information sharing are crucial, with a specific focus on young people, to ensure that farmers are aware of upcoming challenges, technological advances and emerging opportunities, and for providing them with skills and knowledge to come up with new and innovative solutions.
"Farmers need to be involved in preparing and managing all adaptation and mitigation programmes," said Bassiaka Dao, President of the Farmers' Confederation of Burkina Faso. "To play that role, they need to fully understand what is happening."
Independent farmers' organizations in developing countries are central stakeholders defending the interests of poor rural people in an increasingly competitive and global market. In this context, the idea of a Farmers' Forum took hold in 2004. Through the Farmers' Forum, IFAD brings together farmers' and rural producers' organizations to share ideas and experiences, and make the voice of the poor farmers heard. Thanks to this partnership, representatives of farmers' organizations increasingly participate in the development of the country strategies, programmes and projects funded by IFAD, making them better and more sustainable.
---
Start-up workshop of the new Livestock Sector Rehabilitation Support Project (PARSE) in Burundi takes place in Bujumbura from 27-29 February 2008
A new project to rehabilitate Burundi's livestock sector was launched last month in Bujumbura. The objectives of the project are to raise livestock productivity and improve the food security and incomes of about 100,000 poor households. The project will also help add value to animal products such as meat, dairy products and honey by developing markets and processing technologies and facilities.
The workshop brought together project and field staff of the three projects operating in the country, representatives from potential public- and private-sector partners in the field, and the United Nations Office for Project Services (UNOPS). It featured a number of presentations on the project, the country's livestock and agricultural sector, IFAD's operating model and strategy in Burundi, and communication and knowledge management in the context of development projects; a representative from the Agency for Cooperation and Research in Development (ACORD), a non-governmental organization that plays a major role in community-driven development in the country, made a presentation on its successful approach.
Livestock Sector Rehabilitation Support Project (PARSE)

Total cost: US$17.8 million
Debt sustainability framework (DSF) grant: US$14.0 million
Duration: six years
Geographical area: the provinces of Bujumbura Rural, Bururi, Cibitoke, Gitega, Kayanza, Karuzi, and Ruyigi
Directly benefiting: 100,000 households
A major focus of the workshop was on building synergies and cooperation between all three IFAD-funded projects in the country and with the partners in the field. All three projects will share the same office building and will pool resources for cross-cutting functions such as monitoring and evaluation, financial management and communications, which will be hosted within a small unit supporting the project coordination units.
We welcome Maurice Ntahiraja, Project Coordinator, and his team to the IFAD family.
---
Grants and loans approved by the September Executive Board
Global Environment Facility Grant – Swaziland
During the first week in March, a mixed team of the Government of Swaziland, the Global Environment Facility, IFAD and project staff of the Lower Usuthu Smallholder Irrigation Project will commence the full design of a grant for Swaziland focussing on the reduction of land degradation and biodiversity in the Lower Usuthu River Basin.
Country loans and grants approved by the December Executive Board
Angola
Market-Oriented Smallholder Project, US$8.2 million
Malawi
Rural Livelihoods & Economic Enhancement Programme, US$8.2 million in loan and US$8.2 million in grant

Country loans and grants to be submitted to the April Executive Board
Mauritius
Marine and Agricultural Resources Support (MARS) Programme, about US$5.6 million in loan and US$400,000 in grant
Regional grants to be presented to the April Executive Board
FIDAfrique Network: Promoting Knowledge Sharing and Innovation for Rural Poverty Reduction in Sub-Saharan Africa (joint grant proposal of the Western and Central Africa Division and the Eastern and Southern Africa Division), grant recipient Western Africa Rural Foundation, US$2 million
Local Market Services Development Project, grant recipient Traidcraft Exchange, US$1 million
---
Subscribe Online to Progress in Eastern and Southern Africa
If you have just received the newsletter in your email inbox, then you are on our mailing list. But perhaps you received a copy from a friend or colleague, or you know of project staff or other partners in the field who are not yet on the mailing list and would like to subscribe to IFAD website updates.
By accessing IFAD's website (www.ifad.org) and clicking on "subscribe" in the upper right-hand corner, you can indicate which IFAD publications you would like to receive (including the Newsletter in either English or French) and have them delivered directly to your email inbox or sent by post. Spread the word!
---
The theme of the next issue of the newsletter will be water; please send your contributions.