Issue 12 - September/October 2006
Communication for poverty reduction and rural development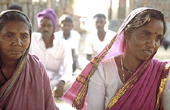 Few would disagree that the revolution in communication technology and applications was one of the defining characteristics of the 20th century. It covered the planet, touching the way people work and live almost everywhere. But, there are still many – like the people IFAD works to help – who are left out. These people can be brought in, and these revolutionary technologies have the potential to contribute to poverty reduction. IFAD wants to exploit that potential in the Asia and the Pacific region. Many initiatives are under way, including support to use of the Internet, global information systems, mobile phones and digital videos, to name a few.
However, certain conditions increase the likelihood that these types of technologies will make a meaningful contribution to improving the lives of rural poor people. These relate to ownership, local content, language, culture and appropriate technology. The more conducive conditions are created, the more benefits the poor can reap from access to the technologies. The key is to keep the focus on people, not technology.
Some initiatives to do just that are featured here.
In this issue of the newsletter, read about how the people involved in IFAD-financed activities in Asia and the Pacific are using communications in poverty reduction. The newsletter has been prepared in light of the upcoming World Conference on Communications for Development, which will take place in Rome from 25 to 27 October. It includes articles from staff and partners in countries like China, India, the Islamic Republic of Iran, the Lao People's Democratic Republic and the Philippines. Some key institutional partners with specialized expertise in this challenging field also contributed some interesting reports on what they are doing. These partners include the Food and Agriculture Organization (FAO), the Institute of Development Studies (IDS) and the International Development Research Centre (IDRC).
In addition, the newsletter contains a description of some of the ways in which we are approaching communications and using information and communication technologies (ICTs) in the context of knowledge management to improve the quality and efficiency of our work in the Asia and the Pacific Region offices here in Rome. Please peruse this communication on communications.
---
Role of ENRAP in facilitating communication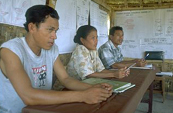 IFAD programmes and projects work with marginalized communities living in remote areas where communications infrastructure is generally poor. These communities face common challenges in project implementation yet they are unable to consult each other and share solutions because of poor infrastructure. Rapidly expanding telecommunications infrastructure in several areas of the region created new tools and new opportunities to improve communication among IFAD projects and stakeholders.
The Knowledge Networking for Rural Development in Asia/Pacific Region (ENRAP) is a programme financed and implemented by IFAD and the International Development Research Centre (IDRC). The programme was designed in 1998 with the objective of bringing the benefits of accessing and sharing global information resources to IFAD-supported programmes and projects in the Asia and the Pacific region.
In 2002, ENRAP entered its second phase. The 2nd phase was designed to create a knowledge-sharing network of IFAD-supported projects and stakeholders that will improve project impact on the livelihoods of rural poor people in Asia and the Pacific. In this process, the network explores the use of rapidly increasing and diversifying information and communication technology (ICT) tools. The objective of ENRAP II is to help IFAD-supported projects in the region, primarily through electronic media, become more effective in documenting and sharing their learning and experiences about good practices in rural development for the benefit of poor communities.
By introducing connectivity, building people's capacity to use new tools and by creating platforms and mechanisms to share experiences, ENRAP has promoted improved communication among IFAD-supported projects nationally and regionally. A combination of virtual communication tools such as e-mail discussions and websites and face-to-face thematic and national sharing meetings facilitates this process.
E-mail discussions, national and regional workshops provide an opportunity for projects and stakeholders to share these experiences. The three regional workshops organized by ENRAP have been particularly important for regional sharing. The first workshop focused on planning ENRAP activities, while the second reviewed ENRAP's progress. The third workshop took place in June 2006 and reflected on lessons learned. Participatory geographic information system (PGIS) tools and a software-based monitoring and evaluation (M&E) system, enabled by the internet, improved project ability to design and implement poverty reduction activities. Digital video training and a special methodology for collective documentation of lessons learned called "systematization" built project capacity to document and analyse experiences using new tools and technology.
Over the last two years, hits on ENRAP website doubled to 600,000 every month. The number of people visiting the site increased eight times during the same time to about 800 per month. From a single e-mail discussion list created in January 2003, another seven national and four thematic lists have been added, all of them set up in response to project demands. The monitoring and evaluation list has had four intensive discussions since it was set up. National sharing meetings take place annually and three thematic sharing workshops gathering partners from the region have convened three times this year.
Three years ago, IFAD-supported projects were largely disconnected. Now, there is a community regularly sharing information and seeking solutions for its problems. In the future, this network will need to encompass other communities and IFAD partner agencies. Improved flow of information from communities to the government and vice versa can lead to the development of effective policies in favour of poor people. The network also needs to expand to include all IFAD-supported projects and projects of other agencies operating in the region. This will enable sharing of good practices widely and avoiding common pitfalls. The network has the potential to facilitate knowledge sharing and multiply development benefits throughout the region.
Shalini Kala, ENRAP Coordinator
---
Promoting best farm technologies in the Philippines through radio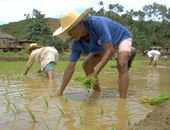 Seventy per cent of the rural population in the Philippines depends upon agriculture for their livelihoods. The majority of this population accesses information and entertainment from radio, which serves as the farmers' companion at home and on the farm.
"School-on-air" is a new communication strategy designed to provide farmers with data and information essential for their agricultural and rural development. The Department of Agriculture of the Philippines adopted this approach to disseminate information about new technologies and to promote its agricultural programmes and projects among its constituents.
School-on-air is similar to a classroom experience and includes assignments and tests. The difference being that lessons for and queries from students and other listeners are aired over radio stations. Offices of the Municipal Agriculturist in the Municipalities of Bauko, Sabangan, Tadian, Bontoc, and Sagada, all in Mountain Province, collect and collate assignments, tests and queries on a weekly basis and forward them to the Office of the Provincial Agriculturist for further processing and recording.
Research corner

The Asia and the Pacific Division has been working with the Institute of Development Studies (IDS) in support of selected communication issues. IDS is a leading institution for research, communication and teaching on international development. It offers practical solutions that can accelerate sustainable poverty reduction. This newsletter will disseminate some of the research findings to help development research and knowledge reach those who can use it to reduce poverty and injustice.

Voices for change – tuning in to community radio

The impact of new information and communication technologies on development is a subject of extensive international debate, particularly at the United Nations World Summit on the Information Society. While much of the debate focuses on the Internet, many planners and practitioners have begun to realise that it is to traditional media, such as radio, that poor people are most likely to turn for access to information and voice. . Read the full article.
Id21 Institute of Development Studies (2005), Sussex, UK
With the help of ENRAP, IFAD assisted the Government of the Philippines in the implementation of school-on-air through the Cordillera Highland Agricultural Resources Management (CHARM) Project. The school helped to disseminate the best lessons learned from the project's implementation in Abra, Benguet and Mountain Province. Lessons were broadcast over two radio stations in Mountain Province. The school-on-air was implemented in Mountain Province alone because of limited funds and the higher cost of broadcasting time in Abra and Benguet Province when compared with the community radio in Mountain Province.
School lessons covered topics including the best practices in sustainable agriculture and natural resources management developed under the IFAD-financed project. In the school evaluation, students identified banana production and processing, soil conservation, range chicken production, tilapia production, land degradation, and trees for people as the most interesting topics.
Students were identified through the offices of the municipal agriculturist and included farmers, homemakers and youths residing within the municipal coverage of the project. Most of the students were females. An evaluation conducted after the school-on-air indicated that the participants were relatively young and all were literate.
Under the project, the school was originally supposed to be broadcast over two radio stations three times a week for 20 minutes over three months. However, after its launching, the stakeholders of the school-on-air adjusted the programme to conform with the listening schedule of the students. The Government radio station – Radyo Ng Bayan – broadcast the lessons twice a day at 6:00-6:30 a.m. and 6:00-6:30 p.m., while the private radio station – Radyo Natin – was broadcast at 5:30-6:00 a.m. in Mountain Province. Despite the change in schedule, the radio stations did not require additional payment but absorbed the additional cost as their support to the students, who listen to their stations on a daily basis.
The school evaluation confirmed that radio is still the most preferred source of information for the school-on-air students compared with other information sources such as newspapers. It is the most accessible medium for the rural population. Farmers that cannot be reached by the government's agricultural experts can benefit from lessons learned in other farming communities through the school-on-air. As a public good, school-on-air does not exclude people who are not project participants. Letters and feedback received by the local radio stations showed that local residents regularly listen to the lessons. With sustained support and scaling up, the school-on-air may yet reach its potential to become a community communication strategy to achieve agricultural and rural development throughout the country.
Robert L. Domoguen, Information officer, Cordillera Highland Agricultural Resource Management Project, Philippines
---
Multi-stakeholders planning using PGIS
It is always a challenge to integrate in a participatory manner indigenous and popular knowledge from local communities into sophisticated computer-based technology usually managed by outsiders. The participatory geographic information system (PGIS) has shown that it is possible.
PGIS is an information system that merges participatory learning and action (PLA) methods such as sketch mapping, with geographic information technologies and systems (GIT&S), which consist of computer hardware and software. It is an interactive vehicle for spatial learning, discussion, information exchange, analysis, advocacy and decision making.
The IFAD-supported Northern Mindanao Community Initiatives and Resource Management Project in the Philippines has adopted PGIS to support community initiatives in managing their natural resources in sustainable ways. The system promotes the participation of all stakeholders involved in addressing the needs of about 58,500 poor and marginalized households. These households comprise indigenous peoples belonging to the Higaonon tribe, lowland and upland farmers, and fisher folks living in the northern part of the Mindanao Island in the Philippines.
In this application of PGIS, local people used participatory rapid appraisal tools, such as "transect walk," to gather and analyze data about their area's physical conditions and its natural and human resources. Using available information, the community constructed a 3-dimensional map. In this process, the community was able to confidently interact with other stakeholders, such as government and non-government organizations, in managing their own natural resources. The experience yielded the following results:
The tribal community now knows the scope and limits of natural resources.
Boundaries between tribes were identified, reducing the potential for conflict.
The community developed a sustainable development and protection plan for their natural resources, which they will manage themselves. The plan is supported by the local government and other government agencies.
The local government now recognizes customary laws and practices related to the ownership of communal land and resources, which have now been incorporated into mainstream policies and procedures.
The commitment of community members to protect and develop their natural resources in sustainable ways has increased.
In addition, with ENRAP support, the project trained some local government unit planners in the use of GIT&S tools using data provided by the community. As a result, the land use and resource management plans at the municipal level have become more responsive to community conditions and needs.
The project is still in its initial stage of applying PGIS. However, the experience and results achieved to date have shown that the convergence of multi-stakeholders for better planning and management of community natural resources is feasible.
Mr Yolando C. Arban, M&E Officer and Mr Antonio B Menor, Project Director, Northern Mindanao Community Initiatives and Resource Management Project
---
Breaking the language barrier through the ENRAP China website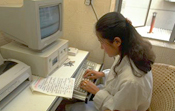 Recognizing the need to address the language barrier in IFAD-financed projects in China, ENRAP launched a website in the Chinese language in early 2005. To date, 280 IFAD stakeholders in China have registered on the website, which serves as a platform for knowledge exchange and information sharing. These users are now able to advise each other on implementation issues and share project news and relevant documents in the Chinese language.
The evolving website now consists of many spaces including a Bulletin Board System, e-meeting room and an upload and download centre. The Bulletin Board System provides areas for knowledge exchange, organized by project and by theme. The e-meeting room enables users to chat and interact instantly. The upload and download centre gives users the ability to share useful documents.
Initially, the website served as a platform for raising awareness of project staff and local officials of the significance of information and experience sharing and the role of ICT in development. The users were mostly sharing and exchanging news and updates from projects. Now, users have been advising each other on implementation issues such as the preparation for supervision missions, reporting and monitoring and evaluation.
In line with the website, IFAD-financed projects published occasional newsletters and are also considering the development of a blog in the future. In addition, the IFAD Field Presence in China started posting selected IFAD information on the website such as the annual workshop summary, highlights of IFAD rural finance policy and the gender mainstreaming strategy. Some of these documents were translated into Chinese.
Three IFAD-financed projects – the Southwest Anhui Integrated Agricultural Development Project, the West Guangxi Poverty-Alleviation Project and the Environment Conservation and Poverty-Reduction Programme in Ningxia – were included in the pilot phase of the initiative. ENRAP provided hardware support to these projects. It also identified and trained three facilitators, one for each project, who are the focal points for the website. They are responsible for channelling stories and digital documents from their projects on the website and for maintaining their spaces on the Bulletin Board System.
Project staff in China also recognize the challenges related to maintaining the website as an effective platform for exchange and sharing. Information generation and packaging requires sensitivity to and understanding of development issues. It also requires dedicated staff and sufficient time to process the information. The contribution of stories and experiences by field practitioners engaged in project implementation at the local community level remains somewhat limited. Nevertheless, with increasing digitization of information and communication, and improved connectivity of programme management units at local levels, the website has the potential for enhancing project results and impact.
The initial results and positive responses from website users have encouraged IFAD and ENRAP to consider including all ongoing IFAD-financed projects in China on the website. Possible links with other development partners will also be explored. The Ministry of Finance plans to allocate substantial financial support for capacity building in most, if not all, project counties. This support will include the provision of hardware and training in generation and management of information. A national workshop will be held from 21 to 22 September 2006, which will sensitize all project directors and local government officials on ICT for development. An action plan for information and knowledge sharing among IFAD projects will be agreed.
Sun Yinhong, IFAD Subregional officer
Explore the ENRAP-China website
Read more about China
---
为了克服与国际农发基金在华项目的语言障碍,ENRAP (亚太地区农村发展知识网络) 在2005年初建立了一个中文的网站,为知识的交换和信息的分享提供了一个平台。至今,大约有280名与农发基金项目相关的会员已经在网站上注册。这些会员们现在可以用中文交流项目执行事宜并分享项目上的新闻和相关文件。
现在的网站包括多项功能。其中有一个提供知识交流的论坛,提供分项目和分主题的讨论空间;聊天室使用户们能够相互即时交流;上传和下载中心提供了分享有用文件的可能。
最初,网站的作用是提供一个平台,用于加强项目人员和地区官员对信息和经验分享的重要性以及信息沟通技术在发展活动中的的作用的意识。用户们经常分享和交换项目新闻和最新动态。现在,用户们用来沟通项目实施事宜,如准备年度检查、报告、监测和评估活动等。
通过这网站,农发基金项目有时发布一些公告,并正在考虑建立博客。另外,国际农发基金中国联络处开始在网站上有选择性的发布一些有关国际农发基金的信息,如年度研讨会总结,国际农发基金农村金融策略纲要和社会性别主流化战略等,这些文件中一部分翻译成了中文。
国际农发基金支持的3个项目--皖西南综合农业发展项目、广西西部扶贫项目、宁夏环境保护和扶贫项目在最初的网络试点阶段被包括了进去。ENRAP对这些项目提供了硬件支持,培训了3个联络员,每个项目一个。他们作为网站的版主,将文章和短文分类,将项目上数据文件处理并发布在网站上,维护各自项目的论坛空间。
中国的项目人员意识到维护网站使它作为一个有效的信息交换和分享的平台所存在的挑战。信息处理和打包需要有具有对发展问题的敏感性,还需要有专门的人员和时间处理信息。目前在农村社区的实地操作人员参与网络并贡献一些信息和经验还是有限的。然而,面对不断普及的数据化信息沟通,以及地方项目单位在这方面条件的改善,网站将有潜力为加强项目结果和影响作出贡献。
用户对网站的初始结果和积极反应使国际农发基金和ENRAP考虑将所有在建的农发基金项目都包括在网络覆盖范围内。其他一些可能的发展伙伴的链接也将根据情况被置入。财政部计划提供一定的财政支持为大部分在建项目县提供配套的能力建设,这种支持将包括硬件和管理信息培训。同时2006年9月21至22日还将举办一个全国的研讨会,使所有项目的相关项目官员加深信息沟通技术对发展的重要性的认识,同时希望制定一个国际农发基金在华项目信息和知识分享的行动计划。
IFAD国际农发基金 中国和蒙古地区联络员 孙印洪
如需了解更多关于ENRAP,请点击: ENRAP-China website
如需了解更多农发基金在华活动,请点击: China
---
Experiences of knowledge sharing among M&E officers across Asia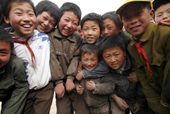 In August 2005, M&E officers of IFAD-funded projects gathered in Bangladesh for training in the Results and Impact Monitoring System (RIMS). The training provided the M&E officers with guidance on how to measure changes that occur in the livelihoods and living standards of participants in IFAD-financed projects over time. The training also served as a forum for informal knowledge sharing that led to the recommendation that an electronic list be created to facilitate an e-discussion on M&E issues.
Example of e-mail exchange on the preparation of a village development plan (VDP)

Chanh Phommachit wrote:

"Dear members of ENRAP,
Yesterday we completed the VDP training in RLIP (Rural Livelihoods Improvement Programme) in Sayaboury, Laos. .... This concept is quite good for the staff who is doing the PRA (participatory rural appraisal) to set up the VDP...".

Yolando Arban wrote:

"Thank you Chanh. It is very refreshing to hear that you will be doing a participatory approach to VDP and I am excited to have a copy of the training. In NMCIREMP (Northern Mindanao Community Initiatives and Resource Management Project) we also do a BDP (barangay development planning) using PRA tools. It will be good to learn from the VDP approach to enhance what we are doing."
ENRAP has implemented the recommendation for an e-discussion on M&E and set up the list, which initially involved 21 members. Most of the people on the list were M&E officers from IFAD-supported projects.
The benefits of the e-discussion include:
Sharing information about related areas of practice such as M&E, upcoming training and, new tools that could be used by all IFAD projects.
An increased sense of community, which gives project staff the feeling that they are not alone. All participants in the discussion have access to lessons learned by others, making their work more meaningful.
Participants can learn from the experience of other projects and incorporate improved methods to their own projects.
The list taps into knowledge documented by or in the heads of project staff and builds a repository of knowledge which can lead to better results of IFAD programmes and projects.
Example of e-mail exchange on RIMS Training

Kenneth Pala wrote:

"Dear Colleagues,
We at MLIPH (Livelihoods Improvement Project in the Himalayas in Meghalaya) are scheduled to have the RIMS practical training from 7-12 Aug 2006. I like the idea of using local community members as enumerators and the documentation seems to be a good idea to learn from mistakes. We might decide to take these ideas on board and thanks for the same. We would share our experience once we get going."

Vinay Kumar, PME Officer wrote:

"Dear Kenneth
It's a good to hear from you that you are going to organize training on RIMS impact survey. Even we at Jharkhand Tribal Development Society, Ranchi are keen to have clarity over RIMS impact survey through training, workshop or exposure visit. Unfortunately we did not get the opportunity to learn from other agency/programme. Anyway, I am very much interested to participate in your scheduled training, KINDLY LET ME KNOW WHETHER IT IS POSSIBLE OR NOT..."
The first major discussion by the group centred on problems faced by the project staff in understanding, setting up and implementing the M&E system for IFAD-supported projects. The following questions were raised:
1. What are the key constraints for an effective and efficient M&E system you face in your project?
2. What are the potential opportunities for improvement?
3. What kind of support is required for these improvements including change in M&E systems, staff and equipment support and time needed to implement these changes?
4. What would you suggest to IFAD?
The discussion went on for three weeks. Pankaj Kumar, former M&E officer for the Livelihoods Improvement Project in the Himalayas (Uttaranchal), prepared a Consolidated Report on the e-discussion that was forwarded to IFAD.
For further details, please refer to ENRAP website
Bashu Aryal, Project management advisor, Western Uplands Poverty Alleviation Project, Nepal and
Pankaj Kumar S., Former M&E officer for the Livelihoods Improvement Project in the Himalayas (Uttaranchal), India, currently working with the Solution Exchange, UNDP, New Delhi
A virtual community on food and nutrition security in India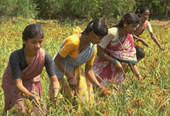 "Solution Exchange" is a new knowledge management initiative of the UN Country Team in India that offers a United Nations-sponsored virtual workspace to communities of development practitioners with similar concerns and interests. In the virtual workspace, practitioners can benefit from each other's experiences to address their day-to-day challenges.
Within Solution Exchange, the Food and Nutrition Security Community led by FAO's India office seeks to connect almost 1,000 professionals from government, civil society and NGOs and academic and policy research institutions, who are actively engaged in meeting the country's food and nutrition security goals. Tapping into the collective knowledge of its members, the community seeks to promote:
sustainable improvements in food security
reducing malnutrition and poverty
improved implementation and impact of food social safety net programmes
food safety and the prevention of food borne diseases
dietary diversification to prevent micronutrient deficiencies
It is a free, impartial, demand-driven and solution-oriented service. It functions as an email group with a moderator. All messages flow through and are filtered by the moderating team. Problems and challenges are put as a query in an email and posted to all community members. Members offer advice, experience, contacts or suggestions. A consolidated summary is prepared by the moderators with a synopsis of members' responses, additional resources and links. These summaries are available on the website. E-discussion papers, newsletters, updates and other materials are also made available. In addition, face-to-face meetings have been organized on some topics.
This community has so far discussed more than 45 diverse topics within a year, including issues such as sustainable agricultural practices, crop diversification, agricultural extension, financing and irrigation systems, organic farming, tribal development, anemia, micronutrient deficiencies, and infant feeding practices. The community has also deliberated issues related to some key government food and nutrition programmes and come up with valuable suggestions – although the network is not directly active in policy advocacy.
Gopi Ghosh, Assistant representative, FAO India office, Coordinator of Solution Exchange and Stephen Rudgard, Chief of WAICENT (World Agricultural Information Centre) Capacity Building and Outreach Branch from FAO
---
Introducing a multi-stakeholder web-based database in IFAD-supported project in the Islamic Republic of Iran
The Rural Micro Finance Support Project, financially supported by the Agricultural Bank of Iran (Bank Keshavarzi) and an IFAD grant, has successfully introduced a web-based database that provides a basis for the project's management information system and decision support system.
The project is aiming to introduce linkage banking in Iran. It is a process that integrates local financial institutions and their members into national financial markets and ensures that a large number of small borrowers and micro-entrepreneurs can access financial services. In this process, the project relies on local self-owned and self-managed solidarity and self-help groups in extending further Bank Keshavarzi financial services to rural poor and vulnerable groups, particularly women and young people. The International Enterprise for Development of Rural Micro Finance Services (DRMFS-International), an Iranian civil society organization, is the executing agency for the project.
The pilot project covers a wide geographical area with diverse cultural and socio-economic settings. Four provinces in Western and Northwestern Iran are currently included in the project, with two more provinces planned to take part. The project has a wide rage of stakeholders including community-based organizations and non-governmental organizations (NGOs) at the village level, Bank Keshavarzi's branches, NGO offices and the executing agency services at the district, provincial and national levels, and finally IFAD at the international level. The nascent National Committee for Micro Credit and the Ministry of Welfare are also among the stakeholders.
As a pilot exercise, the project has generated promising results empowering local women and young people. This should allow for successful scaling up in the future using national resources. The user friendly web-based database connects all the stakeholders and facilitates the process of designing and making decisions on the most suitable scaling up strategy. The database has delivered a number of advantages and benefits to the stakeholders at various levels, including:
The elimination of geographical barriers in the dissemination of information. The database, connects a large community of users, which extends from villagers in Kurdistan, or other provinces in Iran, to IFAD in Rome.
A participatory process including the target group, for collection, savings, processing and updating of information across long distances.
The ability to harvest and analyze information collected on various project aspects, including achievements and problems encountered in implementation.
Enhanced selection of the most appropriate "outcome indicators" from the ongoing pilot phase through the systematic recording and analysis of the quantitative and qualitative outputs. These indicators will be used in the design of a Result Management Framework needed for the scaling up strategies.
Further promotion of an ICT culture in rural areas of Iran, through increased participation of villagers in accessing the Internet.
Jasim Mostafavi, Director of operation, DRMFS-International
---
Improved communication with the government enhances project impact in Lao PDR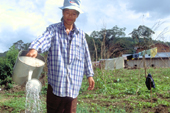 In the Lao People's Democratic Republic, the ongoing communication and sharing of experiences in project implementation at the project, provincial and regional levels improved the performance of IFAD-supported projects in the country. The enhanced connectivity of people, in particular, performance review meetings and sharing of reports between projects, led to better understanding of rural development issues. It also provided solutions for livelihood improvement of poor people in these projects.
Over the past few years, IFAD has made significant efforts to engage the Government of the Lao People's Democratic Republic in conducting the IFAD's annual country performance review. The review brings together IFAD partners from the country, provincial and project level. This exercise has strengthened the capacity of the government to analyze and evaluate project and programme activities. It has also enhanced the connectivity of M&E officers from different projects in the country. The examples below illustrate this review process.
At the village and district level, project staff regularly participate in the performance assessments of other IFAD-supported projects in the country. Through this process, different projects are able to share experiences and discuss how they address various implementation issues with the village administration and farmers' groups.
At the provincial level, IFAD-funded projects interact with other development agencies working in the same provinces in the process of the annual project performance review. The review explores how to improve project implementation and shares lessons with other development partners.
At the national level, the Department of International Cooperation of the Ministry of Foreign Affairs facilitates communication for connecting M&E systems between different projects in different provinces. Recently, recommendations from the IFAD annual performance review report were incorporated in the government's Country Portfolio Review Report. This report discusses progress in implementation and lessons learned from all ongoing projects in the Lao People's Democratic Republic. The report was presented at the Country Level Forum for Communication, an annual portfolio meeting of the government, which shares experiences to improve project performance and is chaired by the Minister of Foreign Affairs.
At the regional level, government representatives and project staff from two IFAD-supported projects in Lao People's Democratic Republic participated in the IFAD's annual performance review workshop held in June 2006 in Bangkok. At the workshop, Mr Houmphan Kosada, Project director, and Mr Sacha Backes, Team leader for the Oudomxay Community Initiative Support Project, shared with project managers of other IFAD-supported projects in the region their experience in project management and the use of monitoring information systems. As a follow up to this workshop, ENRAP initiated an M&E network linking almost all IFAD-supported projects in the region through an electronic discussion on their website. Furthermore, government representatives recently participated as panel members in an IFAD regional meeting on management of information systems and communication for development under the ENRAP framework.
Improved communication between IFAD-supported projects in Lao People's Democratic Republic and between the projects and the government contributed to improved project performance. According to the latest Country Portfolio Review report, the projects performance has improved from the rank of 3 (major problems but improving) in 2003 to rank of 2 (minor problem) in 2005.
Chongchith Chantharanonh, Director of Monitoring and Operation, Department of International Cooperation of the Ministry of Foreign Affairs, Lao People's Democratic Republic
---
Our approach to communicating knowledge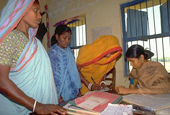 Early this year, the Asia and the Pacific Division prepared its approach to knowledge management for 2006. The paper provides an analysis of how the division manages knowledge at present, what it needs to do to improve knowledge management and how to do it with existing budgetary and human resources. For the first time, the division sketched out a framework to encompass the various information and knowledge management activities that it undertakes. This includes the work at headquarters and in regional and country programmes.
Communicating knowledge is a very important part of knowledge management. Therefore, the division uses various means of communication of knowledge. This newsletter is one example. Through e-mail it reaches IFAD partners worldwide and keeps them up-to-date on the division's work in the region. Recently, the division also began to share findings from its research conducted in preparation of the next regional strategy. Print and electronic means of communication, including the IFAD website and the electronic newsletter, are used to distribute these research findings.
Face-to-face meetings are equally important to the division. The Annual Performance Review Workshop provides an excellent opportunity for IFAD and its partners to exchange information and knowledge acquired in project implementation. One new approach to face-to-face communication is a fellowship programme where staff from selected borrower government institutions will be invited to IFAD on sabbatical to share their knowledge with country programme teams and to learn about IFAD.
However, documenting and sharing knowledge acquired by rural communities in IFAD-financed projects remains a big challenge. The division has increased access to country level documents and information by posting them on the IFAD Rural Poverty Portal. In addition, ENRAP has been a very important programme in helping projects use ICT in the documentation and communication of knowledge. Other means, such as the preparation of Technical Advisory Notes by staff from loan and grant projects, are being developed. But still more needs to be done.
In light of the division's experiences and in accordance with the new IFAD corporate Knowledge Management and Innovation Strategy, which will be presented to IFAD Executive Board in December 2006, the Asia and the Pacific Division's approach to knowledge management will be revised and updated next year.
Readers are invited to send feedback and suggestions on how IFAD can improve knowledge management in the Asia and the Pacific Region to Ms Chase Palmeri, Knowledge management facilitator.
Chase Palmeri, Knowledge management facilitator
---
Document management for sharing knowledge
With the support of IFAD Management and Information Systems and the Information and Communication Division, all IFAD departments are given the opportunity to create a web workspace through the document environment for sharing knowledge (//desk).
The Asia and the Pacific Division has recently implemented its web workspace. It allows the division to organize, store, retrieve and disseminate information more effectively and efficiently at a divisional, organizational and project level. // desk is an additional tool to the IFAD intranet/website and the Rural Poverty Portal. It will support IFAD activities in the region through an effective and results-based information sharing system.
The migration of existing documents to the new system will be finalized in September under the coordination of divisional team focal points. Field presence officers will receive a special key (RSA), which will allow them to access the divisional web workspace. This will result in more effective communication and increased transparency. Documents can be downloaded directly from the //desk or sent as a link rather than as heavy attachments, which are often difficult to download. This new tool will also enhance country ownership, as field presence offices will access their documents independently.
The new web workspace will also serve as a means to store and distribute the division's knowledge products and tools, including this newsletter and the new occasional papers.
For comments or suggestions on the //desk, please contact the divisional coordinator.
Monica Bugghi, Programme assistant and //desk coordinator
---
Occasional papers
Knowledge for development effectiveness
The Asia and the Pacific Division wishes to announce a new series of occasional papers on emerging thematic issues in the region. The papers will be published bi-monthly and will contribute to IFAD's efforts to share the knowledge and experience emerging from its activities and those of its partners in the region with a wider audience. All papers will be reviewed by an editorial team drawn from within and outside IFAD.
Contact: Monica Bugghi
Email:occasionalpapers@ifad.org; tel: 0039 06 5459 2571
Issue 1:
Millennium Development Goal of halving poverty in the Asia and the Pacific region: progress, prospects and priorities
The paper reviews progress towards attaining the first MDG of reducing extreme poverty and hunger, assesses the prospects for achieving it by 2015 and identifies priorities for accelerating the process. Despite impressive gains in the Asia and the Pacific Region, represented by high economic growth and poverty reduction over the last three decades, the region still accounts for two thirds of the world's poor people. Therefore, achieving the goal of halving the proportion of the world's extremely poor people by 2015 depends to a large extent on this region's performance in further reducing poverty over the next 10 years.
Several studies have concluded that the first MDG will be achieved in many countries within the region and the region overall. However, these studies were based on projections of past trends and did not consider how agricultural growth, trade and institutional factors influence income growth and poverty levels. This limits the usefulness of their policy insights. This study, based on an econometric analysis, fills that gap in knowledge of future trends and deepens our understanding of the impact of policy changes in attaining the MDG of poverty reduction.
The Economics Team
---