Issue 16: May-June 2007
Managing risks and reducing vulnerability to natural hazards
Message from the Director of the Asia and the Pacific Division
Lessons Learned From Tsunami Recovery: Key propositions for Building Back Better

Proposition 1
Governments, donors, and aid agencies must recognize that families and communities drive their own recovery.

Proposition 2
Recovery must promote fairness and equity.

Proposition 3
Governments must enhance preparedness for future disasters.

Proposition 4
Local governments must be empowered to manage recovery efforts, and donors must devote greater resources to strengthening government recovery institutions, especially at the local level.

Proposition 5
Good recovery planning and effective coordination depend on good information.

Proposition 6
The UN, World Bank, and other multilateral agencies must clarify their roles and relationships, especially in addressing the early stage of a recovery process.

Proposition 7
The expanding role of NGOs and the Red Cross/Red Crescent Movement carries greater responsibilities for quality in recovery efforts.

Proposition 8
From the start of recovery operations, governments and aid agencies must create the conditions for entrepreneurs to flourish.

Proposition 9
Beneficiaries deserve the kind of agency partnerships that move beyond rivalry and unhealthy competition.

Proposition 10
Good recovery must leave communities safer by reducing risks and building resilience.

A Report by the UN Secretary-General's Special Envoy for Tsunami Recovery, William J. Clinton, December 2006
The Asia and the Pacific region is well on track to exceed the Millennium Development Goal of reducing income poverty to half by 2015. However, this outcome remains precarious as vulnerability and exposure to a variety of risks are increasing, especially to natural hazards in fragile ecosystems where the poorest rural people eke out a livelihood.
Natural risks such as cyclones, floods, earthquakes, tsunamis and droughts pose recurrent threats to the livelihoods of millions of the poorest rural people. Small islands are a specific risk category. In addition, the long-term process of climate change is making the outlook grimmer and more unpredictable for hundreds of millions of rural producers.
These risks threaten agricultural and rural productivity and thereby exacerbate poverty. Poverty in turn leads to unsustainable production and livelihood systems that provoke soil erosion, undermine water management, increase air pollution, deplete biodiversity and accelerate climate change.
Faced with these risks, rural producers adopt risk-minimizing behaviours. Their outlook on savings, investment and sustainable production practices shifts from a long-term view of capital accumulation and inter-generational transfers to a short-term perspective of subsistence and a medium-term perspective of rural emigration. At the same time, they are finding themselves on the frontline of a rapid structural transformation of developing economies, accompanied by significant shifts in agricultural competitiveness and comparative advantage.
But in the short-term, there are no alternative livelihoods for rural poor people – not until their skills are enhanced and until the modern sector of the economy absorbs a large portion of productive poor rural people in a sustainable manner. However, humankind requires continual environmental stewardship that will hinge on regenerative and conservation management of the rural landscape.
IFAD aims to reduce rural poverty more robustly, in partnership with rural producers and their organizations, local and central government, civil society, private-sector service providers and external development partners. It aims to do so by rendering rural livelihoods more resistant to risks, more adaptable to climate change and more sustainable.
IFAD's grant funding for research, lending programme for investment projects and dialogue for pro-poor policy change are increasingly focusing on risk reduction and mitigation, as well as on transfer mechanisms such as insurance, credit and payment for environmental services. Support is also focusing on building capacity in managing risks and 'Building Back Better' after risks have materialized.
IFAD seeks to focus on adapting rural livelihoods to climate change and short-term risks (for example, floods, droughts and cyclones). With the core stakeholders in rural areas and its partners, IFAD is concentrating on providing appropriate technical and financial support through relatively new development finance mechanisms that are emerging to address the environment, biodiversity and climate change.
The articles in this newsletter illustrate the current efforts in these areas. They are an open invitation to all readers and their organizations to partner with IFAD to help us improve our outcomes in this urgent challenge of mitigating, preventing and managing risk.
Thomas Elhaut, Director, Asia and the Pacific Division
---
Increased frequency of natural disasters in Asia and the Pacific could have serious implications on development efforts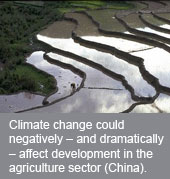 Rising temperature, changes in precipitation, floods, droughts and other extreme weather events pose additional risks for already vulnerable communities striving to come out of poverty and achieve sustainable development. In 2006, IFAD undertook various studies to show the links between persistent poverty and the risks emanating from natural hazards, climate change and market volatility. This article summarizes the main findings from 'Natural Disasters, Vulnerability and Mortalities', a cross-country analysis conducted by Raghav Gaiha, Professor of Economics, University of Delhi and Ganesh Thapa, Regional Economist, IFAD. The study focuses on the impact of natural disasters and climate change on poor rural people in Asia and the Pacific.
Natural disasters affect household welfare through loss of income and assets, injuries, fatalities and health epidemics. The global financial costs of natural disasters have risen 15-fold over the last five decades.
Types of natural hazards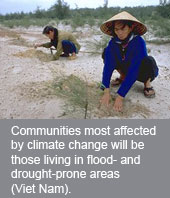 There are two types of hazards: hydro-meteorological, such as floods, droughts and cyclones; and geophysical, such as earthquakes, volcanic eruptions and related tsunamis. Their impacts vary partly due to differences in their frequency of occurrence and predictability.
The recurrent nature of hydro-meteorological hazards is associated with climatic variability. One response to this is adaptation – for example, the cultivation of distinctive crops and change of cropping patterns, in flood- or drought-prone areas.
Geophysical hazards have low probability of occurrence or occur randomly. The potential consequences are enormous in terms of lost lives and physical damage to infrastructure and private assets in vulnerable areas.
IFAD's recent study 'Natural Disasters, Vulnerability and Mortalities' shows that wind storms had the highest (relative) frequency from 1985 to 1994, followed by floods, earthquakes and land slides. From 1995 to 2004, floods replaced wind storms as the most frequent natural disaster, followed by earthquakes, droughts and land slides. These findings illustrate how the frequency and type of natural disaster can change.
Natural disasters and the poor
Within developing countries, poor people often bear the brunt of disasters for the following reasons:
They live in areas that are more vulnerable to floods, hurricanes and earthquakes. Disasters often disrupt food production, resulting in loss of livelihoods and higher food prices.
They lack access to formal risk-sharing mechanisms such as insurance, which would compensate for lost assets. Other informal risk-sharing mechanisms, such as transfers from friends and relatives and savings, are often inadequate.
It is therefore not surprising that disasters substantially increase poverty.
The impact of climate change on Asia and the Pacific
The study argues that high temperature, severe drought, flood conditions and soil degradation are likely to cause dramatic declines in agricultural productivity in Asia and the Pacific. As a result, the food security of many developing countries of the region will be under tremendous threat. Because of wide differences in climatological, ecological and socio-economic features in the region, impacts of climate change will differ by sub-regions.
Most mountain regions in Asia are under pressure from human settlements and intensive cultivation and animal husbandry, which have reduced the vegetation cover. Reduced vegetation has increased soil moisture evaporation, soil erosion and siltation. In areas where the frequency and intensity of rainfall is high, crops will be destroyed as a result of flooding. Areas with low rainfall will suffer from droughts. Global warming is projected to shift the present distribution of crop and fruit tree species to higher elevations. Moreover, as a result of flooding, some flora and fauna will be destroyed and some species may disappear altogether.
In dryland areas, rainfall is scarce and highly variable. As a result, soils are shallow and low in organic matter and fertility. Climate change may cause the soils degraded by poor land management to become more infertile. In these areas, plants with surface root systems – plants which mostly utilize precipitation moisture – will become vulnerable to climate change. Climate change may also lead to a shift in dryland types, with semi-arid drylands turning into dry areas and deserts.
Coastal areas are projected to suffer from rising sea levels induced by climate change. The rise will cause severe problems to deltaic coasts of China (for example, soil erosion through flooding and loss of crops). In Japan, it will expand the flood-prone area and exacerbate beach erosion.
Adaptation to climate change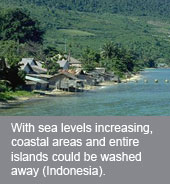 Climate change could negatively affect development in a number of key sectors, such as agriculture, water resources and coastal zone management. Adaptation to climate change is therefore closely linked to development. The linkages occur at different levels.
At the local level, the most severely affected communities will be those living in geographic regions most exposed to climatic impacts, such as flood- and drought-prone areas. These people are generally poorer than other segments of society. Targeted programmes should be designed to provide support for adaptation to climate change – for example, by promoting drought-resistant crops and making farmers aware of their benefits through training.
At the sectoral level, agriculture, disaster and water resource management are the most adversely impacted sectors. Policy makers in these sectors should anticipate the future impacts of climate change and plan for appropriate adaptation measures.
Over time, communities affected by natural disasters have accumulated experience and built up their own knowledge base for adapting to climate conditions. In some countries, governments have provided strong support to communities through research and extension services in developing adaptation measures. However, much more support is needed, as well as better coordination between governments and communities, and governments and donors.
IFAD will undertake more studies in 2007 to assess various forms of insurance in rural areas, their coverage and effectiveness, and the potential role of the government, community and private sector in risk reduction and mitigation.
The full study will be published by IFAD shortly.
Ganesh Thapa, Regional Economist, IFAD
---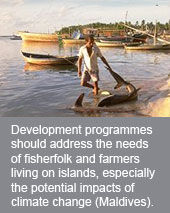 "The average height of the Maldives is 1.5 metres above mean sea level. Therefore, if the rate of sea level rise per century is 59 centimetres, it would take a couple of centuries at the most to totally inundate the entire Maldives," said the President of the Maldives in a recent interview to Reuters. Small island countries need a special programme that will address the concerns and needs of their fisherfolk and farmers, especially as they relate to climate change and its possible impacts.
Human behaviour and exploitation of natural resources in the global environment have far reaching consequences. We share our planet and its resources. We are engaged in land management issues, food security, rural employment and poverty alleviation.
We also share our problems. Land use and land reform may be insignificant if deserts keep expanding, icecaps melting, sea levels rising, coastal zones getting inundated and if entire islands are washed away. The efforts to improve livelihoods through crops, livestock, forestry and marine resources could be derailed by climate change. Yet we forget that addressing the needs of vulnerable poor people is fundamental for addressing this problem.
The people of the Maldives have shown great resilience in the face of disasters in the past. This is primarily due to the support and cooperation of the international community, including IFAD. Through funding agricultural and fisheries projects and programmes, IFAD has supported the Government of the Maldives since 1982. When the tsunami hit the Maldives in 2004, IFAD responded with the Post-Tsunami Agricultural and Fisheries Rehabilitation Programme.
While absolute poverty does not exist in the Maldives, there are income disparities between regions, islands and households. IFAD is currently assisting the Maldives to develop the Fisheries and Agriculture Diversification Project, which will address two of the most vulnerable groups – smallholder farm households and traditional fish processing groups. The project will aim to develop agricultural supply chains and a fish processing supply chain for smallholders in a manner that will improve and sustain the incomes of both groups.
With increasing focus on globalization and trade, there is a danger that we forget to focus on poor rural people. Poor farmers need to access markets to sell their produce. They need fair pricing. Measures must be taken by governments and international development organizations to meet the needs of farmers living on islands. Without improving rural employment and livelihoods, climate change cannot be addressed effectively.
Abdullah Kamaludeen, Minister of Fisheries, Agriculture and Marine Resources of the
Republic of Maldives
Read more about:
---
Rebuilding lives and livelihoods after the earthquake in Pakistan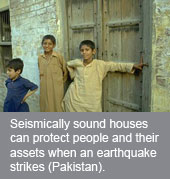 On 8 October 2005, a 7.6 magnitude earthquake struck Pakistan-administered Kashmir. Tragically, more than 70,000 people lost their lives. Seismic risk is high in many parts of Pakistan. Unsound construction practices increase the damage caused by earthquakes. Improved quality of house construction can reduce economic and human losses. IFAD responded immediately to the earthquake in Pakistan. Apart from the rehabilitation of damaged infrastructure, it is financing the construction of seismically-sound houses.
The area affected by the October 2005 earthquake overlaps with the locations of two ongoing IFAD-supported projects – the Community Development Project and the North-West Frontier Province Barani Area Development Project. Immediately following the earthquake, IFAD agreed with the Government of Pakistan to re-orientate the two projects to enable them to support the rehabilitation efforts.
According to the Project Management Unit of the Community Development Project, as of February 2007, work on rehabilitation of 75 kilometres of damaged roads and 37 damaged schools had already started. Project community organizations have made proposals for 78 other community infrastructure schemes, including foot bridges, paths, water channels and drinking water schemes. These proposals are currently being costed by the project.
In addition, IFAD and the World Bank jointly designed the Project for the Restoration of Earthquake-Affected Communities and Households. The project focuses on providing quick support to affected communities. Its goal is to enable rural households to rebuild livelihoods and reduce vulnerability in earthquake-affected areas. To achieve this goal, the project is assisting vulnerable earthquake-affected households to rebuild their asset base – for example, houses, livestock, drinking water supply. The project is supported by loans from IFAD (US$26 million) and the World Bank (US$238 million).
According to the joint IFAD/World Bank supervision report from January 2007, compensation payments to homeowners before the start of house reconstruction have been distributed to all 81,885 eligible households. Construction has begun on almost 80 per cent of the completely destroyed houses covered by the project. The new houses are being built following "seismically sound" designs.
Once housing reconstruction is well underway, the project will focus on re-building community infrastructure. A total of 1,000 community infrastructure schemes will be rebuilt. Work on 160 of these schemes has already started.
The project was presented to IFAD's Executive Board in April 2006 and declared effective three months later. After only six months of project implementation, 65 per cent of the IFAD loan (a total of US$16.8 million) had already been disbursed for housing reconstruction.
Nigel Brett, Country Programme Manager
Read more about:
---
Strengthening the capacity of poor people in Bangladesh to cope with extreme weather events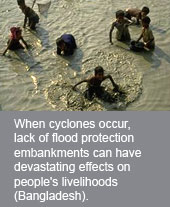 On 29 April 2007, Bangladesh commemorated the 16th anniversary of the cyclone that swept the coastal areas of Chittagong, killing about 138,000 people. Various civil society organizations held commemoration meetings to remind Bangladesh authorities that millions of people are still lacking flood protection embankments and adequate cyclone shelters. The commemoration meetings urged the authorities to take necessary actions to save the lives and properties of millions of people living in the coastal areas of Bangladesh, especially in the context of climate change. IFAD has been addressing this growing challenge through its operations in Asia.
The Special Assistance Project for Cyclone-Affected Rural Households is one concrete example of IFAD's response to natural disasters. The project, financed by a US$15.4 million loan from IFAD and a US$4.1 million grant from Danish International Development Agency (DANIDA) and the European Union, strengthened the coping strategies of poor rural households hit by the cyclone in 1991. While the grants provided immediate support to affected rural households, the loan financed long-term development activities to prepare rural people for such disasters in the future.
The project focused on the rehabilitation of the productive potential of people affected by the cyclone. It involved the rehabilitation of agriculture, fisheries and off-farm activities, the construction of cyclone shelters, and reforestation of rural villages. The project also laid the foundations for increasing community resilience in vulnerable areas by strengthening the capacity to cope with crises resulting from natural disasters. This included building village institutions, such as village councils and development groups, and enhancing cyclone preparedness by providing a more effective cyclone early-warning system and constructing ten cyclone shelters in the Kutubdia area.
The project made a difference to 69,000 households. According to the completion report of 2000, the project distributed on a grant basis:
294 power tillers, training three operators from each group of project participants in operation and maintenance
agricultural inputs such as seeds, fertilizers and pesticides to almost 46,000 affected farmers who lost their crops, seeds and cattle
livestock to the poorest households (about 25,574 farmers received ducks or hens, 4,740 people received goats or sheep and 7,512 farmers received cows or buffalos)
480 sailboats benefiting 2,432 fishers
between six and ten timber saplings or coconut plants to each family.
The project also financed:
building of four irrigation schemes to irrigate about 2,724 acres of land
credit provision of about US$ 72,000, which was distributed in the form of grants to 2,128 of the poorest project participants (the availability of credit enabled participants to become involved in new activities such as salt production, tailoring, food processing, handicrafts and carpentry)
growing of a mangrove forest on 795 acres of land outside the coastal embankment to protect against tidal surge
construction of ten cyclone centres, each to provide shelter to 2,000 people and 5,000 cattle in the event of a cyclone.
To enable communities to organize themselves in case of emergency, the project formed 180 gender-balanced community development groups. Each group consisted of 12 members headed by a leader and a deputy leader. The project also trained about 500 volunteers and 51 team leaders in cyclone preparedness. According to the completion report, the formation of community development groups continued after the project ended.
Bangladesh is a disaster-prone country because of its geographical location. Increasing effects of climate change such as extreme weather events, more severe wind speeds in cyclones and rising sea level mean that Bangladesh will continue to be affected in the future.
Farmers are particularly vulnerable to disasters such as river erosion, droughts and floods because such disasters affect their land. IFAD is committed to build physical protection, introduce adaptation and prevention measures, and strengthen institutional arrangements to increase the adaptive capacity of Bangladesh in response to climate change.
Martina Spisiakova, Newsletter Coordinator
Read more about:
The Indian Ocean tsunami: almost three years later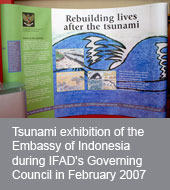 At IFAD's Governing Council on 14-15 February 2007, the Embassy of the Republic of Indonesia in Rome organized an exhibition commemorating the Indian Ocean tsunami – a disaster which struck India, Indonesia, the Maldives, Sri Lanka and Thailand. The exhibition showed how the lives of the tsunami survivors in Indonesia have changed since the tsunami struck in December 2004.
The Ambassador of Indonesia to Italy and the President of IFAD inaugurated the exhibition, which was attended by more than 200 people, including participants in the Governing Council (representatives of IFAD member countries), officials from ministries of foreign affairs and embassies, members of parliament and journalists.
The purpose of the exhibition was to show the international community how the survivors of the disaster had regained their livelihood. After losing family members and friends, houses and jobs, they managed to rebuild their lives in a relatively short time.
Through the exhibition, the Government of Indonesia expressed its gratitude to the international community, especially the three United Nations agencies based in Rome, for their generous support after the tragedy.
The exhibition also aimed to raise awareness of the need to prepare for the possibility of such disasters recurring. The Indonesian Embassy hoped that the exhibition would encourage continued international cooperation in managing disasters. Joint efforts hold the key to successful development of early warning systems, mitigation of natural disasters and rehabilitation and reconstruction efforts.
The exhibition displayed pictures of how life was reconstructed and rehabilitated in the tsunami-affected areas of Indonesia:
children in front of one of the

newly built schools

fisherfolk in their new boats displaying their daily catch

local farmers planting seeds and turning the soil, equipped with new technologies that enable them to generate higher yields while conserving the environment

mothers visiting a local health centre that had been rebuilt, thus preventing them from having to walk many kilometres to receive medical care for themselves or their children.
The exhibition included 40 paintings by children who survived the disaster. Each painting was accompanied by a short story of what had happened to them when the tsunami struck. Most of them lost relatives, including parents and siblings, and friends.
During the Governing Council, there was also a video presentation of the reconstruction and rehabilitation efforts in Indonesia (with the support of the World Food Programme) and Sri Lanka (with the support of the Government of Sri Lanka). The Food and Agriculture Organization, the World Food Programme and the Embassy of Sri Lanka in Rome also contributed additional materials for the exhibition.
Siti Mauludiah, First Secretary, Indonesian Embassy, Rome
Find out how IFAD is supporting the post-tsunami rehabilitation and reconstruction efforts:
Disaster management in the Himalaya: an all-inclusive approach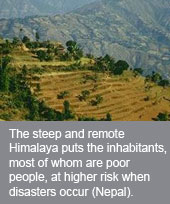 The International Centre for Integrated Mountain Development (ICIMOD) is raising awareness of policy makers and disaster-prone communities on the importance of including all stakeholders in disaster management. The occurrence of natural disasters often leads to social and economic disasters because actions are not properly planned or inclusive.
Mountains, hills and flood plains of the Himalayan countries are highly vulnerable to natural disasters. The Centre for Research on the Epidemiology of Disasters estimated that between 1977 and 2006, around 512,000 people in the Hindu-Kush-Himalaya countries were killed due to natural disasters. Mountain communities face additional challenges in terms of protection and coping capacities because of a number of characteristics specific to mountain areas. Many regions in Nepal, Pakistan and India lack infrastructures to provide emergency assistance. Mountain areas are mostly inhabited by poor and indigenous peoples who lack access to necessary information and capacity for quick and effective response to disasters. Lack of awareness about the severity of their exposure to natural disasters and lack of political clout minimizes their ability to influence the policies and decisions of central governments to give priority to disaster risk reduction measures. Thus disaster reduction agendas in the mountains have generally been considered marginal until a major catastrophe, such as the Kashmir earthquake, occurs.
When disasters – natural or human-made – hit vulnerable areas, such as mountains and flood plains, the magnitude of destruction and human tragedy is high. Moreover, the impact of a disaster on a community is influenced by people's vulnerability to the disaster. Among the more vulnerable are women, children, the elderly, the disabled and poor people. Therefore, disaster mitigation and management of risks takes on great importance from the perspective of development and poverty alleviation.
ICIMOD believes that disasters can be mitigated and their social and economic impact diminished through multi-sectoral planning and the creation of a well-coordinated disaster preparedness system at all levels of the government and civil society. For example, earthquakes of similar magnitude in Kobe, Japan and Bam, Iran killed two people and several thousand people, respectively. In Nepal and Germany, the same number of people are exposed to floods each year. However, while no one is killed in Germany, Nepal has several hundred casualties every year.
Natural disasters are blind to social and geo-political boundaries. The probability of mitigating disasters can be significantly improved by designing and implementing disaster reduction and emergency preparedness plans that involve all stakeholders. The same inclusive approach applies when responding to a disaster. Different social and gender-specific needs require appropriate rescue, relief and rehabilitation responses. There is growing concern that the social and economic costs of disasters are not only holding back the processes of sustainable development but are also major obstacles to achieving the Millennium Development Goals. Therefore, disaster mitigation and vulnerability reduction should be viewed as a part of the broader context of the development process, with strategies and plans being socially inclusive.
ICIMOD is raising awareness of the disaster-prone communities and policy makers on the importance of social inclusion in disaster management. However, Himalayan countries have a long way to go in preparing their people to manage recurrent disasters.
Madhav Karki and Mats Eriksson, ICIMOD
Read more about:
The challenges of adapting to climate change in developing countries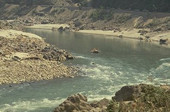 Climate change poses a huge threat to humans, particularly in developing countries. Until recently, however, donors and governments have done little to prepare for the impacts. A recent report highlights the progress and challenges in enabling development to adapt to a changing climate.
Adaptation to climate change is the ability to respond and adjust to the actual or potential impacts of changing conditions, in order to reduce harm or exploit opportunities. A report from the Institute of Development Studies in the UK and Tearfund, a development charity based in the UK, reviewed the progress made by developing countries and donor agencies in 'mainstreaming' adaptation. This means including climate change in other development programmes and budgeting plans.
Many countries have carried out impact assessments to determine how climate change will affect them. The small island developing states in the Caribbean and the Pacific, which are extremely vulnerable to climate change, have made good progress. However, wider progress on mainstreaming climate adaptation has been limited. In particular, mainstreaming adaptation into existing frameworks, such as national Poverty Reduction Strategy Papers, has been poor.
There are a number of challenges to mainstreaming climate change adaptation in developing countries:
There is a lack of awareness amongst many policy makers and development workers about the potential impacts of climate change, and insufficient information about how these relate to development priorities.
Institutions with little policy influence, such as environmental organizations or meteorological departments, often deal with climate change. Coordination is poor between organizations working on climate change and those involved with development and disaster risk reduction.
Policy making related to climate change often overlooks important groups of actors, particularly civil society.
Adaptation may not receive the attention it deserves if staff are under-motivated or overworked. Moreover, donors and planners may not accept the costs of changing their working practices.
Developed countries, largely responsible for climate change, must assist developing countries in their adaptation efforts, through provision of financial and technical assistance. However, current levels of funding and support are woefully inadequate.
Climate change is likely to affect developing countries most significantly. They are more reliant on agriculture, which is closely linked to climatic conditions. They are also more vulnerable to changes in coastal environments and water resources, and have limited money or expertise to cope with damaging changes. It is vital, therefore, that adaptation strategies become a central part of development planning. The report made a number of recommendations:
Governments need to work closely with the scientific community to help it provide information that is easy to understand and more relevant to development activities.
A broad range of stakeholders should be involved in climate change policy making, including civil society, sectoral departments and senior policymakers.
Funding for adaptation will need to increase well beyond current levels.
id21 Research Highlight on Global Issues, March 2007, based on ''Overcoming the Barriers: Mainstreaming Climate Change Adaptation in Developing Countries', Tearfund Climate Change Briefing Paper 1, Tearfund: Teddington, by Tom Mitchell, Thomas Tanner and Emily Wilkinson, 2006
Other related links:
IFAD is collaborating with the Centre on Integrated Rural Development for Asia and the Pacific and the Asian NGO Coalition for Agrarian Reform and Rural Development in contributing towards enabling poor rural people to form strong and sustainable coalitions and federations.
The publication titled 'CSO Experiences in Strengthening Rural Poor Organizations in Asia' is the second output of this collaboration. It documents the experiences of civil society organizations (CSOs) in Asia on working with poor people, in particular:
developing the capacities of CSOs to become self-governing sustainable institutions

scaling up organizations of poor people through coalitions, networks and federations and

building strategic partnerships.
The Asia and the Pacific Division hopes that this publication will be useful for IFAD's Country Programme Managers, project directors and staff of IFAD-funded projects in ensuring the sustainability of IFAD project benefits.
4th Microfinance Training of Trainers: a distance learning course
The Asian Development Bank Institute, the Tokyo Development Learning Center of the World Bank, and the World Bank Institute are pleased to announce the fourth delivery of the Microfinance Training of Trainers (MFTOT) from August to November 2007. MFTOT is a unique blended distance learning course which aims to strengthen the institutional capacity of microfinance in the Asia and the Pacific region to better serve poor people by enhancing the knowledge of microfinance practitioners.
This course is for development practitioners, microfinance professionals, policy makers, donor staff, socially responsible investors, students and others who want to improve their knowledge of best practices in microfinance.
The videoconferences, e-discussion, assignments and final examination will be conducted in English. For selected languages, including Bahasa Indonesia, Chinese, Khmer, Lao, Thai and Vietnamese, preliminary versions of translated course materials are expected to be available in August.
Participants who wish to become fully certified trainers of the microfinance distance learning course will have the option to take the accreditation examination at the conclusion of the course.
International Training Programme on Gender Centric Entrepreneurship and Economic Development
From 13 August to 21 September 2007, the Entrepreneurship Development Institute of India is holding the International Training Programme on Gender Centric Entrepreneurship and Economic Development in Ahmedabad, India. This programme has been designed for leaders of non-governmental organizations, development professionals, multilateral organizations, government officials involved in economic development programmes, bank officials, researchers and academicians, officials from industry and training associations and women entrepreneurs.
The institute is dedicated to education, research and training, and the training programme is being sponsored by the Ministry of External Affairs of the Government of India.