The 'Review of Rural Finance Innovations in Asia-Pacific Region with Focus on APRACA Member Institutions and Projects: New Approaches, Best Practices and Lessons' analysed four of the most important microfinance methodologies used in Asia that have achieved success in both outreach and financial viability during the past decade. These methodologies include:
Over time, the replicators modified the model to suit local contexts. For example, in the Philippines replicators modified the terms of loans (e.g. the maturity of loans of three to six months instead of 12 months), the number of members per group, roles of small groups, and frequency of meetings. Nevertheless, its essential features remain.
Overall, the common thread among the best practices is the shift from mere credit to providing broader and sustainable financial services. While there are variations, there is an increasing emphasis on attaining a sustainable fund base, cost recovery of invested funds and efficient and responsive financial services to rural clients.
---
IFAD's experience in microfinance in Bangladesh
In Bangladesh, IFAD is supporting microfinance services through five ongoing projects. Project data show that these services are now reaching 475,000 poor families in four projects (see table below). Out of these families, about 84 per cent are current borrowers and almost all are savers. Group formation in the most recent project – Market Infrastructure Development Project in Charland Region – is only just starting.
Microfinance borrowers in IFAD-supported projects

Project

Year commenced

No. of members of microfinance groups

No. of borrowers

Smallholder Agricultural Improvement Project*

Sunamganj Community-Based Resource Management Project

Microfinance and Technical Support Project*

Microfinance for Marginal and Small Farmers Project*

Total

* data for June 2007, ~ data for September 2006
Out of the five projects, four deliver microfinance via NGOs-MFIs based on the model of Grameen Bank. The Sunamganj Community-Based Resource Management Project uses the SHG approach.
The Microfinance and Technical Support Project and Microfinance for Marginal and Small Farmers Project are being implemented through the Palli Karma-Sahayak Foundation (PKSF), the apex funding agency for NGOs-MFIs. IFAD and PKSF have forged a close partnership and both projects have made significant innovations in microfinance.
The Microfinance and Technical Support Project has combined the provision of microfinance with technical support for livestock development. It has demonstrated the synergy between microfinance and technical services delivered through the same NGO at the field level.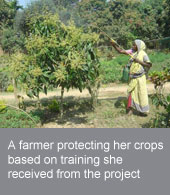 The Microfinance for Marginal and Small Farmers Project uses a new institutional approach to deliver financial services to poor farmers. The project has expanded the outreach of microfinance from the functionally landless (owning less than 0.2 ha of land – the traditional target group in Bangladesh) to marginal and small farmers (a segment that was previously not effectively served by either microfinance institutions or by the banking sector).
To date, the project has achieved the following impact:
173 branch offices have been established

97,481 poor farmers have become members, forming 5,318 marginal and small farmers groups

78,812 farmers have borrowed money

Farmers have saved Taka 1.184.40 million (US$1.69 million), with individual farmers saving on average Taka 20 per week

Almost 75,000 members have received technical training (for example, managing crop variety) and social training (for example, literacy, family planning)
To reduce vulnerability of already vulnerable people to emergencies, the project established a disaster reserve fund. The project's partner organizations use the fund to provide loans when natural disasters or family emergencies occur. If viable, the project may support the provision of crop and livestock insurance.
The project has also introduced seasonal loans alongside the 'Grameen classic' loan model of weekly repayments spread over one year. Seasonal loans are more appropriate for the cash flow of many agricultural enterprises. Such loans now account for over one-quarter of the project's lending. Seasonal loans have now been incorporated into the mainstream operations of PKSF.
To ensure better price of crops, farmers are allowed to store their crops in a special storage facility for crops at the time of harvest and sell them in the post-harvest period when prices of crops are higher.
Case study: Growing aubergine and litchi trees enables a marginal farmer to become a successful businessman

Md. Babul Hossain (50) is a marginal farmer from Rajapukur village in Dinajpur district in northwest Bangladesh. He has only 3 decimals of land as homestead and 150 decimals of land for crop cultivation (100 decimals = 0.4 hectares).

Hossain's crop land is relatively high and suitable for vegetable cultivation but requires capital to pay for the cost of inputs. In the past, he mostly used the land for paddy and sometimes had to take expensive loans from moneylenders to pay for fertilizers.

Eighteen months ago, Hossain joined a group organized by Padakhep Manabik Unnayan Kendra (PMUK), one of the PKSF's partner NGOs that is implementing the Microfinance for Marginal and Small Farmers Project. He received two loans from PMUK.

He invested his first loan of BDT 10,000 (US$146) in cultivating brinjal (aubergine), which he sold for BDT 40,000 (US$583). His second loan of BDT 3,000 (US$44) financed the production of more brinjal. He also planted 24 litchi trees and used the space between them for growing vegetables such as gourd and spinach. By selling the first fruits of his litchi trees at the market, Hossain earned BDT 7,000 (US$102). He is now able to meet family's daily expenses and uses the additional income for further investments.

Hossain has also started to trade fruit trees – purchasing saplings from villagers and selling them in the market at wholesale prices. When he is busy with this business, his wife manages the vegetable field. To date, he has saved BDT 1,800 (US$26) with the group.

Since he joined the project, Hossain has been able to meet some major expenses that his family faced. He used BDT 3,000 (US$44) to send his son to Dhaka to find a job. Another BDT 3,000 funded building a wall to protect the homestead from soil erosion. The wall will be incorporated into a new house that the family plans to build.

Source and photo: Rownok Jahan, IFAD Consultant
Edward Mallorie, Microfinance Specialist
Golam Touhid, Project Coordinator, Microfinance for Marginal and Small Farmers Project, PKSF, Bangladesh
Read more about:
---
Supporting rural finance reform in China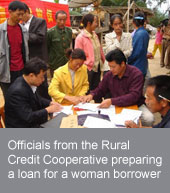 Since 1995 IFAD has participated in rural finance reform in China. In particular, it has been supporting the network of rural credit cooperatives (RCCs). This feature of rural financial service has become an important part of IFAD-supported projects and programmes in China. It focuses on the adoption of an institutional approach to ensure that disadvantaged people have access to credit.
IFAD's assistance to RCCs is twofold. By providing credit to RCCs, IFAD helps to improve the funding structure of RCC operational branches and their capacity to lend to poor people. At the same time, IFAD builds the institutional capacity of RCCs by financing technical training of the staff, developing loan products and procedures, conducting market surveys, exposing the staff to best practices in microfinance techniques for reaching poor people, and financing equipment such as motorcycles for credit officers and computers for branch offices.
Before potential borrowers apply for loans from RCCs, the IFAD-supported projects train them to gain skills in literacy, income-generating activities and credit management. Trainings take place through federations of women and local service providers. IFAD-supported projects also provide technical and financial support to these federations and service providers to help them improve the creditworthiness of economically active poor people so that they become more bankable in the eyes of the RCCs. In return, RCCs provide feedback to these agencies on their additional training needs for potential borrowers, which are then taken into account in the next round of training.
The credit provided by IFAD is matched by the funds of participating RCCs, mostly on a 50/50 basis or higher. The funds seek to reach economically active poor people, especially women. When lending to poor people, RCCs apply market interest rates and no collateral for the loans is required.
To further secure access of poor men and women to RCC credit, in 2005 IFAD initiated the Rural Finance Sector Programme. This US$21.3 million programme is being implemented by provincial RCC unions in Chongqing and Shaanxi provinces. The programme is strengthening institutional, managerial and operational capacities of RCCs, with special attention given to developing products and services tailored to poor men and women. In addition, at the end of 2007, IFAD approved a grant for the training centre of the Rural Cooperative Bank of Tianjin to build the capacity of RCCs in microfinance.
A poor household gets credit from an RCC

Wang Benhai, 30 years old, lives with his wife, daughter, son and father-in-law in Taohua Village of Yunyang County, Chongqing, China. Mr Wang and his wife used to be migrant workers in the urban centres of the province. Their income was too low to meet their basic needs, especially when the father-in-law was diagnosed with cancer. Food security could only be sustained ten months during the year.

In late 2005, the couple returned to the village, where they planned to raise chickens. But they lacked money to start up. Mr Wang approached the local RCC for credit support. The RCC credit officer reviewed Mr Wang's proposal and concluded that there was a promising market potential for such an enterprise. Nevertheless, the family had lived below the poverty line for a long time and lacked sufficient assets or income to meet the borrowing criteria of the RCC.

At that time, IFAD had started to implement the Rural Finance Sector Programme. The Yunyang County RCC union fell under this programme. Based on the programme lending requirement to lend to economically active poor people, the local RCC reassessed Mr Wang's loan application. It considered a number of factors such as credit record and repayment willingness, income-generating potential and repayment cash flow. Mr Wang finally obtained a loan.

Mr Wang used his first loan of CNY 5,000 (US$700) to purchase several dozen chicks and build a rudimentary shelter. The business went well and Mr Wang was able to make timely repayments. In 2007, he received a second loan of CNY 20,000 (US$2,800) to build a solid henhouse and expand his poultry to 400 chickens. He earns income by selling the chickens and eggs through regular retail channels.

As a result of the successful poultry farm, Mr Wang's annual family income increased from CNY 8,000 to CNY 18,000 (US$1,112-2,500). The family met its food sufficiency needs for the whole year. The increased income also enabled the family to upgrade its house and purchase a TV.

Currently, the RCC is considering increasing Mr Wang's credit ranking to a higher loan ceiling. Once he has repaid his second loan on time, he will have graduated from programme borrower to an RCC regular borrower. Once this happens, RCC will use its own credit funds to lend to Mr Wang in order to continue supporting his thriving business.

贫困户获得信用社贷款

重庆云阳县桃花村居民王本海今年30岁, 家庭共有5人:妻子、儿子、女儿、岳父。由于夫妻二人长期在外务工收入较低,其岳父又患有癌症,生活水平长期处于较低水平,家庭经济长期入不敷出, 粮食安全仅够10个多月。

2005年下半年夫妻二人回到家中,准备养鸡,但苦于没有资金。他们与当地信用社讨论了他们的创业项目,并希望得到信用社的贷款支持。信用社的信贷员认为养殖业适合这样的家庭发展,市场前景较好, 但该农户家庭贫困,缺乏足够的家庭资产或收入,因此达不到信用社正常贷款户的要求。

正好农发基金的农村金融改革项目开始,而云阳县信用联社是项目参与联社之一。信用社依照项目对经济活跃贫困户放贷的操作程序,对王本海家庭的信贷历史记录和还款意愿、创收潜力和还贷现金流进一步评估,最后同意在项目贷款的框架下,支持该农户的创收项目。

第一笔贷款额度为五千元,主要是购买了几十个小鸡仔、饲料和搭建简易的棚舍,该农户经营发展较好,并按时偿还贷款本息。2007年下半年,信用社再次给王本海贷款二万元。支持其养殖扩大规模,王本海修建了专门的鸡棚,增加到400多只鸡,鸡和鸡蛋的销售都有了专门的渠道。

在从事养鸡后,该家庭收入由原来的八千多元增加到一万八千元,粮食充足量达到了12个月。创收后将收入用于居住的房屋进行了修缮和购置了1台电视机。家庭生活质量得到了较大的改变。

信用社正在考虑待该借款人按期还清第二笔贷款后,提高其授信度, 使其有可能得到更大的贷款额度,并由目前的项目贷款户毕业到信用社正常贷款户。信用社将使用本身的贷款资金,继续支持王本海一家的创收活动。

由重庆信用社联社提供
国际农业发展基金支持中国农村信用合作社的改革
自上个世纪九十年代中始,国际农业发展基金(简称农发)决定参与中国的农村金融体制改革,并将支持重点放在改革进程中的最庞大的机构网络:农村信用合作社。农村金融服务子项目因此成为农发在华项目的重要组成部分,表明农发通过机构支持的投资方法,确保弱势目标人群获得贷款服务。
农发通过两种形式支持信用社:一是有限的贷款周转资金用于改善信用社营业分支机构的融资结构,扩大对目标贫困户的贷款力度;二是投资机构能力建设,帮助信用社对员工进行技术培训,贷款产品和程序开发,市场调研,考察小额信贷最佳成功经验,采纳针对贫困户市场服务的技术,以及营业设备的有限补充,如为信贷员提供摩托车和为营业点提供电脑。
在信用社潜在借贷户申请贷款前,项目
对目标贫困户和妇女的能力建设通常经当地妇联组织和有关技术服务机构进行。鉴于贫困户尤其是贫困妇女的脆弱处境,农发项目在实施过程中尝试并采纳了一系列循环渐进的能力建设方法,如先从功能扫盲开始,再提供创收培训和贷款管理知识培训,培养贫困户和贫困妇女成为信用社的潜在借贷客户。农发项目也向其他实施机构提供技术和资金支持,让这些机构帮助改善目标人群的总体生计状况。如为贫困户提供技术培训和支持的当地妇联组织和农技畜牧站等。此类的服务使经济活跃的贫困户和贫困妇女的贷款资格得到改善,更加符合当地信用社的贷款发放标准。同时,信用社也将它们对农户创收培训的期望和需求反馈给这些组织和机构,让将来的培训更加有针对性。
农发贷款周转资金和信用社的配套资金专项用于对经济活跃的贫困户,尤其是贫困妇女的贷款。信用社通常用自身的资金以1:1或更高的比例来配套农发提供的贷款周转资金。对贫困户的贷款利率为市场利率,并无须担保抵押。
为了让贫困户和妇女继续获得信用社的机构服务,农发在2005年投资二千一百万多美元,启动了一个农村金融改革项目。该项目由重庆市和陕西省信用合作联社执行实施,重点为提高信用社的机构、管理和经营能力,并特别关注针对贫困户和妇女群体的产品服务开发。2007年底,农发批准了一个对天津农村合作银行的赠款项目,旨在强化信用社在小额信贷方面的能力。
Peter Situ, IFAD resource person for field support in China
Read more about:
---
Diversifying microcredit services for poor rural people in China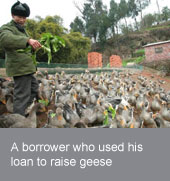 In China, rural credit cooperatives provide much-needed financial services to poor rural households. However, cooperative investments need to go beyond simple agricultural loans tied to the production cycle, to new market segments that respond to the diverse needs of poor rural people, particularly women. The IFAD-supported Rural Finance Sector Programme is working with the Chongqing Rural Credit Cooperative Union (RCCU) to diversify its microcredit services to poor people.
As a part of IFAD's programme support, the Chongqing RCCU has adopted innovative steps to diversify its loan products to include:
loans without collateral for poor households that have income-generating potential
loans that support off-farm and non-agricultural activities
loans for those in the remotest villages
Despite the increasing focus of financial institutions on providing credit to urban areas, Chongqing RCCU is committed to work in rural areas. By the end of 2006, Chongqing RCCU's overall microcredit portfolio had increased from 25 to 30 per cent. Some specific results include:
Access to credit by rural households has increased from 25 to 36 per cent.
Lending to poor farmers has increased from 7 to 16 per cent
Women borrows have increased from 3 to 9 per cent; women savers from 5 to 14 per cent
Quick loan disbursements (within one day) have increased from 50 to 89 per cent
A grassroots network of farmer credit agents has been developed and trained to identify economically active households and act as credit brokers between RCCs and rural clients
The Chongqing RCCU has also recently introduced a model of village bulk lending as a response to the need to provide an equitable share of access to credit to economically active poor people, particularly women, living in remote rural areas.
LI Zhaofeng, Deputy Director of Business Development Division, Chongqing Rural Credit Cooperative Union, China
Read more about:
Sowing the seeds of sustainability: kitchen gardens in India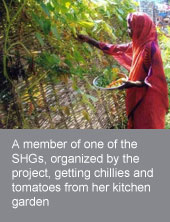 In India, women's self-help groups (SHGs) significantly contribute to improving the living conditions of poor households and the surrounding environment. In the IFAD-supported Tejaswini Rural Women's Empowerment Programme, one important SHG programme activity is kitchen gardens, where women cultivate fruits, flowers and vegetables around their homes for consumption and sale.
The Tejaswini Rural Women's Empowerment Programme is an eight-year IFAD-supported initiative in India focusing on women's development. The programme is supporting and strengthening women's SHGs and their apex organizations in two states of India – Maharashtra and Madhya Pradesh. It provides women with access to financial services, fostering linkages with banks and supporting microfinance institutions. The objective is to enable poor women to have a wider range of choices and opportunities in the economic, social and political spheres.
In Maharasthra, one of the programme activities is to help women develop 'kitchen gardens' with the view to improving their living conditions, food security and surrounding environment, as well as helping them to earning additional income. In the Hingoli district alone, 514 SHGs (4,234 women) in 155 villages are cultivating kitchen gardens. Most of the SHGs in the project area are beginning their own gardens, with continuous programme support.
The programme helped SHG members to form environment committees to generate awareness about the importance of kitchen gardens. With the help of the Department of Agriculture, women were trained to select seeds that will meet dietary and health needs. Using SHG savings, women have purchased seeds from the Department of Agriculture.
As a result of this initiative, families have fresh fruits and vegetables available regularly, improving their diet and health. By selling their produce from kitchen gardens, women generate additional income for their household and for SHG savings.
Kitchen gardens are also used for managing waste and reducing pollution. Diverting water to gardens helps keep waste water away from homes, where it can create unhealthy conditions. Furthermore, by spreading greenery in the village environment, kitchen gardens reduce pollution, making villages cleaner and prettier.
Villagers are excited about the environmental awareness and new developments in their villages. As a result, the programme has been supporting this activity all over the programme area in the Maharashtra state.
Kusum Balsaraf, General Manager, Mahila Arthik Vikas Mahamandal (MAVIM), Tejaswini Rural Women's Empowerment Programme, India
Read more about:
Matching affinities to empower poor farmers in Indonesia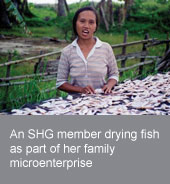 Helping poor farmers mobilize into self-help groups (SHGs) is key to giving them the confidence and power to lift themselves out of poverty. TheIFAD-supported Income-Generating Project for Marginal Farmers and Landless - Phase III (P4K) in Indonesia has established 58,118 SHGs across 10,720 villages. It has also helped create 205 microfinance institutions and 35 cooperatives to empower SHG members.
The Income-Generating Project for Marginal Farmers and Landless - Phase III (P4K) is an initiative financed by IFAD, the Asian Development Bank and the Bank Rakyat Indonesia. The project closed in 2006. Experience from the project shows that when poor farmers and fishers join SHGs and have access to credit, their self-confidence boosts and their participation in social and economic activities increases. As a result, poor farmers are able to develop their microenterprises, repay their credit and save.
Strength in numbers
Strong institutions increase poor people's capabilities to work together, improve their bargaining positions and increase their production scale. As of December 2005, the project helped establish 58,118 SHGs, 1,946 SHG associations, 205 microfinance institutions and
35 cooperatives. In 2005, the Indonesian Agency for National Statistics conducted a study of the project which revealed that:
Poverty incidence decreased in ten provinces from 22.5 per cent in 2002 to 15.7 per cent in 2005
Increased participation in social and economic activities has enabled farmers to develop micro-enterprises and repay their debts
50 per cent of SHG members have accumulated savings, reducing their vulnerability to emergencies
Empowerment through gaining self-confidence
The project showed that self-confidence is the main entry point to help farmers escape the poverty cycle. To build individual self-confidence, the group approach has proved to be an affective instrument. Groups such as SHGs unite individual farmers and fishers, providing them with confidence to manage their credit. Farmers learn from each other, and help and support each other during difficult periods.
J. B. Haryanto, Head of Monitoring and Evaluation Division, Agency for Agricultural Human Resources Development, Ministry of Agriculture, Indonesia
Read more about:
A 'big brother' approach to improving livelihoods in the Philippines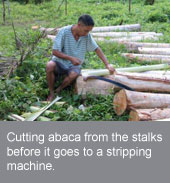 In the Philippines, community institutions serve as 'big brothers' to self-help groups (SHGs). Registered with the government, they accelerate financial assistance and implement viable poverty alleviation sub-projects. The IFAD-supported Northern Mindanao Community Initiatives and Resource Management Project is working with 223 community institutions that have 11,680 members.
The IFAD-supported Northern Mindanao Community Initiatives and Resource Management Project aims to alleviate poverty and reduce vulnerability of low and upland farmers, indigenous peoples and fishers, living in seven provinces of Caraga and Northern Mindanao regions of the Philippines. The project works with community institutions that are recognized by the government and eligible for financial assistance. Community institutions channel funds to SHGs, which perceive them as 'big brothers'.
The role of community institutions includes:
accelerating the flow of financial assistance to SHGs (it takes time before newly formed SHGs become eligible for financial assistance)

mobilizing volunteers from community organizations to facilitate project activities

making funds available to SHGs from the project, once SHGs are ready
Producing abaca in the province of Surigao del Sur
MAFABUFA is a community organization in the municipality of Marihatag. It is working with three SHGs that want to strip abaca fiber to generate income. Abaca is a species of banana plant grown almost exclusively in the Philippines. Its fiber is used to produce rope, shoes, baskets, pillow cases and many other products.
Funds were provided to one of them to:
purchase an abaca-stripping machine, located near the farms
train a full-time operator to teach all members to operate the machine
build a 'farm-to-market' road
The big brother approach has had impressive results:
Machine-stripped abaca is worth 30 per cent more than hand-stripped abaca

Marihatag has become the top abaca-producing municipality in the province

Fiber traders have easy access to producers
The government recognizes that the strategy of abaca producers is in line with its "One Town One Product" initiative and is encouraging local governments to focus on the production of commodities made of abaca and related services. The local government also recognizes the potential impact of abaca on its economy. As a result, it intends to diversify abaca production to produce value-added products and use waste for mushroom and paper production.
Antonio B. Menor, Project Director, Northern Mindanao Community Initiatives and Resource Management Project, the Philippines
Read more about:
Strengthening rural microfinance through public-private partnerships in Pakistan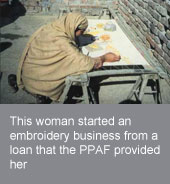 In Pakistan, sustainable microfinance institutions do not reach rural areas with a range of financial services and products. The six-year IFAD-supported Microfinance Innovation and Outreach Programme was initiated in 2006 and seeks to address this by working with the Pakistan Poverty Alleviation Fund (PPAF) to create a flexible funding facility. The Fund is an innovative model of public-private partnership, and the programme is working with it to develop new partner organizations and help existing partners create new financial products and approaches for the rural market.
The following are examples of some important results the programme has achieved to date.
Using technology to maximize outreach
The programme is carrying out pilot testing with Swipe/Smart Card technology that allows borrowers to make transactions with mobile Point of Sale devices. It also plans to support savings, emergency loans and utility bill functions for the card-based technology
Supporting small business
The programme is scaling up the microcredit operations to support small businesses. For this purpose, it disburses large loans (US$450-1,666) to groups of five to ten people. To ensure timely repayments of loans, groups are formed based on residential or business ties.
Setting up village banking
The programme is providing credit through PPAF to different village organizations, which select borrowers and offers financial services, including savings. Disbursement and recovery remain the responsibility of the village organizations.
Expanding and developing the partner network
The PPAF is strengthening governance, the management structure and the strategic planning of participating microfinance institutions and non-governmental organizations. It is also developing human resources of partner organizations, including hands-on training for recent graduates in microfinance.
Tariq Khan Baluch, General Manager, Credit & Enterprise Development Unit, Pakistan Poverty Alleviation Fund, Pakistan
Read more about:
Rural financial system in Thailand: the Bank for Agriculture and Agricultural Cooperatives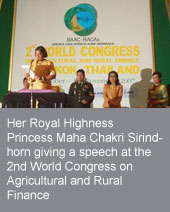 To enhance agricultural production and meet the needs of Thailand's farmers through the provision of financial services, in 1966 the Government of Thailand established the Bank for Agriculture and Agricultural Cooperatives (BAAC). The bank serves 95 per cent of Thai farmers. What is behind this success? "Establishing a close relationship between the Bank's officers and farmers, providing a good service attitude to farmers as clients, and selecting and using appropriate technology are some of the key factors contributing to this success," explained Thiraphong Tangthirasunan, President of BAAC, in his statement during IFAD's Performance Review Workshop in Bangkok in November 2007.
Joint Liability Groups (JLGs)

Joint Liability Group (JLG) is a group of a minimum of five farmers who mutually guarantee small loans up to THB 150,000 (US$5,082). Lending through JLGs benefits both borrowers and BAAC. Borrowers receive credit without collateral while the Bank reduces its administrative costs.

Through this mechanism, BAAC minimizes the transaction costs, enhances the efficiency of screening, and is better able to monitor and enforce repayment. The mechanism has been a crucial tool for BAAC to penetrate its services in rural areas.

Borrowers are initially provided with relatively small and short-term loans. Once they demonstrate a reliable repayment record, they become eligible for a larger loan and other loan instruments.

The status of loans to JLG members is monitored in periodic meetings or by informal monitoring procedures established by JLGs. BAAC's credit officers regularly visit each JLG. The performance of each group member affects the entire group's future access to loans.
The availability of appropriately designed financial services is an essential part of the enabling environment for rural economic growth and poverty reduction. BAAC plays an important role in Thailand's rural development. During its 42-year existence, the Bank's performance has been extraordinary – reaching 95 per cent of farmer families in Thailand.
A major factor behind BAAC's success in its client outreach was the massive expansion of the retail network over the past decade. At the end of 2006, BAAC had 75 provincial offices, which supervised 908 branches throughout Thailand. To date, the Bank also has 945 field units scattered around the local areas of districts, serving as places of contact for its rural clients.
The number of savings accounts (around 12 million) provides significant proof that rural clients in Thailand have high demand for the financial services of BAAC. The pro-active mobilization of rural savings by the Bank led to an almost revolutionary change in its financial resource base. BAAC has become financially self-reliant and has been able to significantly reduce its dependence on loans from domestic and foreign sources.
Factors behind BAAC's success
Mobilization of local resources
BAAC developed and provided demand-oriented deposit schemes for its rural clients – farmers. Farmers needed credit and savings services to keep their financial assets somewhere reliable and easily accessible. BAAC's strong branch network, supported by trained staff and the trust fostered between the Bank's field staff and clients, is the foundation for the expansion of savings services.
Profitability
BAAC has introduced Joint Liability Groups (JLGs) to reduce the transaction costs and enhance the efficiency of screening, monitoring and enforcing repayment.
Second World Congress on Agricultural and Rural Finance

Top decision makers from rural finance institutions in 120 countries in Asia, Africa, Europe and Latin America met in Bangkok from 31 October to 3 November 2007 to share experiences on the use of rural credit as a strategic way to fight poverty.

Over 1000 rural finance professionals and experts from the public and private sectors participated in the 2nd World Congress on Agricultural and Rural Finance, jointly hosted by the Bank of Agriculture and Agricultural Cooperatives of Thailand and the Asia-Pacific Rural and Agricultural Credit Association.

Co-sponsored by IFAD, the congress was organized in collaboration with four regional rural credit associations – the African Rural and Agricultural Credit Association, Asociación Latinoamericana de Instituciones Financieras para el Desarrollo, the Confédération Internationale du Crédit Agricole and the Near East-North Africa Regional Agricultural Credit Association.

The congress examined the theme, "The contribution of agricultural and rural economies to sustainable and equitable development", focusing on food security, empowering rural poor people through access to financial services and appropriate technologies, climate change and environmental issues, and public-private sector partnership in the provision of rural services.

For more information about the congress, please visit: World Congress on Agricultural and Rural Finance
Repayment
BAAC has a relatively low rate of overdue debts to overall credit (less than 5 per cent). This low rate has been achieved despite the Bank's exclusive focus on agricultural activities that face risks and vulnerability related to increasing frequency of natural disasters and changing markets. BAAC's mechanisms for repayment include: the pressure by other JLG members for timely repayment, an annual repayment schedule matched with the production cycle, and progressive loan amounts based on repayment performance. A solid relationship between clients and Bank staff based on the mutual trust has also contributed greatly to this achievement.
Financial sustainability
BAAC has been reducing risks by mobilizing savings, and delivering and recovering cost-effective credit. Although BAAC is still receiving financial privileges from the government, its financial sustainability has been steadily improved. The Bank's deposit-to-loan ratio increased dramatically, from 21 per cent in 1980 to 66 per cent in 1993, to 93 per cent in 2004.
Demand-oriented approach
BAAC has a strong client-oriented mindset and provides financial services based on demand. The large number of repeat borrowers, who have been the Bank's clients for many years, attests to its client orientation.
Development of appropriate loan mechanisms
BAAC developed its loan mechanisms at the early stage of its operations. The mechanisms include:
non-collateral lending through JLGs

peer monitoring through JLGs

flexible repayment schedule (e.g. annual repayment and calculation of interest rates based on the date of repayment)

simple and quick procedure for loan disbursement

progressive lending based on repayment performance
Strong commitment by the field staff
BAAC's field staff have played a crucial role in the Bank's development. Regular meetings and training by BAAC field officers have been a key factor in keeping JLGs active. Close relationships between clients, and particularly between the leaders of JLGs and the Bank's field staff (strengthened by frequent visits), are a precious social capital for BAAC in fostering a high repayment rate and savings mobilization.
Decentralization
In 1997, BAAC's management decided to decentralize its banking operations from the provincial to the district level by introducing the 'transfer price' mechanism. The transfer price is an internal interest rate applied to funds transferred between the branches and the head office.
Monitoring and feedback system for appropriate policy making
BAAC has developed an internal monitoring and feedback system to help it create policies based on the operational situation, trend of rural finance, demand of clients, and other relevant issues.
Cost-consciousness
Unlike many other rural financial institutions in developing countries, it appears that BAAC has pursued cost-effectiveness and productivity since the early stage of its development. Currently, the operational costs of the branch office are closely monitored by the Branch Management Information System.
BAAC has gradually expanded its loan target and operations to include agriculture-related activities and non-farm activities by amendments to the BAAC Act in 1992, 1999 and 2005. Seeing the changes around the world and a shift in paradigm from directed or semi-directed credit towards more commercial rural credit and microfinance, BAAC is continuing its effort to change its image from an agricultural financial institution to a rural development bank.
Thiraphong Tangthirasunan, President of BAAC and Chairman of the Asia-Pacific Rural and Agricultural Credit Association, Thailand
Read more about: