Message from the director of the Near East and North Africa Division
Since its establishment almost 30 years ago, IFAD has maintained a strong presence in the Near East and North Africa (NENA) region. Total IFAD loan commitments in the region amount to US$1.3 billion invested in 105 projects and programmes in 15 countries (December 2006). The ongoing loan portfolio amounting to US$500 million, supports 31 agricultural and rural development operations aiming at rural poverty reduction. The ongoing grant portfolio consists of 38 regional and country-specific research grants for a total of US$26 million. The largest components by far in these projects and programmes relate to the sustainable management of natural resources and support to the rural poor in this area.
During the past 20 years, many countries in the region have carried out gradual economic reforms directed towards market liberalization, devolution and decentralization. For poor rural people, this process has translated into both challenges and new opportunities. In spite of remarkable progress in some countries following reforms, the region lags somewhat behind other developing regions in poverty reduction. With 95 million people living in absolute poverty region-wide, mostly in rural areas, the need for a more effective investment in rural poverty reduction remains one of the region's most pressing challenges. IFAD is determined to help the region face this challenge and is focusing on addressing the most pressing constraints.
IFAD's NENA Division has recognized that our role in the region should be to improve poor rural people's ability to grasp the opportunities arising from reforms, while addressing the challenges accompanying the transformation process. To this end, while maintaining a focus on community-based sustainable management of scarce land and water resources, our approach will underline the importance of empowering the rural poor to overcome poverty in a changing policy environment. In implementing our new principles for country engagement, we will focus on improving the quality of our country strategies, the effectiveness of our project design and implementation, and the long-term impact of our interventions. Knowledge management and innovation for poverty reduction will be strengthened by new partnership initiatives and by greater IFAD presence at country level. Innovative capacity-building programmes and applied research providing solutions to existing constraints on rural development will be supported at country and regional levels. In parallel, we will substantially expand our support to the development of financial services, microcredit and small enterprise development in rural areas in order to create market opportunities and improve IFAD's impact on youth employment and poverty reduction.
In support of these efforts, IFAD's NENA Division is launching this new quarterly newsletter. It is hoped that the newsletter will provide a proactive platform for sharing information and knowledge across the region, for creating a greater awareness among regional partners of IFAD's efforts in support of poverty reduction, and for facilitating the replication and scaling up of pro-poor innovation. We rely on our readers to make this newsletter both an effective knowledge management tool and a useful forum for sharing ideas and debating regional development issues.
Mona Bishay, Director, Near East and North Africa Division
---
Improving the livelihoods of artisanal fishers through regional governance of marine resources in the Red Sea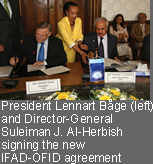 The OPEC Fund for International Development (OFID) extended a US$600,000 grant through IFAD in September 2006 for the Marine Resources Management Programme in the Red Sea, launched by IFAD and the Food and Agriculture Organization of the United Nations (FAO) in cooperation with Saudi Arabia, the Islamic Development Bank (IsDB) and the Arab Fund for Economic and Social Development (AFESD) and will be implemented by the Food and Agriculture Organization of the United Nations (FAO).
At a total cost of US$4.8 million, including an IFAD grant of US$1 million, this pioneering programme brings together seven countries on the Red Sea for the establishment of a regional coordination forum to address the need for assessment and management of fishery resources, and to institutionalize comprehensive improvements in national and regional capacities. The OFID grant is extended through IFAD under an agreement signed in Vienna in September 2006 by IFAD's President, Lennart Båge, and the Director-General of OFID, Suleiman J. Al-Herbish.
The five-year programme will ensure effective governance and conservation of marine resources and secure economically sustainable fishing activities for some 30,000 artisanal fishers and about 7,500 local owners of fishing vessels in Djibouti, Egypt, Eritrea, Jordan, Saudi Arabia, the Sudan and Yemen. It will also enable small fishing enterprises in poor local communities to reap greater economic benefits on an environmentally sustainable basis.
The beneficiaries are expected to achieve substantial income increases, while satisfying part of the demand created in growing markets and contributing to the economic advancement of their countries.
For further information, contact: m.nourallah@ifad.org
Read more:
---
Regional themes
Treading a new path to rural development in the Near East and North Africa region
The achievements of IFAD's programme of work in the Near East and North Africa region during 2006 signal the start of a more effective approach to combating rural poverty. With an increased investment portfolio, the Fund's Near East and North Africa Division has engaged in a series of strategic and programmatic initiatives aimed at enhancing the relevance, effectiveness and sustainable impact of its operations. Three projects, for a total cost of about US$88 million, were approved by IFAD's Executive Board in 2006 to help reduce rural poverty in Egypt, the Sudan and Turkey.
Several examples of the ongoing portfolio's impact in the region were reported during the year. Women were successfully targeted in projects in Morocco, Somalia, the Sudan, the Syrian Arab Republic, Tunisia and Yemen through the formation of women's groups and specific activities addressing women's needs such as literacy classes and training in microenterprise management. There was also strong evidence that beneficiary households had gained increased access to physical assets, including drinking water supplies and community-level infrastructure. A number of pilot initiatives in the rural financial sector were also noteworthy such as the women's savings and credit groups in the West Bank and Gaza, and the work with NGOs in Tunisia to expand the outreach of credit services to the poorer groups. Improvements in rural people's empowerment were made through the creation of community-based associations, cooperatives, women's development groups, water users' associations and range management associations in Egypt, Morocco, Somalia, the Sudan and Tunisia.
The Division launched several knowledge-sharing events in 2006. It organized a seminar on the experience of a weekly radio programme (Radio Gafsa, in the Tunisian city of Gabes) in which farmers were invited to present and discuss their knowledge, experience and innovations. Another knowledge-sharing workshop presented innovative land and water governance reforms piloted under the Gash Sustainable Livelihoods Regeneration Project in the Sudan. A third workshop, on Strategic Directions for IFAD's Support to the Rural Water Sector in the NENA Region, was held at IFAD headquarters in Rome. Activities under the KariaNet project continued to provide an effective regional knowledge management forum.
To ensure greater outreach and rally further collaborative efforts in support of the Fund's new initiatives to accelerate rural poverty reduction, the Division engaged in intensive policy dialogue covering several themes and countries in the region. Cooperation with international financial institutions and with research institutions continued to be a major focus of IFAD's partnership agenda in the NENA region including with OFID, IsDB and AFESD. In particular, IFAD and OFID agreed to build on previous successes and increase their cooperation. The Division has also held talks with the World Bank on guidelines for cooperation at strategic and operational levels. Cooperation with the International Center for Agricultural Research in the Dry Areas (ICARDA) was renewed through an agreement on joint work on critical regional agricultural research themes.
During the year, the Division launched a series of thematic studies and reviews on rural unemployment and rural microfinance, and updated the rural poverty profile of the NENA region. These initiatives will help IFAD sharpen its strategic focus in the region.
For further information, contact: m.kherallah@ifad.org
---
Paving the way for a sustainable rural financial sector in the Near East and North Africa region
Despite recent advances in a few countries, the Near East and North Africa region is still considered as having one of the least developed microfinance sectors in the world. The region is characterized by strong state involvement in the financial sector and by a lack of adequate legislation and regulation for microfinance. Furthermore, existing community banks and microfinance institutions are mainly concentrated in urban and peri-urban areas. As a result, millions of poor people are still without any access to adequate financial services in the rural areas, and a major breakthrough is needed to reach out to them more widely.
Against this backdrop, IFAD has formed a partnership with the Consultative Group to Assist the Poor (CGAP) to improve the access of rural poor people in the NENA region to sustainable financial services. Under the Regional Partnership Programme to Support the Development of a Pro-Poor Rural Financial Sector in the Near East and North Africa, IFAD is supporting CGAP's newly established regional technical hub, based in Amman, Jordan, through a US$1.2 million grant. The programme will support the hub's rural finance interventions in the region through technical backstopping, capacity‑building, knowledge management, policy advocacy and networking. More specifically, it will aim to improve the delivery, outreach, appropriateness and sustainability of financial services for the poor rural people in the region, and strengthen the policy and regulatory framework for rural financial service delivery.
This strategic partnership will allow IFAD and CGAP to benefit from economies of scale, a pooling of diversified knowledge and networks, cross-fertilization and mutual learning, and a more effective enlargement of the rural microfinance sector in the region – thereby enhancing the impact of both partners' efforts and initiatives. In practical terms, the programme will fund a rural finance coordinator in the CGAP Middle East and North Africa office in Amman to support this sector more intensively and consistently. The rural finance coordinator will provide much-needed capacity-building support to the managers and field staff of IFAD-supported rural finance programmes in the region, significantly strengthening their capacity in this area.
Equally important, through the rural finance coordinator's efforts, a community of practitioners engaged in the management and implementation of rural financial service programmes can start to emerge, thereby ensuring the sustainability of this initiative upon completion of the programme.
Given the modest performance of the state-owned agricultural development banks in reaching out to the rural poor, the more recent IFAD initiatives in the NENA region have explored alternative models and instruments to bring financial services to poor rural communities. These vary between supporting village credit funds (also known as sanadiq) in the Sudan and the Syrian Arab Republic, working with intermediary institutions (such as the Social Fund for Development in Egypt) that can wholesale financial services to rural-based microfinance institutions and NGOs, promoting local savings and loan associations in Algeria, and exploring the potential for commercial banks to engage in rural microfinance directly. Most of these initiatives are still relatively young, and more effort is needed to achieve sustained progress in this area. The region as a whole is poised for a potential massive expansion of microfinance services, and IFAD is well positioned to grasp this opportunity to build institutional capacity to provide these services.
For further information, contact: m.kherallah@ifad.org
---
Developing strategic directions for IFAD's support for the rural water sector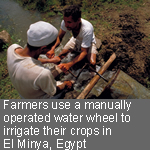 Water scarcity continues to represent the single most binding constraint on poor rural people in the Near East and North Africa region. It poses a serious challenge to agricultural development and diminishes the potential of agricultural growth to reduce rural poverty.
As a part of its ongoing efforts to address this serious issue, IFAD's Near East and North Africa Division has begun developing an approach for its future interventions in this sector. This approach will be based on the findings of the IFAD workshop on Strategic Directions for IFAD's Support to the Rural Water Sector in the NENA region held in Rome in June 2006.
The workshop reviewed and assessed the experiences of IFAD and its partners in the area of rural water management. It also sought to distil the main lessons learned from these experiences and from the selected experiences of other partner agencies. In addition, it provided inputs and recommendations on new and tested techniques, and put forward proposals for an innovative and focused thematic approach paper on rural water.
The workshop brought together water experts and partner research organizations from the NENA region. The participating partner organizations included the Arab Center for the Studies of Arid Zones and Dry Lands; the Arab Organization for Agricultural Development; the International Centre for Advanced Mediterranean Agronomic Studies; the International Center for Agricultural Research in the Dry Areas (ICARDA); the International Center for Biosaline Agriculture; and the International Development Research Centre.
During the two-day workshop, participants discussed six main themes reflecting IFAD's current loan and grant portfolio in the NENA region, namely:
participatory rural water management
rainwater harvesting for the rural poor
public-private partnerships in irrigation management
alternative water resources for rural poor communities
gender aspects in water-demand management
potable water and the livelihoods of the rural poor
The discussion within each theme covered an assessment of experiences, strategic relevance, effectiveness and sustainability for IFAD's target groups, and recommendations for future IFAD investments in that sector.
The workshop proposed future directions for IFAD interventions in the rural water sector, building on the Fund's comparative advantages, resource capacity and accumulated knowledge. Among the recommendations was that IFAD should continue to promote participatory irrigation management in all of its irrigation interventions, refining its approach to include adequate institutional support structures and exit strategies for such interventions. IFAD should also seek to promote the application of approaches and technologies developed through research on rainwater management by actively identifying projects and programmes that bridge the gaps between research, policy and implementation. It was also suggested that the Fund develop pilot projects to test public-private partnership approaches for eventual inclusion in new operations and to assess whether elements of this approach can be used to address its mandate of targeting the rural poor.
Regarding the use and reuse of alternative water resources such as grey water or saline water, IFAD should continue financing further research and should seek to promote the application of approaches and technologies developed through this research. It should also take steps to devise a concrete, measurable and viable approach for the systematic integration of gender in all project activities. For all future interventions in the rural potable water sector, IFAD will seek to develop guidelines that include participatory processes, sanitation provisions and a post-intervention phase.
For further information, contact: m.kherallah@ifad.org
---
Continuing support for the sustainable management of natural resources in the Arabian Peninsula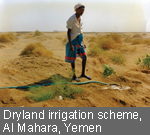 Following completion of the Sustainable Management of Natural Resources and Improvement of Major Production Systems of the Arabian Peninsula-Phase II programme in June 2006, preparations are under way for a third-phase programme focusing on Oman and Yemen.
Phase II of the programme benefited Kuwait, Oman, Qatar, Saudi Arabia, the United Arab Emirates and Yemen. It applied an integrated technology-development and transfer approach focusing on two main production systems – open-field irrigated production systems and range-forage-livestock-based systems. Both these systems make possible the rational and sustained use of limited water resources in the fragile rangelands of the Arabian Peninsula.
Under the new phase, emphasis will be placed on the dissemination and scaling-up of research results in the Arabian Peninsula in cooperation with agriculture ministries in member states of the Gulf Cooperation Council. Substantial increases in rural household income in beneficiary countries are foreseen under this phase. It is expected that AFESD, OFID and ICARDA, together with national agricultural research systems in the Arabian Peninsula countries, will cofinance the programme.
For further information, contact: ab.rahman@ifad.org
---
Country programme features
Providing more IFAD assistance to the Palestinian territories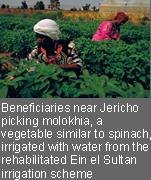 IFAD is currently developing a third phase of the Gaza Strip and Jericho Relief and Development Programme which seeks to support a revival of the rural economy in those areas. The new phase will further strengthen savings and credit associations, and develop community infrastructure (village water supply, access roads and bridges, health clinics, village schools, kindergartens and community centres) in order to increase poor rural people's resilience and facilitate their access to services and markets under very challenging conditions.
The ongoing second-phase programme is addressing the immediate needs of poor rural people and looking for temporary measures to help them cope with the economic hardship they have been facing while still pursuing the longer-term goals of reducing poverty and sustaining growth. This phase is funded through grants from IFAD (US$3 million) and from the Arab Authority for Agricultural Investment and Development (US$900,000). Women's livelihood support activities, which are consolidating the women's savings and credit associations established under phase I, include business development guidance and entrepreneurship skills development training, agricultural development, credit to small farmers and fishers, and support for the development of small and medium enterprises related to the marketing and processing of agricultural products.
Since 2002, the programme has involved rehabilitation works in 14 schools. Some 2,300 girls and 2,560 boys have been accommodated, which represents an investment of around US$150 per student. Community centres (including attached kindergartens and health clinics) and drinking water reticulation networks have been established. To facilitate farmers' access to the produce markets, the programme has, to date, laid a sub-base and gravel pavement over tens of kilometers. These rural roads have become a catalyst for rehabilitating olive groves, with the beneficiaries installing cisterns and soil conservation structures using their own resources. Some 10,400 people are benefiting from the facilities.
Savings and credit groups now have 5,636 members with savings of around US$1.47 million. Loans extended to 3,634 clients for both microenterprises and social purposes amount to about US$3.85 million. Although loans are only extended to women, in many cases men are actively participating in the operation of the businesses established.
For further information, contact: t.elzabri@ifad.org
Read more:
---
Drawing lessons from rangeland development in Jordan
Following completion in June 2005 of the IFAD-financed National Programme for Rangeland Rehabilitation and Development in Jordan, IFAD and the Jordanian Government undertook a joint review of this pilot programme's achievements and the lessons learned during its implementation.
The programme's overall goal was to reduce the degradation of rangeland resources. To this end, it introduced sustainable management practices by (i) providing information on the current status of rangeland resources; (ii) setting up a rangelands monitoring system to assess national pastoral resources; (iii) raising environmental awareness; (iv) developing methods of participatory planning with local communities for the rehabilitation and management of grazing resources; and (v) assisting communities in implementing rangeland development plans. The target group numbered 12,242 livestock-owning households living on and deriving their income from rangelands. The review found that the programme has had a positive impact on the target group and the environment.
This pilot experience yielded several lessons on integrating participatory approaches that the Government and IFAD will apply in future rangeland development efforts. First, it is of prime importance to ensure that targeted groups of range users are relatively homogeneous and, if more than one group is involved, that there are harmonious relationships. Second, sites should be selected on the basis of both their land use potential and the characteristics of the rangeland users. Third, the programme encountered difficulties in obtaining beneficiaries' participation and their contribution to investments in activities that had long-term benefits but intangible or even short-term negative effects on their livelihoods. These difficulties could be overcome through incentive schemes, such as assistance with supplementary livestock feeds during the initial phase of destocking in the rangeland rehabilitation process. These schemes should focus on social needs determined by the beneficiaries, (for instance, improvements in schools, health, water and rural roads) and should be linked to their participation in rangeland rehabilitation.
For further information, contact: t.elzabri@ifad.org
Read more:
---
Launching the Pilot Community-based Rural Infrastructure Project for Highland Areas in Yemen
The implementation start-up workshop of the Pilot Community-based Rural Infrastructure Project for Highland Areas in Yemen was held in Sana'a on 3 and 4 November 2006. The workshop was inaugurated by Omar Al Korshumi, Minister for Public Works and Highways, and attended by some 50 participants representing project beneficiaries, central and local government authorities, NGOs and civil society organizations and donors. Minister Al Korshumi expressed his appreciation of IFAD's support for improved road access in the poorest and most isolated highland areas of Yemen.
The project aims to reduce the isolation of communities in these areas through a network of rural access roads linking them to the national road grid, and therefore to markets and services. The project will use a participatory methodology that empowers communities to resolve their infrastructure constraints by involving them in identifying and prioritizing their road needs.
It is expected that the project will build at least 220 km of rural access roads and rehabilitate existing rural roads and bridges in nine highland governorates. The project will provide greater opportunities for local communities and poor farmers to access markets for their produce, thereby allowing them to increase their incomes.
For further information, contact: ab.rahman@ifad.org
---
IFAD pledges greater support for rural poverty reduction in Yemen
An IFAD delegation of the Near East and North Africa Division headed by Abdalla Rahman, Country Programme Manager, participated in the Consultative Group meeting of donors for Yemen held in London from 15 to 16 November 2006.
Hosted by the British Government and sponsored by the Gulf Cooperation Council, the meeting brought together 39 donor countries and development agencies in an important step to enhance the partnership between the Government of Yemen, its development partners and the neighbouring Gulf Cooperation Council countries. The meeting, attended by Ali Abdalla Salih, President of the Republic of Yemen, was briefed on the national reform agenda and the Third Five-year Socio-economic Development Plan for Poverty Reduction (TFYDP), which focuses on the key development challenges facing the country. These challenges include declining oil revenues (and the need to generate non-oil growth), high population growth, inadequate human capital, water scarcity, poor infrastructure and limited access to social services.
The Government of Yemen indicated specific areas where it was seeking assistance in the context of its 2007-2010 Public Investment Programme. Donor governments and international and regional financial institutions pledged about US$4.7 billion in grants and concessional loans towards funding this programme.
IFAD affirmed its commitment to support the Government in realizing the goals of its strategic vision and in implementing its Public Investment Programme. Under IFAD's performance-based allocation system, Yemen could benefit from about US$90 million over the next five years in highly concessional loans for new and ongoing projects in the rural and agricultural sectors. IFAD commends the ongoing reform programme in Yemen, which is expected to improve the country's policy and institutional framework for poverty reduction and considerably enhance the implementation performance and impact of development programmes, which would lead to a significant increase in its share of IFAD resources.
Yemen is a major recipient of IFAD assistance, having received concessional financing of over US$200 million for 18 development projects since 1978. IFAD's ongoing programme in Yemen comprises five projects with total IFAD financing of over US$60 million. In addition, Yemen also benefits from a number of country and regional grants for managerial capacity-building in the agricultural sector and for the generation of pro-poor agricultural technology.
IFAD is planning to provide a concessional loan of about US$13 million to Yemen to help finance the World Bank-initiated Rainfed Agriculture and Livestock Project.
IFAD intends to formulate a new country strategy in 2007 that takes into account recently formulated government poverty reduction strategies and priorities as expressed in the TFYDP and its associated Public Investment Programme. It is expected that a fisheries programme financed by an IFAD loan of about US$15 million will be IFAD's first intervention under the new strategy. Through intensified dialogue and exchange of information, IFAD continues to cooperate with the Gulf Cooperation Council, national authorities and regional institutions on the development of the new country strategy and pipeline of projects for Yemen. IFAD is also supportive of Yemen's endeavour to increase private-sector investment in the country's development, especially rural development. During the Consultative Group meeting, the Government of Yemen announced its intention to convene an investors' conference in Sana'a in 2007 to enhance dialogue with foreign and domestic investors.
For further information, contact: ab.rahman@ifad.org
---
Reviewing project effectiveness in the Sudan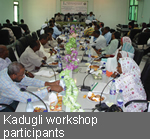 An implementation review workshop for the Sudan was held in Kadougli in September 2006 to address the declining trend in key programme performance indicators observed over the past two years and the increasing need to orient the monitoring and evaluation (M&E) systems towards results, impact, effectiveness and sustainability.
The workshop was attended by state authorities, including the State Minister for Agriculture, Animal Wealth and Irrigation, Mohamed Ali Mansour, the managers of four ongoing IFAD-supported projects in the Sudan and representatives of their beneficiaries, representatives from the States of Kassala, North Kordofan and South Kordofan, representatives of SOS Sahel and the United States Agency for International Development, and an IFAD delegation, headed by the Country Programme Manager, Rasha Omar.
The workshop's conclusions and recommendations have highlighted the following priority areas for action and for improving portfolio effectiveness: procurement constraints; inconsistency between the annual workplans and rates of implementation; insufficient implementation capacities; and lack of counterpart funding.
The IFAD team called for more quality control and assurance at the level of new project management units, standardization and updating of project implementation manuals and financial management systems to suit the specific interventions of each project, and a greater reliance on ongoing project teams to facilitate project start-up and the backstopping of new teams. It was agreed that all projects would align their M&E systems with IFAD anchor indicators, national development indicators and the objectives of the Sudan portfolio.
IFAD is currently financing a critical review of the impact assessment methodology of the North Kordofan Rural Development Project with the aim of developing complementary measures to capture the impact dimension more accurately. The results of the review will provide guidelines for the development of impact and baseline surveys.
For further information, contact: r.omar@ifad.org
Read more:
---
Knowledge management and capacity-building
KariaNet: Connecting poor rural people to knowledge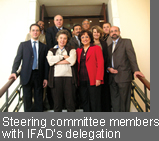 An IFAD delegation, headed by Mona Bishay, Director of the Near East and North Africa Division, attended the third annual steering committee meeting of the Knowledge Access in Rural Interconnected Areas Network (KariaNet) held in Cairo, Egypt, on 1 December 2006.
The meeting reviewed and approved the KariaNet's 10-month implementation progress matrix and provisional financial report for 2006, as well as its annual workplan and budget for 2007.
KariaNet is a multi-stakeholder partnership between IFAD, the International Development Research Centre (IDRC) and IFAD-funded projects in the Near East and North Africa region. It was established in 2004 to enhance networking among IFAD-funded projects and their beneficiaries in the region, and more broadly, to share knowledge and exchange information and experiences. The network's overall goal is to improve operations and outcomes of IFAD projects, improve the fulfilment of project objectives and improve the livelihoods of IFAD target groups of poor rural people.
KariaNet, which is implemented by IDRC's Middle East Regional Office in Cairo, is financed by an IFAD grant of US$1 million and a contribution of CA$500,000 from IDRC. In addition, participating projects cofinance local activities under the programme. The programme covers five countries in the region –Egypt, Jordan, Morocco, the Sudan and Tunisia –in each of which two IFAD-funded projects are already members of the network.
In the Near East and North Africa region, rural development partners, including IFAD-funded projects and their staff, value and depend on sharing of knowledge and experiences. IFAD funded projects are linking people and accessing information in a way that contributes to fulfilling their overall objectives, and contributing to the achievement of MDGs. Relationships between rural communities and KariaNet project-members are strengthened and local communication is improved. An increase in information flow and knowledge exchange is contributing towards higher incomes and better living standards in rural areas. KariaNet project-members are recognized for their knowledge, based on practice and experience, and KariaNet is valued by the development community as a useful source of knowledge on rural poverty reduction. New IFAD-funded projects value knowledge sharing, and integrate exchange of experiences and learning processes, thereby strengthening communication, partnerships and impact achievement.
In her opening statement, Bishay highlighted the importance IFAD attaches to KariaNet in the context of its knowledge management strategies. These strategies have two dimensions: a vertical one, aiming at linking poor rural people with IFAD headquarters; and a horizontal one, seeking to link all IFAD-funded projects in a region, and across regions.
"Knowledge management will be a central and crucial issue for IFAD over the next ten years," said Bishay, while underlining the need for the methods adopted to be innovative and replicable. She concluded by affirming the importance of knowledge as a public good whose generation and dissemination cannot be a private or an individual undertaking but must be a joint effort by diverse institutions.
Bishay, who was accompanied by Mylène Kherallah, Regional Economist for NENA, and Tawfiq El-Zabri, Country Programme Manager, also announced that IFAD is developing an innovation strategy to be implemented together with its knowledge management strategy upon approval by the Fund's Executive Board in April 2007.
KariaNet's Regional Coordinator, Mustapha Malki, presented the network's annual workplan and budget for 2007. Steering committee discussions addressed a number of operational issues, including measures to strengthen the network's effectiveness as a tool for IFAD-financed projects. The steering committee also approved a ten-month progress matrix for 2006 and the provisional financial report for 2006.
Implementation of community-driven projects relies heavily on information and knowledge exchange, which can play a major role in improving production and enhancing marketing opportunities. KariaNet is increasingly contributing to the fulfilment of this role and helping achieve IFAD's ultimate goal of increasing incomes and improving the living conditions of its project beneficiaries.
For further information, contact: t.elzabri@ifad.org
Read more:
---
Strengthening capacities through the NENAMTA Programme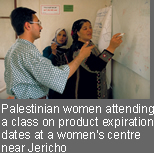 Young nationals from Qatar have joined trainees from other NENA countries in training courses held throughout 2006 under the IFAD-supported Near East and North Africa Management Training in Agriculture (NENAMTA) Programme.
A total of 15 Qatari trainees have participated in the programme's training courses, held variously in Amman, Beirut and Damascus. A training course in Jordan in February 2006 addressed the use of "The Logical Framework in the Context of Project Cycle Management". A subsequent training course, held in Damascus, dealt with "Operational Aspects in Project Planning and Implementation", whereas a course held in Beirut in March 2006 focused on "Investigating Financial Appraisals for Developmental Projects".
Qatari trainees participated in these courses at the request of Qatar's Ministry of Municipal Affairs and Agriculture. Care was taken to assign participating ministerial staff to courses relevant to their functions. IFAD has also encouraged nationals from other member states of the Gulf Cooperation Council (GCC) to participate in these training opportunities.
The NENAMTA Programme aims at improving the performance of NENA agricultural projects and programmes by strengthening the capacities of national training institutions and developing relevant training programmes accessible to agricultural and rural development projects in the region. Since it was launched in the mid-1990s, the programme has provided training on a regular basis to trainees from Algeria, Jordan, Lebanon, Morocco, Qatar, the Sudan, the Syrian Arab Republic, Tunisia, West Bank and Gaza and Yemen.
IFAD's review and assessment of the programme's performance in early 2006 found that its outputs in North Africa have been significant and that a fairly solid basis has been developed for unfolding the envisaged full-scale training programmes, which are now taking place in Tunisia. The review noted the significant progress made in training trainers and certifying them during the preceding 18 months. It found, moreover, that the management training courses developed by the programme met the needs and fit the demands of the project representatives that had been surveyed.
---
Launching the CAMARI Programme: A new regional initiative for capacity-building in monitoring and evaluation
The new Programme for Capacity-Building in Managing for Results and Impact (CAMARI) was launched by IFAD in 2006 in the NENA region. This regional initiative seeks to address the underperformance of programme and project monitoring and evaluation systems by developing a specialized regional M&E network and by building country and regional capacities in these areas. It addresses two key constraints facing management in its efforts to effectively plan and monitor IFAD operations: the shortage of qualified professionals with experience in establishing effective M&E systems; and the scarce opportunities for training in this field.
The programme's ultimate goal is to ensure that agricultural and rural development projects and programmes in NENA target countries are planned, steered and monitored in a more impact-oriented manner. It will increase the capacity of regional and national institutions and professionals to provide good-quality services in managing for impact in pro-poor projects through the following components:
capacity-building for regional centres of excellence to provide quality demand-driven, impact-oriented services and to develop a specialized regional M&E network;
capacity-building of facilitators and trainers to ensure that regional and national process facilitators or trainers are qualified and certified, and have gained practical experience in supporting programmes to implement the managing-for-impact approach; and
establishment of a regional managing-for-impact support network that stimulates demand for services, links service providers and clients, advances learning, and promotes strategic and policy support.
The primary outcomes expected from the programme relate to the capacity-building programmes in three regional centres, which will be strengthened to cater effectively for rural development programmes.
Service provision in managing for impact will be developed and will be available nationally and regionally, with 15 specialized senior professionals and 40 trained national professionals in 13 countries. Of critical importance is the participation of women professionals to ensure a gender-balanced engagement in the assessment and implementation of development projects, on one hand, and in the monitoring and evaluation of project achievements, on the other. The programme is expected to improve the capacity of regional institutes and professionals to respond to an increased demand by pro-poor organizations for good-quality services that will help them manage for impact more effectively.
For further information, contact: t.el-zabri@ifad.org
---
Launching an IFAD programme for young farmers in Iraq
IFAD has recently approved a grant financing of US$190,000 for the Young Farmers' Agricultural Training Organization in Northern Iraq to fund the development of a cost-effective, gender-sensitive and results-oriented approach to farmer capacity-building. More specifically, the programme will train 200 young farmers, both women and men, in new farm management techniques, and will encourage better adoption of these technologies among farming communities. Implementation will start in 2007.
For further information, contact: a.abdouli@ifad.org
---
In Brief
Mitigating the potential negative impacts of trade liberalization on small farmers in NENA
Under the Near East and North Africa Division's direction, a study was completed in 2006 on the "Impact of Agricultural Trade Liberalization on Small Rural Producers in the NENA". Financed by IFAD through a small grant, the study was conducted by researchers at the International Food Policy Research Institute (IFPRI). Its main aim was to examine the expected impact of domestic and international agricultural trade liberalization on small farmers and rural wage earners in several NENA countries.
The study's results are useful in identifying the types of measures that can be used either to mitigate potential negative impacts on small rural producers or to help these producers seize new domestic and international market opportunities.
The study finds trade policy to be an inappropriate, imprecise and costly instrument for addressing poverty. It underlines the need for complementary policies to enhance the positive effects of trade liberalization, or reduce its negative impact, including flexible factor markets (especially for labour), trade facilitation measures, support for "public goods" (such as agricultural research and development, market infrastructure, pest and disease control), decoupled payments to farmers and safety net programmes. The study will be published by IFAD in early 2007.
IFAD supports the establishment of the new Regional Centre for Plant Genetic Engineering and Biotechnology in Doha, Qatar
An initial IFAD grant of US$200,000 will support the establishment of the Regional Centre for Plant Genetic Engineering and Biotechnology in Doha, Qatar. The grant covers a pilot phase that will focus primarily on capacity-building of the project, which was developed by the International Center for Agricultural Research in the Dry Areas and experts of the Qatari Ministry of Municipal Affairs and Agriculture.
A comprehensive assessment will be undertaken at completion of the pilot phase to direct decisions for future IFAD support with a view to contributing to improved institutional capacity for an incremental increase in food production in the Near East and Gulf Cooperation Council countries.

An IFAD study paves the way for future development interventions in Darfur
During its recent visit to the Sudan, an IFAD delegation attended a joint World Bank-FAO workshop on Land Policy in Darfur within the framework of a Darfur-Joint Assessment Mission. The workshop was an opportunity to review plans for the development of Darfur and allowed IFAD's delegation to reflect on the comparative advantages that an IFAD-cofinanced intervention could bring to the local government and communities in Darfur.
IFAD had already commissioned a study on the socio-economic causes of conflict in Darfur. The study presents a comprehensive analysis of the historical, environmental, social and economic conditions that allowed the conflict to develop to tragic humanitarian dimensions in recent years. It was completed in 2005 by the Sudanese Development Initiative Abroad, an NGO, and financed by a supplementary funding grant from Italy. It aimed at acquiring information and building knowledge in support of long-term integrated interventions that bridge humanitarian, development and governance in the area.
Establishing a field presence in Yemen
Preparations for the establishment of an IFAD field presence in Yemen have accelerated with the recent recruitment of a consultant field presence officer and the conclusion of an agreement with the United Nations Development Programme Resident Representative Office in Sana'a for permanent hosting of an IFAD office. Field presence offices have already been established in Egypt and the Sudan.
The field presence officer will provide implementation support to ongoing projects through a number of activities including trouble-shooting during regular meetings with managers of IFAD-funded projects and government counterparts, visiting projects frequently to assess progress and emerging results, and assisting projects with the implementation of the results and impact management system. The officer will also participate in knowledge management events, such as annual implementation review workshops, and in policy consultation where constructive input into pro-poor policymaking will boost the country's scores in the performance-based allocation system while ensuring alignment with the work of other United Nations and development agencies.
New partnership with the OPEC Fund for International Development in the Syrian Arab Republic
IFAD and the OPEC Fund for International Development (OFID) will join efforts in cofinancing the North-east Region Rural Development Project in the Syrian Arab Republic. The project aims to improve the socio-economic well-being of the region's poorest rural households, consisting of smallholders, the landless, rural women and unemployed youth in selected villages in Dier Ezzor, Hassake and Rakka provinces. Project objectives will be met through four components:
community mobilization and

empowerment
water resources management and irrigation
farm productivity
small and microenterprise development
The project is expected to cost about US$57 million and to be financed through an IFAD loan of US$20 million on highly concessionary terms, an OFID loan of US$17 million and a contribution of US$20 million from the Government of the Syrian Arab Republic.
Read more:
For further information, contact: a.abdouli@ifad.org