Opening remarks by the Director of IFAD's Near East, North Africa and Europe Division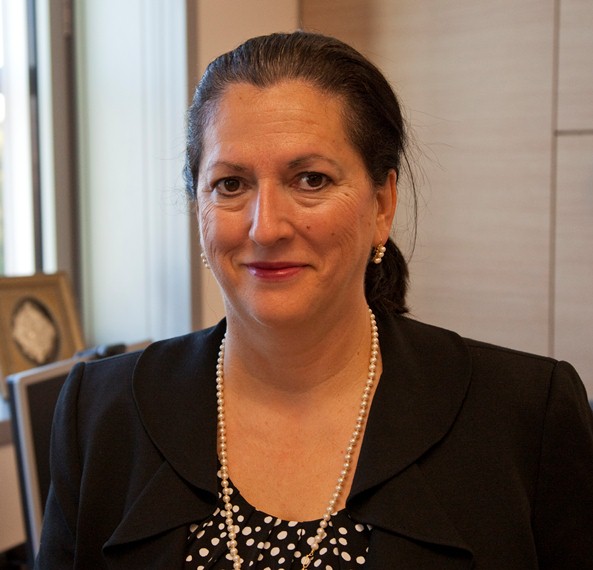 As I reflect on the 16 months which have passed since I took on the role of Director of IFAD's Near East, North Africa and Europe Division, I realize this has been a time of great change and renewal both within the division and in the countries we serve. Whilst there is still uncertainty about the outcomes of many events in the region, one thing I believe we can agree on is that we can no longer rely on old assumptions, or old ideas, to guide us through difficult times.
Therefore, it is with great enthusiasm that I share with you the stories we have gathered from across the region for this first edition of NEN's newsletter. These are stories of extraordinary people achieving outstanding results in extremely challenging circumstances, from Yemeni community vets and Moldovan beekeepers, to Sudanese women Gum Arabic collectors, and Egyptian tomato farmers. All of them demonstrate inspiring levels of drive, determination and innovation, and willingness to work through hardship. With support from IFAD-financed projects including training, finance, and assistance to access new markets, each has been able to change their lives and those of their families and their communities for the better.
Impressively, even during this period of turmoil in the region, the NEN division has continued to grow in size and scope, adding new countries, developing new projects, raising more cofinancing, and leading in areas of key importance for our region such as youth employment, private sector partnerships and innovative new ways of measuring impact. All this has been done while keeping a firm focus on our overarching goal of enabling poor rural people to improve their food security and nutrition, raise their incomes and strengthen their resilience.
We have been scaling up our work on climate change, possibly the greatest long-term threat in this most water-scarce of regions, by tapping new sources of climate finance like the Adaptation for Smallholder Agriculture Programme (ASAP) and the Adaptation Fund. We have also demonstrated an impressive capacity to adapt to the more immediate challenges of operating in fragile and conflict-affected environments: these now account for 43% of the countries we work in. Our capacity to do so effectively has ensured ongoing political transitions in the region don't delay our urgent work and has kept our portfolio on track, meeting the pressing needs of the rural poor.
In fact, the NEN portfolio is now in line to achieve most targets over the 2013 – 2015 period. Remarkably, given the context, an upward trend in the number of problem projects was reversed in 2013 by a 21% leap in proactivity in dealing with problem projects. For this I have to thank the talented and dedicated NEN team, including both those who have left and joined us recently; their hard work helped to achieve these results and make a remarkable 14% increase in disbursements over the past year to projects reaching out to nearly 2.2 million poor rural people. The NEN Change Team, established in November 2012, continues to push forward an ambitious programme of changes designed to improve both internal efficiency of business processes and the impact of projects and programmes in country. It is worth noting that with nine new staff members, both at headquarters and in the country offices, NEN is also coming together as a 'renewed' team.
However, the great demand, and need, for investment in agriculture and rural development in NEN entails stepping up our efforts yet again, further increasing cofinancing and continuing to forge new partnerships in order to effectively scale up our successes, as we continue to improve our impact in the region.
---
Voices from the field: a community veterinarian in Yemen
| | | |
| --- | --- | --- |
| | | |
| | Al-Kawmalah village, Jahaf, Al-Dhala | |
When you arrive in Jahaf during late summer you forget travel fatigue and get taken by the beautiful landscape where the highest point in the southern hemisphere of Yemen turns into a green carpet ornamented with beautiful houses of the distinguished Yemeni architecture around agriculture terraces. Despite its relatively low level of rainfall, Jahaf is the main vegetables supplier to Al-Dhala town which is located at the foot of this high mountain.
As Jahaf is an agricultural district, livestock represents a major source of food and income to the community. In Al-Kawmalah village unit (about 300 households), the community veterinary, Saif Al-Ajrady, has recorded some 1 135 livestock heads and about 2 250 chicken, a considerable number that requires veterinary services.
Al-Dhala Community Resources Mobilization Project (ADCRMP), an IFAD funded project under the Ministry of Agriculture and Irrigation, has covered the entire district of Jahaf over its lifecycle (2007-2014) and provided the communities with agricultural extension, water harvesting schemes, community organization, road rehabilitation and micro-finance services.
| | | |
| --- | --- | --- |
| | | |
| | Saif in his house pharmacy | |
Mr Al-Ajradi is one of the project success stories in livestock services. Saif is 38 years old, married and has four children. He did not have a chance for higher education, but he still found a way to cultivate his talent and energy. Before the project entered his village unit in 2011, he used to work as a local electrician especially after Jahaf was connected to the national grid five years ago. Animal health was among his main interests. When the project entered his village unit and began mobilizing the community to form extension groups, he was nominated by the livestock committee for a one-month training course in animal health funded by the project at the Veterinary Institute of Ibb University. He passed the training with the highest grade, and after coming back home in mid 2011, he started a new official vocation as the local veterinary of the village unit.
Saif received a toolkit from the project upon finishing the training course, but to start the business, he borrowed about $300 from the savings and credit fund that had been created with technical support from the project. With this small capital, he bought a small amount of the basic veterinary drugs and used a room of his house as a pharmacy with a cupboard to store the medicine.
| | | |
| --- | --- | --- |
| | | |
| | Saif next to his house | |
Over one and a half years, Saif has paid back the loan, and is supplying his pharmacy with about $600 in veterinary drugs. During my interview with him, he reported making about $150 a month of income from this business, adding that his revenue could increase considerably if he manages to build a pharmacy annexed to his house as a formal business, and thus attract more customers. He mentioned that he charges only for the cost of the medicine, which he sells with a small markup due to the difficult financial situation of his fellow farmers.
Saif reported that he enjoys his new vocation. It came as a fulfillment of his dream to be an animal doctor, and financially the income he makes from selling is a big contribution to his household budget. When I asked him, now you can buy more qat, he answered with a gentle smile, "no, all what I make from the vet business goes to the household budget. Purchasing qat is conditional to making money from the casual works in electricity or hard labor".
Saif is thankful for the project for providing support and financing his training, and is hoping for further support and training. He showed me a bilingual English-Arabic dictionary that he uses to understand drug descriptions, asking for a refresher training, and if possible a scholarship. He related a case he encountered two months ago when he was asked to treat a distended cow. As he does not have a trocar instrument, which he would have used to inject into the cow's swelling stomach to withdraw the accumulated fluid, he was unable to help. After three days, the cow died, resulting in a major economic loss for its owner. It is worth noting that an average price of a cow in Yemen is about $1 200, which subsistence Yemeni farmers can hardly afford.
---
Voices from the field: a young beekeeping entrepreneur in Moldova
When Stefan Sandic finished his studies at the State Agrarian University of Moldova, he and his wife traveled to the UK on a summer program for students. "It was our first time in the UK and great opportunity to see and to learn on how UK farmers work," said the native Moldovan.
Then, unlike most young Moldovans, he and his wife returned to the family farm: They had scrimped and saved enough money to start their own business, back home. "After that, we decided to open small company with our family, in the field I have studied at the university—beekeeping," he said. "It's our family business. My grandfather worked with bees, my parents, too, and now me and my wife."
Then, a friend told them about an IFAD grant. They applied, and thanks to the grant, were able to open the beekeeping business last year. Stefan, who is now 30, and his wife, who is 26, bought 300 hives. They were able to expand to 500 hives this year. "In our area there are a lot of farmers who need pollination of crops, like sunflowers, and there is a lot of forest," said Stefan. "We are getting very good honey, almost organic, ecological."
After last year's high temperatures, which caused problems across the region, this year was a good one. The young farmer and his wife are now focusing on building a brand, and buying processing equipment, so they can market their honey directly to Europe. "Now we have the bees, we have the knowledge, and the next and last step is a small production facility to process honey to EU standards," he explained. "It's the last step for our business. If we get this, it will be very good."
In Moldova, where as much as 90% of the country's fiscal resources are concentrated in the capital, the Sandics' story is unusual. "People in the village are poor," the farmer explained. Getting a regular bank loan for small-scale agricultural projects is next to impossible. "If you are looking for loan, it is very expensive," said Sandic. "The processing plant costs about 100 000 euros. In Moldova, you can only get this loan for 5 years. In Europe, you can have a loan for 25 years."
As a result of conditions like these, Moldova is suffering from an acute brain drain. "Young people in our country, they finish their education and they leave, to Europe or Russia," said the beekeeper. In addition to his full-time job, Sandic helps manage other rural businesses, and is so well-acquainted with the problems in the Moldovan countryside that he has been asked to give presentations on the topic in the capital. "If you go to village, there are no young people. It is terrible. There are only old people, lots of drunks. It is very, very difficult to work in the village."
| | | |
| --- | --- | --- |
| | | |
"My job is to work with bees," he said. But he has also become a kind of cheerleader for reviving Moldovan agricultural life. "When I get the credit from you [IFAD]—thank you—I saw, it is possible to do something in this country." Sandic called friends who had moved away, and convinced several to move back with similar grants. "Whether working in honey or cattle or anything else, we have the same goal: to produce, all the way to the packaging."
"All my friends have gone to work in Spain, Italy, UK, USA, Ireland," said Sandic. "Our country is an agriculture country. In five to ten years, there will be nobody here to work. But this is a good project, it will attract young people."
He, for one, is happy to be back in the countryside, keeping bees in his family's tradition. "Yes!" he said, with a laugh. "I like it, because I am from the village."
---
Initiatives: IFAD in Somalia (interview with Noel Harris)
On March 2013, IFAD launched a USD 1.5 million regional project to promote Diaspora investment in agriculture. The project will provide matching grants to members of the Diaspora investing in commercial projects that contribute to job creation, food security and increased incomes in Somalia and Djibouti in rural areas. This is the first intervention under the Diaspora Investment in Agriculture programme at the Global Diaspora Initiative in May 2011. IFAD was invited to the launch. The Project will cover the whole territory of Somalia including the northwestern part of the country.
Our team spoke with Mr Noel Harris, who works for Transtec consulting firm contracted by IFAD to manage the Project in the northwestern part of Somalia. He is based in Hargeisa – the second largest city in Somalia after Mogadishu.
Q: What do you see when you look out the window?
It's a typical hill town, not unlike places in Ethiopia. Arabic, with British influence. Though much of this area was pretty well flattened by the civil war.
Q: How did you end up where you are now?
I started my career as a technical assistant in Indo-China in the late 1980s. Then I went into Sudan with IFAD. They had just come out of conflict at that stage, in 1994. Most of my overseas career has been in areas of conflict. I find it quite satisfying. In conditions like these, you can see transformation over time.
Q: What's it like to live in the northwestern part of Somalia?
It's challenging but to be quite honest, there are big rewards. The majority of people came back from Djibouti and Ethiopia and resettled villages between 2003 and 2004, when they could see things had settled down. They were rebuilding from scratch. Security had improved, the civil war had withdrawn to the south.
Here, there's a purpose within the communities. I put this down to the social trauma they've experienced—consequently, you get very good cooperation. People are willing to contribute, maybe not in cash but in kind. They really understand community contribution. It doesn't require negotiation.
Q: Tell me about IFAD's projects that you manage.
In most cases, there's been a transition from humanitarianism to real development. We establish soil and water conservation, secure good quality local seed for planting maize, and set up community health works, stockyard vaccinations, find animal health workers, and provide stocks of drugs. Now, we're in the process of building mother-child health centers and mobile clinics for livestock vaccination.

Sixty-five percent of the population could be considered nomadic. The climate and environment in general in the northwestern area of Somalia, is flatter, and gets reasonable rainfall. It's good pastureland.
One of our strengths is working with local authorities. Essentially, local authorities are still immature in terms of resources. But they are effective in terms of outreach to communities. We work with the local authorities dealing with agriculture, livestock, water and health. Take the mother-and-child health centers. We do the infrastructure, but we wouldn't be where we are without working with the assistance of relevant local bodies for staffing.
Q: What changes have you seen so far?
We work with 120-odd communities. These are socially typically conservative. We've seen a lot of improvement with women. Out of those 120 communities, 50 now have women on development boards. When we started, those were 100 percent male. With exposure to outside ideas, they're performing very well.
Now, we're starting the first rural micro-finance initiative, using Muslim banking principles. This is a real breakthrough. We had to start somewhere, so we gave loans to women. The first group, within 18 months they saved $150 000. That's a lot for subsistence farmers. Now, the men are of course looking on and wondering why they're not participating. Somali women have been strong traders. It's traditionally their job to go to the market to sell things. They understand the money.
Q: What do you see happening in the future?
We've been working in the northwest of Somalia. But we see great opportunities moving further east to our project area. Areas which are more pastorally-oriented, where there hasn't been much development effort at all to date. On one project, we've been involving schoolchildren in a school project to reforest land. They collect the seeds, and get money to plant them around their villages.
---
Good practices: Women in Sudan
42 year-old Halima Agib lives in the remote Sudanese village of Demira, some 900 km from the capital, Khartoum. Demira's climate is harsh, and in recent years, the area has been affected by drastically falling prices of gum, one of its natural products. As a result, farmers began cutting down the acacia trees that provide the gum, which is used in the food industry. Women, in particular, suffered: While harvesting gum is traditionally a man's job, the drop in local incomes affected women disproportionately.
But Sudan's women decided to take matters into their own hands. Now, Mrs Agib is one of thousands of women reviving the tradition of gum harvesting, thanks to funding and training provided by The Women's Gum Association, founded in 2009 and sponsored by the Sudan Multi-Donor Trust Fund and IFAD-funded Gum Arabic Project.
"One day I was listening to the radio, and I heard a talk about microfinance," recalled Mrs Agib. "People in the village were also talking about financing 'Gum Arabic Producers Associations' to assist them in the production process." The married mother of two decided to investigate the matter further, after discussing the issue with other women in her village. "The women in Demira sent me to Elnuhood," Mrs Agib said.
Mrs Agib travelled to Elnuhood and met with the local Gum Arabic Producers Associations (GAPAs) Union. There, she learned about the steps she would need to take to form her own Gum Association. These included signing up a critical mass of participants, determining the size of the local area still covered by "gum trees" (Acacia Senegal), and opening a bank account.
On her return, Mrs Agib and 52 women of Demira formed their own GAPA. They named their association Almakarim, and Mrs Agib was voted president.
Almakarim is part of a network of some 12 000 gum arabic farmers in five localities throughout Sudan. Twenty-five percent of these members are women; ten associations are, like Almakarim, entirely comprised of female farmers. Since the Gum Arabic Project began in 2010,the results have been impressive, with the volume of gum produced at the end of two years doubling. In some places, women pooled part of their profits to use for emergencies, or, in one case, to hire a village midwife.
The project also provides the women with intensive training in topics from gum tapping and agroforestry to financial and organizational management. Almakarim's executive board, for example, received an intensive, five-day training course in microfinance and bookkeeping.
In November 2010, Almakarim received $ 20 000 in credit, which was disbursed among its members. Soon, both gum production and members' incomes increased. Today, Almakarim has 190 members.
Mrs Agib enumerated the ways in which she benefitted personally from the Gum Arabic Project: She was trained in microfinance and agroforestry. She gained experience in trade. She acquired the experience of working in community organizations. She bought a piece of land and started building her house. She succeeded in getting a tractor through a loan system. While these GAPAs have faced some challenges, from members who do not repay loans to struggles with transportation and storage, the future looks promising: This year, thanks to her work with Almakarim, Mrs Agib was chosen as a member of the GAPA Union in Elnuhood.
The Gum Arabic Project is an Sudan Multi-Donor Trust Fund (MDTF)/IFAD project implemented by the Forests National Corporation. In 2010, the Project provided direct support to participating GAPAs in the five localities in terms of microfinance, matching grants sub-projects, training and capacity building.
---
Private sector partnerships in Egypt: West Noubaria Rural Development Project
| | | |
| --- | --- | --- |
| | | |
| | 15 years ago, this land was a desert | |
The lion's share of Egypt's 8.8 million farmers are small farmers—some 6.6 million work on farms of just about two and a half acres. Improving the lives, and livelihoods, of these small farmers will go a long way toward improving development in Egypt: So goes the logic behind an IFAD project in West Noubaria, on the outskirts of the ancient city of Alexandria.
"The small guys, the small farms, actually have the biggest piece of the pie," explained the project's marketing manager, Yehia Abd ElGhaffar. But small farmers simply cannot compete with larger agribusinesses.
"Just a small guy here and a small guy there, it's not getting the job done," said Mr. ElGhaffar. That's why one of the key concepts of the West Noubaria project was to organize groups of small farmers into "Farmers Marketing Associations," or FMAs. "Instead of each farmer trying to get a contract, they get a contract all together," said Mr. ElGhaffar. "That way, they can compete with the larger farmers."
Another key concept was to connect small farmers with the entire supply chain, from input suppliers (seeds, fertilizers, pesticides and other entrants) to packaging and merchandising. "This concept is new to Egypt," he said.
So far, efforts have paid off. "The project helped one tomato farmer, choose the right seeds and cultivars, then provided him with full technical support and follow up," said Mr. ElGhaffar. They also installed drip irrigation on part of his farm. "The average production in Egypt is 25-30 tons per feddan," said the marketing manager (a feddan is about an acre). "He got 60 tons per feddan, which practically doubled his profit. As a consequence, he abandoned the old irrigation system and adopted drip irrigation in his entire farm, allowing for a higher yield and extra income per unit area."
But it is perhaps the "strength in numbers" factor that is the most compelling. One group of citrus farmers were able to qualify for GLOBALGAP and the FAIR TRADE certificates thanks to IFAD's support. As a result, they were able to export their certified produce to England this year - one of the most demanding markets in terms of quality standards. "The farmers shared a packing house, and exported their produce to England under one common brand name" said Mr. ElGhaffar. "They did it all by themselves."
"The small farmers are a big sector of the Egyptian community," he added. "Helping the development of these people will definitely have an impact on the development of Egypt."
So far, the project has won three big contracts. The largest of these is with H.J. Heinz, the company world famous for their ketchup. Under the contract, which was signed last year and continued this year, Heinz buys tomatoes from farmers for processing tomato juice, ketchup and salsa. In the meantime, Heinz provides farmers with the choice of cultivars and high quality seedlings.
Egypt produces 10 million tons of tomatoes each year, making it the world's fourth largest producer. However, it ranks 37th in terms of the overall yield of tomatoes harvested per feddan. Only 2% are processed—a situation that Mr. ElGhaffar hopes will change. "We call the tomatoes in Egypt 'crazy,' because one day prices are up and the next day they are down," said Mr. ElGhaffar of one of the difficulties farmers encounter. This situation will be reversed when farmers discover the advantages of tomato processing, which make up for the perishable status of this fragile legume and allow for better income and market stability.
Recently, the West Noubaria project has also started helping Egyptian farmers connect with Turkish exporters to sell sun-dried tomatoes, which command higher prices than other tomato products. Right now, that market is dominated by Italian and Turkish producers. But Egypt hopes to gain its market share. After all, as Mr. ElGhaffar confirmed, "Egyptian tomatoes are very delicious."
---
Private sector partnerships in Armenia: Fund for Rural Economic Development
Pomegranate, peach, apple, apricot, sea buckthorn: In Armenia, freshly made juices are part of daily life. "I drink it everyday," said Nerses Kyurinyan, Senior Investment Officer for the Fund for Rural Economic Development in Armenia (FREDA). "I love each of the Armenian juices. But sea buckthorn and apricot are my favorites."
"I like pomegranate and sea buckthorn the most," reflected Ruzanna Navasardyan,
the Export/Import Manager at SIS Natural CJSC, one of the leading juice-producing companies in Armenia. "Sea buckthorn is rich in vitamins," she added. "A very healthy juice, with anti-cancer properties."
Armenia's wealth of fruit juices may prove healthy for the country in more than one way. Since 2009, when FREDA was created using IFAD and Armenian Government grant money, the fund has bought shares in promising local companies, including SIS Natural. The goal, as Kyurinyan explained, is to introduce additional equity so that companies can make more profits, while helping to improve the lives of local farmers.
Take the aseptic bottle filling line that SIS Natural was able to buy, thanks to the FREDA investment. Before the aseptic line , SIS was not always able to meet demand for its more than twenty kinds of juices and fruit preserves. "Before the [aseptic line ], juice was directly squeezed," explained Navasardyan. "We had to limit orders." While expanding the shelf life and increasing the quality of produced products, the new asceptic packaging technology reduces the net production costs of distribution and storage as well as the environmental impact.
"Armenia's climate is perfect for good-tasting fruits," explained Kyurinyan. "But harvests, especially for fruits like apricots, are unstable. The ability to process as much as possible is important at this stage."
Now, with its state-of-the art equipment, SIS can store juice purees for up to two years. This means that a year's worth of juice stock can be accumulated ahead of time, which makes orders, particularly from supermarkets abroad, easier to fill. "It's a very good chance to have more orders," said Navasardyan.
This, in turn, affects the farmers who provide the fruits and vegetables. In 2011, prior to purchasing the new aseptic bottle filling line and expanding their storage facilities, SIS bought some 400 tons of fresh fruits and vegetables from the local market. In 2012, they bought about 1 100 tons.
At the same time, thanks in part to FREDA's investment, they have greatly increased exports. Now, SIS Natural is able to negotiate contracts with big companies in Russia, Turkmenistan, Ukraine, and Georgia, as well as in Western Europe and the US. The company's line of organic juices are popular in French shops and cafes. No wonder: "In Armenia, juices have to be high quality, or we will fail. In general, Armenians are used to preparing juice themselves. We must offer them something that tastes like homemade," said Navasardyan. "Part of our success is to bring Armenian fruits to the world."
Success abroad pays off at home, too. "Our theory of change says that if a company has more money, then they can get better equipment, which gives them better ability to produce more," explained Kyurinyan. "We are trying to reduce poverty."
Following the collapse of the Soviet Union, Armenia's farming industry was in tumult. During the Soviet era, farmers had relatively stable incomes: If they were not rich, they were also not poor. After the Soviet-era market structures disappeared, however, farmers suffered greatly. Now, that is starting to change, said Kyurinyan: "They are finding other markets, producing more," he said. "Ten years ago, farmers were in one of Armenia's poorest categories. Now, they have basically overcome poverty and started earning a living. Some farmers told us they bought a second car, that their children are going to university, that the second generation can take a vacation on the Black Sea."
Measures like FREDA's investment in SIS Natural encourage this trend, said Kyurinyan: For each worker that SIS adds, at least ten jobs are added on Armenian farms, most of which are family owned and operated. "From our perspective, if the company [SIS Natural] bought one- to two-thousand tons in the market, this helps farmers to keep prices up, helps them to be more diversified, it gives them a chance to have more stable pricing."
He paused. "It's a good way to continue doing business."
---
Portfolio review
As of 30 June 2013, the NEN portfolio consisted of 46 projects in 20 member countries and one territory. Of these, 42 are on-going, 2 are not yet effective and 2 are not yet signed. The total IFAD financing commitment for the 46 projects is USD 813.04 million, accompanied by USD 377.1 million in co-financing and USD 517.5 million in domestic contributions. Each dollar invested directly by NEN leveraged USD 1.24 of co-financing, with an increase of 0.13 compared to the 2009–2011 period. The bulk of NEN's investments went to three major categories of projects: agricultural development (39 percent); rural development (21 percent); and rural financial services (20 percent). The average duration of the on-going projects is 6.5 years - from entry into force to completion.
The NEN portfolio performance appears well on track for most indicators with several corporate targets already achieved two years in advance. Many of these targets have been surpassed in particular for quality at entry and quality of portfolio management. For the first time in three years the portfolio witnessed a reversal of the negative trend regarding projects at risk. Given the Division's sustained and concerted efforts, the proactivity index rose by an impressive 21 percent this year. In addition, the portfolio is now predominantly composed of projects whose performance is deemed moderately satisfactory. The disbursements reached a record level of USD 93.7 million (loans, DSF and country grants) for the portfolio compared to USD 80.5 in 2011–2012, accounting for 10 percent of the total level of approved grants and DSF grants.
The grant portfolio has expanded from 51 large and small IFAD financed grants, with a total value of USD 33.5 million to 57 grants for the total of USD 45.2 million as of 30 June 2013. In addition, there are 3 supplementary funded grants for the amount of USD 3.2 million. The average size of a grant has increased from USD 637 000 to USD 794 492, reflecting the Division's on-going efforts to favour larger grants and to cut down on smaller and less efficient grants.
To fully achieve NEN/corporate targets by 2015, future NEN efforts will focus on the following three key result areas:
Consolidating achieved results and improving efficiency: this would include continuing with current approach/measures for dealing with portfolio at risk: 2 supervision and 1 follow-up missions per year; quarterly action plan reviews; mid-cycle portfolio review; peer reviews; developing specific solutions/ measures for countries in political crisis; reducing number of new regional and country grants and ensuring cross-linkages between Grant and Investment portfolio; and enhancing quality of grant proposals for both financial and technical soundness.
Improving impact monitoring and reporting (Baseline Surveys and RIMS): empowering ICOs for impact monitoring and reporting, and allocating adequate support budget to this effect; ensuring better consistency between RIMS and impact data; making greater use of PCRs for better impact reporting; gearing supervision missions in identifying measures and instruments for a systematic data capture of outputs and outcomes.
Increased co-financing and scaling up: allocating specific resources to identifying opportunities for and pathways to scaling up; engaging in proactive consultations with respective client governments to free-up resources for scaling up the most promising country program activities; gearing new project approvals for projects with highest outreach potential and larger portfolios towards enhancing synergies between projects in the portfolio with multiplier effects (larger and fewer projects); focusing on topics and areas where NEN has a comparative advantage and where there are opportunities for engagement, such as: building resilience to conflict by leveraging community-driven approaches; policy dialogue and partnership for rural poverty reduction and food security; and increasing agricultural productivity and resilience while boosting job creation.
---
KM for greater impact: recent SROI event
SROI methodology, key findings of Sudan and Armenia, and recent Rome write shop in September
In 2012, IFAD's Near East, North Africa and Europe Division obtained a grant from DFID (UK) ('The learning side of impact assessment: piloting Social Return on Investment for knowledge generation and project-based learning') for piloting innovation in the area of impact assessment in Armenia, Sudan and Yemen.
On 24 and 25 September, NEN hosted a workshop on Social Return on Investment at HQ. The workshop provided an occasion to discuss the results of the project.
SROI trainers from Context, international cooperation – a social enterprise – and representatives of IFAD project staff that participated in the training presented and discussed the results of SROI application to IFAD-supported projects and the relevance of this methodology to IFAD.
What the SROI project does?

pilots the concept of social return on investment (SROI) within IFAD-supported operations – an emerging methodology for measuring and accounting for the social, environmental and non-financial benefits of investments
uses the SROI methodology to assess, document and learn from the impact of IFAD-supported operations

builds the capacity of project and IFAD staff in participatory impact assessments through on-the-job training in two selected IFAD-supported operations (Sudan and Armenia)

fosters learning and knowledge sharing in NEN by systematically involving members of previous and on-going M&E and KM regional networks (CEVAL, AKADAP, MENARID and ISP)
creates linkages to corporate priorities in IFAD9: KM and learning; M&E and impact assessment; scaling up; and innovation; and complementary to PTA's work on ex-ante economic and financial analysis
Why is it innovative?

Participatory approach: stakeholders are directly involved in the process of assessing impact (and not external consultants on behalf of the financier) and attach value to the various categories of benefits resulting from a project activity.
Impact as single value: Impact achievements are standardised and calculated against the investments made, leading to a more comprehensive single value, the SROI ratio – a powerful instrument for IFAD to identify value for money across different countries.
Story behind impact is unveiled: The explanatory narrative accompanying the impact assessment and calculation of the SROI ratio reveals the theory of change – a valuable source of lessons learned to inform new project designs in similar contexts.
Capitalising on impact assessments: The SROI ratio in combination with the narrative can serve as an important decision-making tool for IFAD to better understand which investment type or project component can yield the best returns for its project partners and beneficiaries.
---
Participation in regional/global fora
Global Youth Economic Opportunities Conference in Washington, DC
On 10 September 2013, our staff travelled to Washington, DC to attend the Global Youth Economic Opportunities Conference, an event that hosted more than 450 practitioners, policy makers, donors, private sector companies, researchers, youth leaders and others working to increase economic opportunities for young people. The event was organized by our grant implementing partner, Making Cents International. Thanks to IFAD support, this year's conference featured a special spotlight on opportunities for rural youth. The NEN Director gave a presentation on the current and upcoming initiatives in NEN, focusing on the main challenges that youth face in the NEN region, and highlighting the lessons learned from two youth-related case studies from projects in Egypt and Moldova.
The conference also focused on the power of technology (MOOCs, crowdsourcing, mobile money, etc.) to engage with businesses and communities to stimulate job creation as well as to provide mentorship and training opportunities. For example, we learned about impact sourcing – a process of outsourcing globally as a business practice to create internet-based employment opportunities with positive social outcomes – seeking to increase access for youth to good quality jobs with sustainable income generation.
Positive skill building through training and mentoring opportunities as well as creating an enabling environment are crucial to sustaining the disadvantaged youth. In coordination with governments, businesses and non-profits, there is an emerging need to adopt integrated business practices globally for greater financial inclusion of youth.
---
Personnel notes
Sara Kouakou
Ms Sara Kouakou, a national of Cote d'Ivoire, was appointed as Programme Officer in NEN, effective on 15 July 2013.
Ms Kouakou has been working within IFAD operations since 2008, first as a consultant and then as a Temporary Professional Officer. She was respectively, the Country Programme Manager (CPM) for Guinea in the West and Central Africa division (WCA), CPM for Comoros, and Task Manager for Madagascar in East and Southern Africa division (ESA). Prior to joining IFAD, she worked as an Investment Promotion Officer for the United Nations Industrial Development Organization (UNIDO). Ms Kouakou holds a Master Degree in International Economics from the University of Tor Vergata and an MS Degree in Political Science and Economics from the University of La Sapienza.
"I have joined the NEN division as Programme Officer on 15 July 2013, but I have been working within IFAD operations since 2008 mostly in Sub-Saharan Africa. I feel privileged because I am doing the job I have always dreamed of. I have the opportunity to work for one of the major international development organizations, being in the frontline, working at the same time with policy makers and beneficiaries at the grass-root level, working with bright colleagues from all over the world and with different backgrounds ... Certainly the context can be sometimes very challenging and things frustratingly difficult to change. Still, I believe there is nothing more rewarding than the idea that you are not just writing reports and emails or attending meetings, but you are actually contributing to improve people's lives with your work."
---
Mohamed Abdelgadir
Mr Mohamed Abdelgadir joined IFAD as the Country Programme Manager for Yemen and Jordan in January 2013. "I am Mr Mohamed Abdelgadir, Sudan national, got my PhD in agricultural economics from the University of Hohenheim in Germany in 1996. I started my career as a University professor. After fifteen years of teaching, I decided to change to research work. I served the National Council of Research in Khartoum as a director for the Economic and Social Research Council between 1989 and 2002. In addition, to teaching and researching, I was involved in a number of consultancies with the World Bank, Arab Organization for Agricultural Development, WFP and FAO.
I am not new to IFAD, I have served the NEN Division for seven years in the field as Country Programme Officer in Khartoum, Sudan. I consider the field staff as part of the family. In the field, one is on top of issues, and has a greater sense of impact. It is much easier to talk to a beneficiary or a service provider. In country programme management, communicating, chatting, joking, is part of building relationships and morale.
At HQ, it is a different story. Managing projects remotely is not an easy issue. One of the biggest challenges we are encountering is between the project design and implementation. Some of the projects tend to be more innovative in design and not in implementation. It is evident that there is no single blue print approach. Also, a greater consideration of the context and realities at hand is needed. Apart from finding the right approach, in most cases, the capacity is not up to it. And this is often reflected in the delay in the implementation."
---
Abdelhaq Hanafi
As of 3 July 2013, Mr Hanafi has joined IFAD as the Country Programme Manager for Egypt and Lebanon. Mr Hanafi has more than 30 years of experience in the field of horticulture and Plant Protection. He is recognized as one of the leading scientists in Good Agricultural Practices (GAP) in the Mediterranean region. He has worked as a researcher and professor at Morocco's premier Agricultural University (Institut Agronomique et Vétérinaire Hassan II, known as IAV Hassan II), based in Agadir - the main horticultural area of Morocco. He also served as a consultant in some 13 countries in the NEN region with FAO. Prior to joining IFAD, Mr Hanafi has worked as Chief Technical Advisor of an FAO project on Integrated Production and Protection Management of Horticultural Crops (7.4 million $ in 2 phases) in the Kingdom of Saudi Arabia.
A Moroccan national, Mr Hanafi holds an MS and a PhD from the University of Minnesota, USA.
"Having managed several FAO projects in the NEN region, I have worked both in Egypt and Lebanon. I intend to capitalize on my past experience with FAO and the governments in these countries in the management of the current IFAD's portfolios. Despite recent unrest, I feel that our ongoing projects in Egypt and Lebanon are making good progress."
"I sincerely feel very privileged to work for one of the major international development organizations. In the meantime, I realize that the mission of a CPM is actually not an easy one. With the support provided by the colleagues in the NEN Division, and my past experience, I am really motivated to overcome these challenges, especially in the very rich and positive working environment at IFAD."