Remittances: spreading the benefits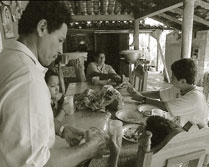 A new IFAD documentary examines why banks, governments and development agencies are interested in the flow of remittances
For generations, economic migrants around the world have left home seeking better wages. Today the money they send home totals an estimated US$200 billion a year. In Latin America, remittances are worth more than foreign direct investment, official development assistance and foreign aid combined. What is the potential for remittances to reduce rural poverty?
The documentary film, "Cash flow fever", considers this question through the eyes of the Cortez family. Three of the children have migrated from El Salvador to work in the United States, and now send remittances to support their parents and siblings. Co-produced by IFAD and the Television Trust for the Environment, the film was broadcast on BBC World's documentary series "Life".
Ana and Julio Cortez live in Tronalagua, a poor rural area in El Salvador. Their home is equipped with a kitchen, telephone and television, made possible by the US$200 a month they receive in remittances. "Before the children left our house we had a dirt floor," says Ana. "With remittances we built this one."
But migration is not easy. Migrants face a host of problems, including low wages and lack of worker rights. And migration separates families.
"You have communities that are divided and mothers who have to leave their children behind, fathers who leave their children, their wives," says Rosemary Vargas-Lundius, IFAD's country programme manager for El Salvador and other countries in Latin America and the Caribbean.
Still, remittances provide significant financial support for poor communities. The Government of El Salvador works with international development organizations like IFAD to encourage those who receive remittances to use that money more productively.
With assistance from IFAD, for instance, an agronomist advised Ana and Julio on how to invest in their farm. Instead of growing just enough maize and beans to feed themselves, they are creating a business growing fruit trees and rearing animals.
IFAD is also encouraging banks, credit unions and microfinance institutions to take an interest in remittances.
"One of the causes of poverty is the lack of access to wealth generation," says Manuel Orozco of Inter-American Dialogue, a Washington-based NGO specializing in development policy. "You don't generate wealth just through employment, but through asset building, through credit."
Remittances are not a substitute for foreign assistance or sound economic policies at home. They are private resources that belong to the people who send and receive them. IFAD can help families and communities to make the most of these resources.
For information on upcoming broadcasts or on how to obtain a copy of the film, contact video@ifad.org
Useful links: