Bringing markets closer in the United Republic of Tanzania
The IFAD-supported First Mile project is using the power of communication to link farmers with markets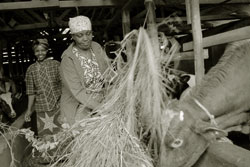 Good communication is vital to small farmers who need better access to markets and to reliable information about prices, product quality and market conditions. Can new information and communication technologies (ICTs), especially the Internet, help? The First Mile is a two-year pilot project in United Republic of Tanzania. It is supported by a grant from the Government of Switzerland and it is implemented in collaboration with the IFAD-financed Agricultural Marketing Systems Development Programme. Technical assistance is being provided by the International Support Group, an international non-profit professional association.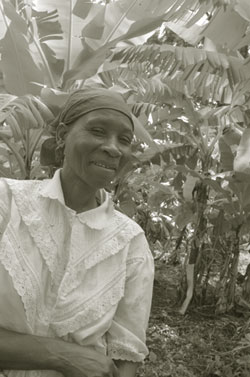 Juliana Raphael Kulaya, 45, lives in the village of Shirin Joro, close to Mount Kilimanjaro in the highlands in the north of the country. Her six children study and work far from home, and her husband moved away some years ago, leaving Kulaya alone to work her half hectare farm.
Kulaya is poor, but with the income earned by selling her produce at Mbuyuni market in the nearby town of Moshe, she has managed to build a modest home. Kulaya has no phone or television and says she has no time to listen to her radio. When she needs information, she has no idea where to go, and she has not seen an agricultural extensionist in years. When she goes to market, she has no information about prices and no idea where to find it, so she sells for whatever price she can get.
Close by lives Magdalena Lema, a 55-year-old schoolteacher whose four children are university-educated. Lema and her husband have a 10 hectare farm where they grow food crops and keep dairy cattle. Every member of the family owns a mobile phone and their home computer is connected to the Internet. Despite her relative wealth, Lema has a problem similar to her neighbour's - she has no idea where to go or whom to speak with to get agricultural and market information.
"I would use my mobile phone to call someone for market information," she said, "if I knew who to call."
Kulaya and Lema are just two of the farmers who stand to benefit from the First Mile project, now under way in several districts of the United Republic of Tanzania. The pilot project is helping small producers, processors, traders and others in the market chain communicate better, form partnerships and learn from each other. Their goal is to have greater access to market information and negotiate fairer and more collaborative market relationships.
The term "first mile" refers to bridging the connectivity gap that separates a village with no electricity and no telephone line from the nearest online computer. It emphasizes rural communities as the starting point of connectivity, not the end point.
Linked to the Agricultural Marketing Systems Development Programme, the First Mile is tackling two challenges:
access by rural poor people to information and knowledge and to ICTs such as mobile phones, the Internet and e-mail
access to other key people in the market chain, including traders, processors and even consumers
As the project leader, Clive Lightfoot, says: "The project brings the communication and the marketing dimensions together. Marketing has a tight connection to immediate income and is very dependent on information: not just price information, but also market intelligence, such as information about product quality and what is coming into the market. It is very information-intense. We've coupled that with the potential to make an income, and that is what is driving the project."
The immediate challenge for the First Mile is to work out how small farmers can connect through intermediaries to the Internet to get market information and to communicate with other farmer groups, with groups of processors and traders, and directly with consumers as they build their own producer-to-consumer market chains.
During the first phase of the project, from May to July 2005, current access by local people to ICTs was assessed, and their interest in working together to learn about market chains was explored. Small farmers, processors and traders who attended an initial workshop, held in Arusha, United Republic of Tanzania in early June, explored together the challenges they face in marketing and realized that none of them fully appreciated the problems faced by others in the market chain. They showed a strong interest in working together and agreed that they would all gain from more cooperation along the market chain. Learning groups were formed that will eventually use technologies such as e-mail and the Internet to share information, experience and learning.
A second workshop trained 28 people in development of market chains and in how to support local learning as a way to improve market linkages. The role of these people is to respond to demand and train others locally in the same skills.
During the second phase, which ran until December 2005, some learning group members will be trained in how to use an Internet-based learning support service, called Linking Local Learners. In part, the role of the people who have been trained will be to help ensure that the learning groups are able to use the service, either directly or through intermediaries. Assessments in 2005 and early in 2006 will determine the level of local interest in and action taken towards building market chains, forming learning groups and using ICTs to support learning.
IFAD's country programme manager for the United Republic of Tanzania, Ides de Willebois, stresses the importance of local commitment to the First Mile process. "This must be on a demand basis," de Willebois says. "If the learning groups find value in the exchange of information and knowledge and express an interest in continuing, then the project will respond. There is a change in behaviour that is needed if small farmers, processors and traders are going to form partnerships to work and learn together, rather than compete with each other, as is now the case. We hope that the First Mile will help bring about that change."
A learning and sharing initiative
Working with the Eastern and Southern Africa Division, IFAD's Communication Division is documenting, through photography, video and text, the learning and change that takes place during the life of the First Mile project.
Using a thematic approach to capture the pre-existing conditions, processes, outcomes and lessons learned throughout the project, the Communication Division will prepare project reports to support knowledge and information sharing in IFAD, and with partners such as the Government of the United Republic of Tanzania, IFAD-supported projects in the country and in other countries as appropriate, donors and others. These materials, and other information gathered during a mission to the United Republic of Tanzania in June, were used to highlight the First Mile experience at the World Summit on the Information Society in Tunis in November 2005.
Useful links: