Experiencing poverty up close
Living with poor families in India gives IFAD Executive Board directors new insights into poverty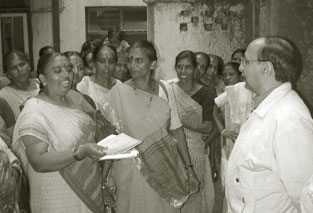 Seeing the reality of poverty through the eyes of poor women and their families was the aim of a field visit to Gujurat, India, for four Executive Board directors and a country representative. The visitors joined the women in salt mines, buffalo stables and village assemblies as part of a five-day immersion programme.
"We took part in all our host's activities," says Mariam Moussa, Executive Board Director from Egypt, "waking up at 4 a.m. to repair water pumps and eating only one meal a day. We slept outside in tents and did without basic services like toilets or kitchens."
The hosts were all women from the Self-Employed Women's Association (SEWA), a trade union that helps women working in informal sectors to gain full employment, including sufficient work, income, food, healthcare and childcare. SEWA is both the implementing partner and the signatory of the IFAD-supported Livelihood Security Project for Earthquake-Affected Rural Households in Gujarat, approved in 2001, and many of the host women are participants in that project.
The visitors spent the first two and a half days living with a family and the rest of the time in an exposure and dialogue programme, an opportunity to reflect on what they had experienced and use that experience and their professional knowledge to examine a range of issues. Host families also took part in the discussions.
"Quantitative data and written reports are essential, but they do not give Executive Board directors a full understanding of IFAD projects," said Phrang Roy, Assistant President, Special Assignment, Indigenous People, who participated in discussions. "Field visits enhance Board directors' knowledge of projects and critical policy issues, which in turn can strengthen their deliberations."
"I knew the common definitions of poverty, that more than a billion people live on less than a dollar a day, but now poverty has a face and a name," says Bernd Dunnzlaff, Executive Board Director from Germany, who lived with an agricultural labourer, Savita-ben. Ben means sister in Gujarati and all SEWA members address each other as ben.
Habiba Djerir, Algeria's country representative to IFAD, was a guest in an urban slum, at the home of Rehana-ben, a 24-year-old widow, who lives with her three children and an extended family that sometimes reaches almost 20 people. During discussions after the home stay, Djerir was struck by her host's strong desire to improve her life.
"Coming from a traditional society where women are generally shy, I can tell you that these women really challenged themselves by coming to our meetings," said Djerir. "Rehana-ben told us she wants to have her own house and learn how to sew clothes so she can improve her financial situation."
Médi Moungui, Executive Board Director from Cameroon, was impressed by the value of limited resources in poor communities. He lived with Sita-ben, one of the poorest women in the village, who owned no land and no animals. SEWA support had helped her family to plant a vegetable garden enriched with composting. The compost required animal dung, which had to be collected from public lands. "Sita-ben's face would brighten whenever she saw a lump of droppings in the distance," said Moungui. "These were scarce resources!"

"I was not expecting such an impact when I decided to take part in this programme," says Carla Elisa Mucavi, Executive Board Director from Mozambique. "I now realize the complexity of poverty but also that very little can go a long way in improving the lives of poor people."
Five IFAD staff members also took part in the programme, including the regional economist from the Latin America and the Caribbean Division and staff members from the Office of the Secretary, the Communications Division and the Programme Management Department. Even though many of them had spent significant time in the field, living with a poor family gave them a different perspective.
"I have interacted very closely with rural poor people in Gujarat in the past," said Shyam Khadka, IFAD's senior portfolio manager and former country programme manager for India, "but this experience went beyond intellect and research. It spoke directly to my emotions."
Useful link: