Finding new ways to access markets
IFAD is working with partners to develop and test innovative ways of linking small-scale producers to markets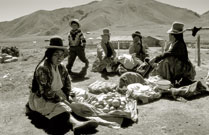 Poor access to markets is a major obstacle to reducing poverty in rural areas of developing countries, where inadequate infrastructure, high transport costs, limited market information, and the use of subsidies by wealthy nations impede the ability of farmers to compete in local, national and international markets.
A programme initiated in the Latin America and the Caribbean region, but increasingly involving other regions, is developing and testing innovative ways to help small rural producers access markets.
"Globalization has created both challenges and opportunities for small-scale producers in rural areas," says Lennart Båge, IFAD President. "Farmers and small entrepreneurs need business skills and practical information on commodity prices, market trends and quality standards so they can compete in these markets."
The programme is funded by the Initiative for Mainstreaming Innovation, a three-year programme to find innovative ways of reducing poverty and then integrate them into IFAD-supported projects and programmes.
During the pilot phase, IFAD worked with the International Fair Trade Association, a leading global network operating in 59 countries, and Traidcraft, an NGO with expertise in market access activities. Using a participatory and cross-regional approach, the programme examined market access in IFAD projects and developed five information tools to help producers improve their access to markets.
Taking stock of IFAD projects
The stock-taking exercise found that many IFAD-financed projects had made strides in improving market access. In southern Africa, for example, IFAD supports PhytoTrade Africa, a regional trade association that helps producers, processors and traders market natural products made from plants and oils. PhytoTrade Africa develops markets, strengthens supply chains, stimulates innovation in product development and ensures a strong institutional framework for fair trade between producers and buyers. Between 2002 and 2004, it helped members generate US$337,000 in sales of natural products.
Farmers in Albania, Bosnia and Herzegovina, and The former Yugoslav Republic of Macedonia are developing stronger links with private traders and agribusiness firms thanks to the Facility for Farmers' Access to Markets, which is managed by IFAD and receives support from the Government of Italy. The facility improves production and processing standards, promotes new technologies and strengthens institutional measures to increase access to markets and trade. It also contributes to harmonization of development aid and fosters relationships between the private sector and small-scale producers and processors.
In the Latin America and the Caribbean region, networks of farmers' organizations supported by IFAD are increasing the availability of market information through websites, e-mail, and learning tours where farmers can see how to produce and sell products in niche markets such as organic products, processed foods and textiles.
The study found, however, that many of the lessons learned remained scattered and underused. It also noted that, though growing, market access is generally a small part of IFAD projects. And because market access is often combined with other project components, its effectiveness may be difficult to assess.
Tools help rural producers access markets
A training manual called "Into the Market" was developed to give rural producers practical advice on every step in launching a business, from how to judge a good opportunity to how to retain customers - even in the face of increased competition. Real case studies from around the world, including many from IFAD projects, provide valuable lessons on what works and what does not, in simple, easy-to-read language.
A toolkit on how to participate in trade fairs was created. Trade fairs are a useful way to find new markets, but require significant planning and resources. The toolkit offers checklists, planning tables and sample letters that help producers gain the most from these events.
Three additional tools were developed: an online database containing market access resources, a case study on business development centres and a guide summarizing developments in e-commerce.
From pilot to main phase
A main phase of the market access programme is now consolidating and expanding on these efforts, including testing new innovations in IFAD's programmes and projects. For instance, as part of the seven-year Development of the Puno-Cusco Corridor Project in Peru, a partnership with a private enterprise is providing farmers with market information and answering queries on prices, standards and buyers. In Guatemala, IFAD is developing a partnership with AGEXPRONT, a private-sector umbrella organization that works with business development centres to ensure their services are geared to the needs of small entrepreneurs.
These activities could contribute to greater project effectiveness by providing the information and lessons learned to develop and scale up best practices and policies on promoting market access.
Useful links: