Message from the Director
Small farmers are crucial to the local economy in Eastern and Southern Africa (ESA). They grow the products on which many families and communities rely, but because they operate on such a small scale they are often left out of the economic cycle, fail to connect to markets and remain unable to improve their livelihood. Smallholders are entirely part of the economy and as such should be integrated into the whole value chain of a product, from growing to marketing to retail sale. IFAD and the ESA Division have highlighted the importance of linking small farmers to the market economy to give them opportunities to develop their own business activity and ultimately raise their income. Many of the division's programmes and projects have successfully introduced links to the market, which are now a cornerstone of its strategy. The division will continue to work in that direction and support small farmers to ensure that they are considered as key economic players and fully benefit from accessing markets.
Ides de Willebois
---
Special Feature on market linkages: Improving commercial opportunities for small farmers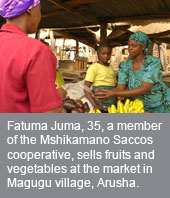 For small farmers living in a remote area, not being able to reach the market and sell their production on time can have dire consequences. At worst they will lose their crops; at best they will get a lower than market price for them and remain vulnerable to market abuse. Often, smallholders are unable to make the most of their production because they lack up-to-date market information and have limited commercial knowledge. In addition, the quality of their production varies and their production is often insufficient to be able to sell a surplus to the market, as they need it first to feed the family. The ESA Division has been addressing these issues in many of its projects, which on the whole have been successful in improving commercial 'streams' for small farmers. However, work is still required to secure sustainable market linkages along the value chain of a commodity or product.
For this reason, IFAD and the ESA Division are increasingly shifting their focus from so-called 'area-based' projects (projects taking place in a specific geographical area within a country) to so-called thematic programmes that are based on a specific commodity, with the aim of improving commodity supply chains. "The idea is to look at the whole value chain, identify where and why there are blockages, and try to remedy them," explains Dan Vadnjal, regional economist in the division. "By understanding why a given product does not reach the market, we'll know better where to enter in the supply chain."
Commodity-based projects are recent, and the majority of them are still being designed. In Malawi, the forthcoming Rural Livelihoods and Economic Enhancement Programme (RLEEP), currently in its design phase, will focus entirely on selected commodities rather than regions or districts, starting with potatoes and groundnuts. It will seek to integrate smallholder farmers into the commercial sector and help them move away from subsistence-oriented production. The project will set up viable value chains and enterprises, and expand employment opportunities. In addition, it will establish more efficient production methods for key commodities and help farmers become more commercially aware. "This programme is in some way spearheading what the division will be doing in terms of projects," said Vadnjal.
Two new programmes are being implemented under a similar approach in Kenya. One is the Smallholder Dairy Commercialization Programme (SDCP), an eight-year programme that became effective in July 2007 and will focus on sales and marketing of milk production, a sector representing about 800,000 small farmers in the country. The programme will work with smallholder dairy producers and traders to strengthen their capacity to respond to market opportunities, by building their understanding of the market and their technical knowledge of production processes.
The second initiative is the upcoming Smallholder Horticultural Marketing Programme, a pilot initiative covering eight of Kenya's 35 horticultural districts. The programme aims to improve productivity and income using community-based approaches, which promote the involvement of the local community in the design of a development project. Initially, the programme will identify constraints in the value chain and focus on activities to remove as many of them as possible without hindering natural, market-driven development.
Gaining access to information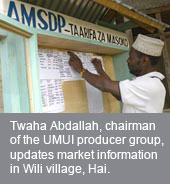 Lack of market information, such as price, volume or potential demand, is one element that has until now prevented farmers from accessing markets. In this respect, the ESA Division has been at the forefront of development with its successful First Mile initiative, which started in Tanzania in mid-2005 under the Agricultural Marketing Systems Development Programme and helped farmers gain access to mobile phones, e-mail and the Internet. First Mile has been such a success in enabling farmers to be in contact with other key people in the market chain (traders, processors and consumers) that a second phase of the project will begin later this year.
In Zambia, an SMS Market Information Service was officially launched in June under an IFAD programme. The service provides farmers who have mobile phones with commodity price information in the province or district they specify (see story below for full details). "In many ways, mobile phone technology is transforming the life of remote farmers in Africa," said Jens Sorensen, IFAD's Country Programme Manager in the ESA Division.
Improving quality and processing
Even with better information, smallholder farmers sometimes struggle to ensure that their products are of consistent quality. Some of the projects have been addressing this issue, most notably the Vegetable Oil Development Project in Uganda, which runs from 1998-2009. The project was set up to improve smallholder production of a variety of traditional vegetable oils, such as citronella and sunflower, for local and national markets. It involved all actors along the value chain. As a result, oil production has increased, local processing has been developed, quality is improving and new markets are being found. With the introduction of palm oil production in Uganda, IFAD is supporting smallholder palm producers to establish plantations and set up their own association.
In Rwanda, the Smallholders Cash and Export Crops Development Project, which runs from 2003-2010, also has strong market linkage elements. The project focuses on tea and coffee, which together represent a substantial part of the country's production and exports. It provides assistance to coffee producers to better organize themselves in cooperatives, and to improve coffee processing as well as quality standards (see feature in Issue no 1 of Progress). The project has helped them build coffee washing stations, where coffee berries are wet processed (the skin and pulp of the coffee cherry are removed with water to extract the green coffee bean), dried and ready to be sold. "By the end of 2006, we had seven washing stations built out of the ten initially planned," explained Claus Reiner, IFAD's Country Programme Manager for Rwanda. "They are run directly by the cooperatives." By having a stake in the washing station, small coffee growers have been able to raise their income, as profit from washing stations are redistributed to cooperative members. They now export a better quality coffee under a fair trade certificate, enabling them to increase the selling price.

Another recent project is the Rural Income Promotion Programme in Madagascar, which focuses on improving partnerships between producers, transporters and processors. One of the programme's activities is the establishment of market access centres, where partnerships can be strengthened and confidence restored.
These are just a few examples of many programmes and projects in the division that have a market linkage component, all with the goal of better integrating poor farmers in the economy and helping them benefit from economic development. IFAD's overall objective is to improve their livelihood in a sustainable way and contribute to achieving the Millennium Development Goal of reducing by half the proportion of hungry and extremely poor people by 2015. Focusing on sustainable access to markets within its programmes and projects and including the poorest farmers in the global economy are two crucial approaches for IFAD to reach its objective.
For further information, please contact:
Dan Vadnjal, Regional Economist, IFAD, Eastern and Southern Africa Division
E-mail: d.vadnjal@ifad.org
---
Success Stories from the Field


ZAMBIA: Trading commodities via SMS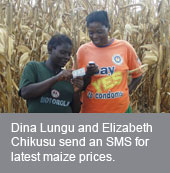 Lack of access to reliable and up-to-date market price information is a serious problem for smallholder farmers across Africa. Without this information, they are vulnerable to unscrupulous traders giving them prices at below-market rates. Furthermore, they are reluctant to diversify into different cash crops for fear of not finding a profitable market for their output.
The IFAD-supported Smallholder Enterprise and Marketing Programme (SHEMP) in Zambia introduced an innovative way to address this problem. Under its agribusiness component (one of three components, alongside road access and group formation), it put in place an SMS Market Information Service in cooperation with the Zambia National Farmers Union (ZNFU). The service provides up-to-date market prices, listing buyers for 12 major commodities in a cost-effective, accessible and reliable manner.
The SMS system, which was launched in August 2006, is very simple to use. To obtain the best prices for a commodity, farmers simply send an SMS message containing the first four letters of the commodity name to 4455. Within seconds, they receive a text message with the best prices by buyer using abbreviated buyers' codes. If a farmer wishes to get best prices in a specific district or province, he or she simply includes the province/district code after the commodity code.
After selecting the buyer that best suits their needs, farmers can send a second SMS message with the abbreviated buyer's code again to 4455. A text message is sent back with the contact name and phone number of the buyer, the full name and address of the company and simple directions for reaching both. Farmers are then able to phone the contact and start trading. Each SMS message costs approximately US$0.15. The system is also supported by the www.farmprices.co.zm website, for those who have Internet access.
The service allows smallholder farmers to compare current prices in their district, province or nationwide and to make the best decision on where to sell their output, thus giving them commercial power that they did not have previously. In addition, it spurs competition among traders and processors, who keep a close eye on the website to see how their competitors' prices are moving. Commodities that are part of the market information service include maize, beans, groundnuts, soybeans, sunflower, sorghum, cassava, beef, sheep, pigs, goats and wheat. So far, over 1,000 hits per week have been recorded on the system. It is estimated that more than 15 per cent of SMS messages directly lead to farmers selling their outputs, and over 130 traders update their prices on the system weekly.
The ZNFU is looking to continue the scheme, with the support of a corporate sponsor, and intends to introduce new commodities and services to the system.
The SHEMP programme itself is looking into extending the system to cross-border trade with Zambia's neighbours. To this end, the Katanga Province in the Democratic Republic of the Congo, known as the Congolese copper belt region, was chosen as the most suitable pilot region. With 11 million consumers, Katanga Province's population is similar in size to that of Zambia, and thanks to proceeds from copper mining many of its consumers are willing and able to buy Zambian agricultural products. From September 2007, a cross-border SMS market information service will provide farmers and traders with daily information on stock availability, indicative market prices and sales trends. Congolese traders will access the information in French via Vodacom DRC and Zambian traders and farmers will receive data in English via AfriConnect/Celtel. Before the introduction of the cross-border SMS system, the SHEMP programme had already helped farmers grow and process cassava to Congolese specification in view of selling it to the Democratic Republic of the Congo and to increase goat sales at the border.
Commodity-specific interventions within SHEMP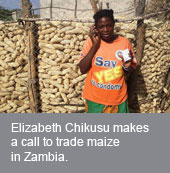 Besides the market information service, SHEMP's agribusiness component has also developed commodity-specific interventions for products such as cassava, goats, bee products and particularly cotton, one of the most important crops in Zambia after maize.
Zambia ranks among the world's best cotton producers, and its hand-picked cotton lint has an excellent reputation amongst international buyers. Despite this good quality, Zambian cotton farmers are faced with fluctuating world prices, as well as difficulties in negotiating fair prices with ginners. (Ginning is the process by which cotton fibre is separated from the seed; the seed is used to grow more cotton.) Ginners provide credit to farmers, and to some extent are able to dictate prices.
SHEMP focused on building capacity of the fledgling Cotton Association of Zambia (CAZ), which represents cotton farmers. It also gave support to CAZ to develop a fair and transparent formula price model for better price negotiation and helped create sustainable linkages between ginning companies and seed cotton smallholders to reduce market abuse. To help ensure that the voice of small farmers was better represented, the programme also promoted networks with other cotton stakeholders in Zambia, in the Eastern and Southern Africa region and internationally through the International Cotton Advisory Committee (ICAC), the international body located in Washington D.C. that represents the cotton industry.
The success of these interventions is particularly impressive. CAZ's credibility as an effective voice for the 300,000 cotton farmers it represents has been boosted by the capacity building it has received through SHEMP. CAZ has been able to negotiate and finalize cotton purchase contracts for the 2006/07 marketing season with five of the seven cotton ginners operating in Zambia. As a result of the efforts of CAZ, with SHEMP acting as the prime facilitator, cotton farmers' incomes have increased. The World Bank is now using the Zambian formula price model as the benchmark for Africa.
For further information, please contact:
Jens Sorensen. Country Programme Manager, Eastern and Southern Africa Division
E-mail: j.sorensen@ifad.org
Dr Dick Siame, Programme Coordinator, Smallholder Enterprise and Marketing Programme E-mail: SHEMP@zamnet.zm
Alex Price, Agricultural Marketing Consultant, Smallholder Enterprise and Marketing Programme
E-mail: alex@adspzambia.com
Read more
---
MAURITIUS: How a poor islander became a local leader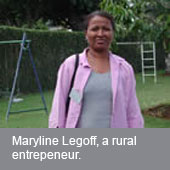 Maryline Legoff is a rural entrepreneur. She is 35 years old and a single mother with a five-year-old son. Maryline lives on the island of Rodrigues, 640 kilometres off the island of Mauritius. For Maryline and the 38,000 people who live on Rodrigues, fishing is a way of life. But their livelihoods are threatened by declining fish stocks.
The IFAD-funded Rural Diversification Programme has reached out to deprived and neglected regions of Mauritius and the island of Rodrigues, where rural poverty is widespread. The programme has helped participants to diversify their activities. Today they are engaged not only in fisheries, but also in agriculture, micro-enterprise and self-help community initiatives.
Maryline was trained in planting and harvesting techniques. She immediately put her training into practice by cultivating her parents' land.
"Before the project, I had no income-generating activity and depended completely on my family," says Maryline. "Today, I cultivate the land 12 months a year."
"From January to June I do vegetables and seedlings for strawberries, and from July until December I do horticulture, says Maryline. "I grow cucumbers, pumpkins, lettuce, carrots, beetroots and strawberries. I sell my products in the local market and manage to make 12,000 rupees [US$380] in a year."
Maryline is also a local leader. She is the chair of a women's group with 75 members. This group and three other local associations are part of a federal organization with a membership of 400 women. The women's associations work in agriculture, textiles, agro-processing, handicrafts and the service sector. Maryline plays the role of mentor. She shares her experience and knowledge by training women in agriculture, and teaching them planting and harvesting techniques. This activity provides her with an additional annual income of up to 1,400 rupees (US$45).
Maryline uses her income to buy seeds, fertilizer and other agricultural products for her small business. As a single mother, she is the sole breadwinner yet she manages to save 300 rupees (around US$10) a month. But, despite her savings, Maryline is apprehensive.
"My two biggest challenges are how to get my produce to the market and have access to credit," she says. "Since I do not have a guarantor, I cannot get a loan."
Pratibha Johaheer, a Mauritian entrepreneur, is Maryline's role model. Thanks to a loan from the Development Bank of Mauritius, Pratibha has managed to set up a small business. She sells pickles, jams and preserves and makes 20,000 rupees (US$640) a month.
"My vision is to do as Pratibha, that is to enlarge my enterprise so that I can employ others and find a market outlet," says Maryline confidently.
The Rural Diversification Programme started in April 2000. IFAD's loan is US$11 million and the total programme cost is US$16.5 million. The programme is reaching out to 15,180 poor small farmers, artisanal fishers and micro-entrepreneurs living in the deprived and neglected northern and eastern regions of Mauritius on the island of Rodrigues.
For further information, please contact:
Abla Benhammouche, Country Programme Manager, Mauritius
E-mail: a.benhammouche@ifad.org
Read more:
---
HIV/AIDS: Learning to live longer with the virus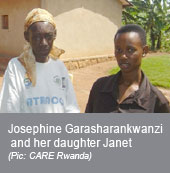 Josephine Garasharankwanzi was very young when she and her family left native Rwanda for Uganda in 1959 to escape the first massacres against Tutsis. She grew up in Uganda and married a soldier with whom she had 11 children. In 1990, her husband joined the struggle of the Rwanda Patriotic Front (RPF) against Rwanda's Habyarimana regime, and in 1996, two years after the genocide, Josephine and five of her children (the others were married in Uganda) decided to move back to Rwanda. Once there, she discovered that her husband was involved in a relationship with another woman who was also an RPF soldier. Josephine and the children settled on a farm at Matimba, but her husband stayed with the other woman. However, three years later he came back to her after his partner had rejected him. He became progressively ill and died of tuberculosis in 2000.
Josephine was convinced that her husband had contracted HIV/AIDS, although he never agreed to be tested for HIV because, in her view, he already knew he was HIV-positive. Josephine, who is now 57, lives with her youngest daughter Janet, who is 18. "They say that you can't tell by looking at someone whether the person is HIV positive, but I'm sure my husband was, and he got it from this woman who is also dead now," said Josephine.
After her husband's death, she decided to get tested and found that she was HIV- positive. "I was scared, not knowing what to do. I didn't tell anyone, not even my children," she said. "It was like the sky had fallen down on me." She kept her condition secret for a long time, but as she became ill, she had to spend a lot of time and money recovering in the hospital. Finally, encouraged by public testimonies from infected people that had been organized through the IFAD-financed programme Strengthening Community-Organized Responses (SCORE) to HIV/AIDS in Nyagatare District in Rwanda, she decided to join the association of people living with HIV that the programme also supported.
The programme, which started in 2002, has supported HIV/AIDS-related initiatives in Mozambique, Rwanda, Uganda and Zimbabwe. Its principal aims are to raise awareness among local communities about HIV/AIDS and its consequences, and to enable them to take positive steps to reduce its incidence and impact. IFAD's approach is innovative in the sense that it supports the entire family, not only the infected individuals, helping them to live with the virus and access the therapies provided by other donors and institutions. In Rwanda, it is implemented by the international non-governmental organization CARE Rwanda.
The association helped refer Josephine to the hospital for a CD4 count test, which measures the immune system's strength, and also helped her to take part in antiretroviral therapy (ART). "My CD4 count was down to 240 by then," explained Josephine, "I did not have any money at the time. I had not been able to work on my farm and Janet had been too busy taking care of me. The nearest health centre providing ART was very far away and CARE paid transport fees for me to get there." She continued, "The case manager helped me get medicines and taught me how to take them. He organized for me to get support from a community volunteer trained by CARE who regularly visited me, sometimes accompanied by the case manager. These visits have helped me a lot. At first, when my neighbours heard I was HIV-positive, they stopped visiting. After the case manager spoke with them, my neighbours started talking to me again."
Part of IFAD's programme is to help HIV-infected community members continue their business or farming activities and live a normal life with the virus. To that end, it helps association members organize themselves in voluntary savings and loan groups to borrow money when needed. "Thanks to the loan I took, I could re-start my own farm and started to grow new fruits and vegetables. I now have bananas, sorghum, beans, papaya and other vegetables which I am selling on the market," explained Josephine. With the proceeds from her fruit and vegetable sales, Josephine purchased cement to renovate her house, bought herself a mattress, a floor mat and other household items. Most importantly, she is now able to pay the transport cost to go for the CD4 test. "I'm powerful," she said. "My CD4 remains stable at 800. I almost feel like before I became HIV-positive. Sometimes I have a big cough, but it doesn't scare me any more. I believe I'll live long. My dream is to see Janet marry before I die".
For further information, please contact:
Delphine Pinault, CARE Health and Orphan and Vulnerable Children Sector Coordinator, CARE RWANDA
E-mail: delphinep@care.org.rw
---
News & Events


Regional implementation workshop 2007 - 12-16 November
The Government of Swaziland will host the 2007 regional implementation workshop for IFAD-assisted projects in Eastern and Southern Africa on 12-16 November 2007. Swaziland Water and Agricultural Development Enterprise Ltd will take the lead in organizing the workshop. This annual workshop, which is part of the division's knowledge management strategy, provides an opportunity to exchange knowledge and experiences about projects in the region. It brings together more than 100 people from 45 projects to discuss implementing issues such as procurement, stakeholder participation and monitoring of results and impacts.
For further information, please contact:
Louise McDonald, Country Programme Manager, Swaziland
E-mail: l.mcdonald@ifad.org
---
New website for Improved Management of Agricultural Water Programme
The Improved Management of Agricultural Water in Eastern and Southern Africa (IMAWESA) Programme has launched its website. The site contains major project outputs such as studies, publications and other documents as well as a stakeholder directory. The programme has also published the proceedings of the second workshop on Agricultural Water Management in Eastern and Southern Africa, held in Maputo, Mozambique on 18-22 September 2006 and entitled "Agricultural Water Management, A Critical Factor in the Reduction of Poverty and Hunger: Principles and Recommendations for Action to Guide Policy in Eastern and Southern Africa."
---
Grants and loans to be presented to the September Executive Board
Regional grants
AFRACA: US$1.1 million to support the African Rural and Agricultural Credit Association (AFRACA) Development Programme for the period 2008-2012.
IFDC: US$1 million to the International Center for Soil Fertility and Agricultural Development (IFDC) for extending agro-input dealers networks in Kenya, the United Republic of Tanzania and Uganda.
ICRISAT: US$1.4 million to the International Crop Research Institute for the Semi-Arid Tropics for harnessing the potential of food legumes for sustainable income growth and diversification in semi-arid farming systems in Ethiopia, Kenya and Malawi (Integrated Innovations for Improving Productivity, Market Linkages and Managing Risk).
Country grants and loans
Lesotho: Rural Finance Programme. US$4.35 million loan and US$4.35 million grant.
Uganda: Community Agricultural Infrastructure Improvement Programme. US$15 million loan.
Country Strategic Opportunities Programmes
---
Workshop summaries
Rural Knowledge Network inception workshop
A four-day workshop was held in Kampala, Uganda on 17-20 April 2007 to discuss the establishment of a knowledge network for farmers to learn how to access markets and link with key players in the value chain. Participants in the workshop described an array of services that farmers need to access markets. They also highlighted the potential for a new service provider operating locally to facilitate their access. To ensure sustainability of such a service, the network will promote local market access service companies that operate on a commercial basis. The workshop concluded with the finalization of a medium-term framework that will facilitate farmers' access to information and help them have equitable and transparent linkages to markets in Kenya, Tanzania and Uganda.
Marine and Agricultural Resources Support Programme workshop
A three-day workshop was held in Mauritius on 4-6 July 2007 to allow all stakeholders of the Marine and Agricultural Resource Support (MARS) Programme to share their views on the present programme proposals, which are at the formulation stage, and to identify areas in which changes or further work may be required. The workshop was also intended to seek responses on issues that IFAD's technical advisers and the Quality Enhancement Panel had raised. Issues included a phased implementation for the programme's marine resources component, institutional reform in the Ministry of Agro-Industries and Fisheries in Mauritius, fisheries policy reform, value chain analyses for fisheries and agriculture, as well as the need to consider the implications of climate change. Participants also travelled to the island of Rodrigues, part of Mauritius, to visit some of the potential development sites.
---
Staff news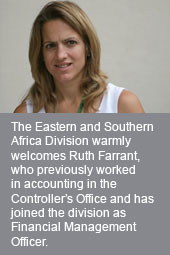 Thomas Anyonge has moved to the Technical Advisory Division, where he has taken the position of Senior Technical Adviser.
Ruth Farrant, who previously worked in the Controller's Office, joined the ESA Division as Public Finance Officer on 1 September.
---
Call for contributions: The next issue of the newsletter will focus on farmers' organizations. This newsletter relies on the participation of IFAD staff and partners in the field. We would like to hear your story, so don't hesitate to send us contributions from your country or region. For the next issue, please send them by 10 November at the latest for publication in December.