Message from the Director
Agriculture is back on the agenda. For the first time in 25 years, the World Bank's Development Report 2008 focused entirely on agriculture and the productivity of small farmers. By doing so, the World Bank reiterates the importance of international organizations' involvement in the farming sector, and acknowledges the work done by IFAD over the last quarter of a century. Agricultural productivity has always been at the core of IFAD's concerns, particularly in sub-Saharan Africa where so many poor people rely on farming. The forthcoming Farmers' Forum, to be held in February 2008, will have a full agenda: to discuss agricultural funding in the future and define strategies to develop and strengthen partnership between farmers' organizations and IFAD. Small farmers need strong independent organizations to represent them and give them a voice. Farmers' organizations play a decisive role in linking the rural poor with their potential partners. Our division is striving to involve these organizations in all our projects and programmes.
This newsletter has been published for a year now, and we intend to continue with a quarterly issue next year. To this end, we would appreciate your comments and contributions to keep on improving it and make it an indispensable communication tool for our division, within IFAD and externally. 2008 is promising to be an exciting year for rural development and we want to be able to share knowledge to the best of our abilities in support of rural poverty alleviation.
Best wishes for the holiday season,
Ides de Willebois
---
Special Feature on farmers' organizations: The way forward to give poor farmers a strong voice
"It will only change when we empower farmers' organizations to organize themselves in the market, to have national governments adopting legislation to give them the right to negotiate for prices, and it will require donors to help build those systems." Jack Wilkinson, President of the International Federation of Agricultural Producers (IFAP) during the 2006 Farmers Forum.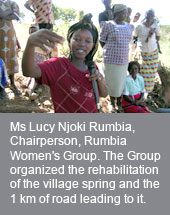 Farmers are more than just producers of food and growers of crops; they are the guardians of nature. They look after the land inherited from our ancestors to pass it on to the next generation. They ensure the land will continue to produce food for generations to come. Furthermore, with growing concerns about the environment, farmers play a great part in protecting our natural resources; they can prevent land from degradation, decrease deforestation and pollution, contribute to reducing greenhouse gas emissions and help combat climate change.
The importance of farming is once again being recognized as essential to reduce poverty, especially since three quarters of the world's poor people live in rural areas. In its annual World Development Report released in October (see next section), the World Bank focused on agriculture and agriculture productivity for the first time since 1982, highlighting that renewed investment in agriculture was the very basis for reducing poverty. According to the World Bank, the agriculture sector supports more than 400 million rural people worldwide, of whom 170 million live on less than US$1 a day. Many Sub-Saharan African countries are heavily dependent on agriculture, where the sector employs 65 per cent of the labour force and generates 32 per cent of GDP growth.
For IFAD, farming is at the core of its daily agenda, and the organization has always put a strong focus on development projects in poor rural areas. IFAD went even further by establishing the Farmers' Forum, an ongoing process in which smallholder farmers from developing countries work in partnership with IFAD. The global meeting of the Farmers' Forum is held every two years during IFAD's Governing Council, the Fund's main governing body, in which farmers participate. The first meeting took place in Rome in February 2006, and the next one will be held on 11-12 February 2008.
"We are one of the few international donors to have developed such an inclusive approach," explained Philippe Rémy, Policy Coordinator in IFAD's Policy Division. "We want to hear what poor farmers have to say, we want them to have an independent voice."
The first Farmers' Forum was established to address issues common to many poor countries, such as concentration of land and income, lower commodity prices (although this is changing with the increased demand for grain to produce bio-fuels) and, finally, inadequate public policies. One of IFAD's objectives is to support development of local, national and regional farmers' organizations to give smallholders the voice they so badly need.
According to the Policy division : "It's just as important for IFAD to hear the voice of rural poor people through the channel of farmers' organizations, which are the best placed to represent their views - Our purpose is to involve farmers' organizations in our country strategies and in the design and implementation of specific projects."
Many farmers' and producers' organizations are already involved in one stage or another of IFAD's projects and programmes, particularly in West Africa. "There is quite a strong tradition of farmers' organizations in West Africa, and the dialogue is well established. They are usually very well organized and very competent, and are used to getting involved in national and regional political debates," added Rémy.
Such organizations actively participate in the design and preparation of projects in countries like Mali, Niger and Senegal. Sometimes, they are also in charge of managing a project's component, as is the case with the farmers' organization Conseil National de Concertation et Coopération des Ruraux in Senegal, which is responsible for one component of the Agricultural Services and Producers Organizations Project and is also actively involved in evaluating the project. More generally, they are invited to contribute to drawing up IFAD's Country Strategic Opportunities Programmes (COSOPs), provided the organization is officially recognized in its country.
In Eastern and Southern Africa, the tradition of farmers' organizations is not as strong as in West Africa, although the situation is changing as many of IFAD's projects focus on building the capacity of those organizations to represent farmers. "We've seen some change there. We now have a number of projects where farmers' organizations are involved," said Alessandro Marini, focal point for the ESA division.
Since the 2006 Farmers Forum, national farmers' organizations have been receiving direct support through grants amounting to almost US$ 600,000 for institutional strengthening and capacity building in Kenya, Madagascar, Mozambique, Rwanda and Tanzania. In addition, IFAD has established solid partnerships with the three existing regional and sub-regional farmers' organizations and networks, namely the Southern African Confederation of Agricultural Unions (SACAU), the Eastern African Farmers Federation and the Eastern and Southern African Small-Scale Farmers Forum. The most established partnership is with SACAU, which recently received a US$200,000 grant to enhance its capacity to support and strengthen smallholder organizations in the region.
Regarding COSOPs, national farmers' organizations have actively contributed to the preparation of COSOPs in Madagascar, Rwanda and Tanzania, out of the six approved recently (Madagascar and Swaziland in 2006 and Kenya, Rwanda and Tanzania in 2007). The sixth COSOP, for Ethiopia, is under preparation to be presented to IFAD's Executive Board in April 2008. Their participation was extremely helpful in defining strategies and targeting criteria. As a result, the strengthening of national farmers' organization has become a set objective in all three COSOPs. Also, national organizations are members of the Country Programme Management teams in Kenya, Madagascar, Rwanda and Tanzania.
Farmers' organizations have also been involved in the preparation and design of recently approved programmes and projects in the region. They were consulted to give their views on the objectives, strategies and proposed approaches. In the Smallholder Horticulture Marketing Programme in Kenya, the Kenyan Federation of Agricultural Producers (KENFAP) was fully involved in the programme's elaboration and will continue to be so throughout implementation. The programme is building upon the established KENFAP networks from grassroots to national level to provide services to farmers (distribution, sale of produce, access to finance).
The next Farmers' Forum will be held in February. Many national farmers' organizations as well as regional and international ones such as IFAP and La Via Campesina will be represented. The Farmers' Forum will provide a renewed opportunity for farmers from across the globe to share their concerns, discuss the way forward, and strengthen their partnership with IFAD.
For further information, please contact:
Philippe Remy, Policy Coordinator, IFAD's Policy Division,
Email: p.remy@ifad.org
Alessandro Marini, Country Programme Manager, Eastern and Southern and Africa Division
Email: a.marini@ifad.org
---
Success Stories from the Field


UGANDA: Achieving synergies through farmers' associations
As in most other African countries, the agricultural practices in Uganda have been based on subsistence farming, with limited linkage to commercial activities. However, the Government of Uganda has recognized the importance of modernizing the agricultural sector in order to eradicate poverty in the rural areas, where agriculture is the main source of food and income for the majority of the population. In line with its Plan for the Modernization of Agriculture and the Poverty Eradication Action Plan, the Government, with the assistance of IFAD and the African Development Bank, formulated the Area Based Agricultural Modernization Programme (AAMP). The programme focuses on increasing the incomes of smallholder farmers through improved agricultural production and commercialization. The programme has four components: agricultural commercialization, rural infrastructure, community mobilization and programme facilitation.
The programme bases its activities on the "sustainability triangle", which creates a link between production, marketing and savings in order to make interventions more sustainable. Through improved production and marketing, farmers will be able to achieve food security and increase their income. However, savings and reinvestments are also required for them to sustain and further develop their agricultural enterprises.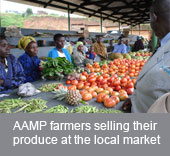 AAMP support to group-based agricultural enterprises has had a significant impact on the agricultural productivity and incomes of rural farmers. Improved seeds and breeds are provided, as well as agro-processing, agro-chemical and technical training. The support has resulted in a two- to threefold increase in the production levels of a number of crops, including Irish potatoes, upland rice and bananas. In addition, farmers are obtaining better prices through collective marketing within the farmers' groups. Their transportation costs have been reduced and their market access improved by the programme's infrastructure investments. Income has also risen through increased processing of raw commodities.
In order to ensure the sustainability of the programme, support is provided in the form of a revolving fund, in which participating farmers must pass on seeds or seed offspring to other farmers. This has helped to increase the targeted beneficiaries from 2,000 households (planned) to about 10,000. The use of improved seeds and breeds as well as modern agricultural techniques has also been adopted by farmers who have not been supported by AAMP. This has helped extend the outreach and impact of the programme in addressing rural poverty.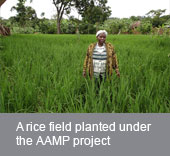 The demonstrations and training provided have helped to change farmers' attitude towards agriculture – from a source of food to an important source of income ("Farming as a business"). Investments in production, which farmers considered unnecessary and expensive before, are now being adopted in order to increase their productivity and profitability The change in attitude and the improved incomes have also increased the demand for savings and credit, which has resulted in a significant increase in the outreach and portfolio size of the Savings and Credit Cooperative Societies (SACCOS) in recent years. SACCOS also promote a savings culture among the farmers. The increased income and savings have led to land purchases and improved housing, nutrition and schooling.
"The ability of AAMP to assist farmers through the 'sustainability triangle' has had a significant impact on the food security and incomes of the rural farmers. In fact, the Government of Uganda is now requesting that the programme be replicated in other rural communities," explained Bamidele Ilebani, UNOPS Senior Portfolio Manager for Uganda.
For further information, please contact:
Marian Bradley, Country Programme Manager, ESA Division
Email: m.bradley@ifad.org
Useful links:
---
MOZAMBIQUE: Small-scale farmers become entrepreneurs
In Mozambique if you shop at Shoprite, Africa's largest food retailer, with operations in 16 countries, you'll be buying vegetables produced locally by small-scale farmers.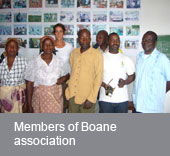 The IFAD-funded Agricultural Markets Support Programme (PAMA) supports the implementation of major economic reforms launched by the government during the 1990s, including the commercialization of small-scale farming through better access to markets and improved linkages with private-sector operators.
The programme, funded by a US$23.6 million loan, enables small-scale farmers in Boane, 30 km south of Maputo, to grow cabbages, potatoes, tomatoes and other cash crops in the rehabilitated irrigation schemes that were severely damaged during 16 years of civil war. Today, in the Boane area, the irrigation schemes cover 405 ha of land and the programme works with approximately 400 farmers.
The PAMA team worked hard to get the farmers to where they are today. "Before we came into the picture, farmers produced low-quality products. They were unable to sell directly to the buyer and had no idea of how to link up with big buyers. At best they sold their goods through intermediaries or at farm gate, and had little or no negotiating power," said Rui N. Ribeiro, PAMA coordinator. "Now they are organized in associations and as a result have more bargaining power."
PAMA's vision was to enable farmers to produce high-quality products and to link them directly to the market. Thanks to the programme, farmers are using fertilizers and improved seedlings to produce high-value crops that they sell to supermarkets, hotels, restaurants and the main hospital in Maputo.
Strengthening capacity and institutions, and influencing policy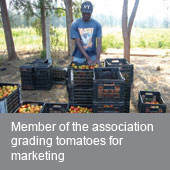 To enter the market and trade with commercial entities, farmers needed to issue invoices and receipts. To do that they needed to become a legal entity, and consequently they had to organize themselves into associations. PAMA facilitated the creation of farmers' associations, organized marketing committees and helped farmers conduct market research.
"Before the programme's intervention, registering as an association was a costly affair and immense challenge," said Alessandro Marini, IFAD Country Programme Manager for Mozambique. "The programme, together with other stakeholders, lobbied with the government and raised awareness about the importance of having an easy process for registering associations," said Marini.
As a result, the Government of Mozambique passed a new law on decentralizing registration formalities to the district level. The government is also developing and implementing marketing strategies and pro-poor programmes supporting market linkages.
Thanks to the efforts of Ribeiro and his team, the farmers' associations are now well established in the market. Each association has a president, treasurer and secretary.
The programme is providing marketing and production specialists and two supervisors who provide continuous technical assistance. The associations now are supported by a marketing committee responsible for coordinating production and marketing activities. The marketing committee meets with buyers to determine their needs, negotiate prices and deliver products.
Elina Jonas Muianga in her cabbage field
Building social capital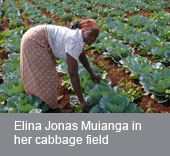 Farmers' associations built their credibility and reputation by encouraging buyers to visit their plots to check the quality of products. To ensure that quality was up to par, the project arranged for a visit by a nutritionist who examined and approved the products.
Subsequently the farmers visited the supermarket, where they were able to examine the quality of the products on the shelves.
"We took this opportunity to discuss our needs with the farmers," explained Pine Oppesmon, fruit and vegetable manager at Shoprite. "For example, we told them we needed tomatoes that were half-green because they have a longer shelf life, and that we would buy potatoes from them only if they had been washed."
"Since we started buying from the associations, the supermarket's revenue has increased by 4 per cent," said Oppesmon. "You know, labour is much cheaper here than in South Africa. Now I am buying 25 per cent of products locally. I hope one day I'll be able to buy 80 to 90 per cent of products locally." He added, "These guys have a great potential, they are producing at European standards. If they get a bit better in packaging, they will make a quantum leap."
Going one step further
"My vision is to expand the association's activity and start working with agro-processing industries and become equipped to do better packaging," said Mula, the Massaca association's president. "Today farmers sell excess or low-quality products as animal feed. Linking them to agro-processing industries would mean, for example, that they would be able to sell ripe tomatoes for tomato paste and increase income-generating activities."

For further information, please contact:
Alessandro Marini, Country Programme Manager, Eastern and Southern and Africa Division
Email: a.marini@ifad.org
Useful links:
---
GENDER: IFAD's projects give women more opportunities, but the struggle continues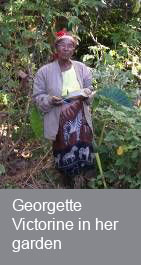 Madagascar -- Women in Madagascar, as in other parts of the developing world, are slowly gaining economic power as they become more involved in new projects and prove to be highly responsible managers. Despite some progress, they are still under-represented in the local economy, and more often than not they are unaware of their possibilities.
On the whole, women have been particularly responsive to the microfinance initiatives put in place under IFAD's latest projects. In one project alone, they accounted for nearly 30 per cent of the 17,500 members of the credit union established and received one-fifth of the loans granted. In some areas where up to 30 per cent of women run farms, they have been particularly good at using the credit system. They have turned out to be better savers than men and showed more responsibility in running their businesses.
Georgette Victorine, 53, a divorced mother of five children, grows vegetables with the help of her two daughters. The three of them go to Antsenavolo market on Thursdays to sell their produce, where they manage to earn 5,000 ariary (US$2.50), which they use to buy food and other goods such as cigarettes, salt and dried prawns that they sell back in their village. In 2004, Georgette joined her local credit union and in 2005 she borrowed 60,000 ariary (US$30) to employ people to clear the land where she wanted to grow manioc. She also purchased seeds for her son's new rice field. The manioc seeds were given to her by other villagers. With the new crops, she hopes that her family situation will improve.
Women have also become active participants in farmers' organizations that have been put in place under various projects. In the North-East Agricultural Improvement and Development Project, which created more than 400 professional associations, women represent about 27 per cent of the total of about 10,000 members.
However, despite recent progress, the role of women in rural society remains a traditional one. When asked about their daily life, women in Madagascar say that there is a well defined division of tasks between men and women. Women run the household, prepare food for the family, look after the children and are responsible for the less arduous work on the land, such as fetching water, weeding and seeding. They also go to market occasionally, although not as often as men, and that is where they keep informed. To supplement family income, they also undertake other activities, such as weaving baskets or working as paid agricultural labourers. In many communities, men manage the family's income and decide on expenditures.
"Our rice production is not sufficient for the whole year," said Marie Rose, mother of four children, from the village of Fanjakana in the High Matsiatra region. "I have to weave to supplement our income. I can make one mat and a sobika basket per day. I earn 500 ariary [US$0.25] for a sobika. My daughter helps me from time to time."
The daily wage for small-scale agricultural work is about 600 ariary (US$0.30). Often women learn new farming techniques by working at a paid agricultural job but they can never use them at home because of reluctance on the part of their husbands, who prefer traditional methods.
In general, women aspire to get married, have children and share with their husbands the work of feeding their family. Children's education is at the core of their aspirations. In some communities, women have taken the initiative of setting up their own private schools to educate village children. The schools are entirely funded by the parents, often with great difficulty.
One of the mothers in the village of Ranomainty said, "I went to school and I was an avid learner, so in 2002 we created our own school, and it is the parents who pay the teacher. It is very difficult, but we want our children to be educated." The system is not without its difficulties. As another mother explained, "There aren't enough classes and the teacher is absent most of the time." Because teachers are paid irregularly, they are often absent, working on their land instead of teaching. Many parents choose to send their children to live with a close relative in order to attend school.
Many women in remote villages do not have a great sense of a community as women. A female teacher in the Amparihivola community said, "We tried to gather together women in the community for Women's Day on 8 March but nobody came. They don't want to appear different, and they don't see the benefit of being in a group. Often they are jealous of one another." The one concern they share, however, is family planning. On average, they have six to eight children but would like to have fewer children and to be better informed about family planning. They believe this would put them in a better position to feed and educate their children.
For further information, please contact:
Benoit Thierry, Country Programme Manager, Eastern and Southern Africa Division
Email: b.thierry@ifad.org
Useful links:
---
News & Events


WORLD DEVELOPMENT REPORT: Agriculture at the forefront of the fight against poverty
The World Bank's World Development Report 2008, published in October, calls for greater investment in agriculture in developing countries. The report warns that the sector must be placed at the centre of the development agenda if the Millennium Development Goals of halving extreme poverty and hunger by 2015 are to be met.
Titled Agriculture for Development, the report states that the agricultural and rural sectors have suffered from neglect and under-investment over the past 20 years. While 75 per cent of the world's poor live in rural areas, a mere 4 per cent of official development assistance goes to agriculture in developing countries. In Sub-Saharan Africa, a region heavily reliant on agriculture for overall growth, public spending for farming is also only 4 per cent of total government spending and the sector is still taxed at relatively high levels. For the poorest people, gross domestic product (GDP) growth that stems from agriculture is about four times more effective in raising their incomes than GDP growth originating outside the sector.
"We need to give agriculture more prominence across the board. At the global level, countries must deliver on vital reforms such as cutting distorting subsidies and opening markets, while civil society groups, especially farmers' organizations, need more say in setting the agricultural agenda," said Robert B. Zoellick, World Bank Group President.
For Sub-Saharan Africa's development, the report highlights a number of issues that need to be addressed urgently: too little public spending on agriculture; donor support for emergency food aid, with insufficient attention to income-raising investments; rich-country trade barriers and subsidies for key commodities such as cotton and oilseeds; and the under-recognized potential of millions of women who play a dominant role in farming.
The report also warns that global food supplies are under pressure from: expanding demand for food, feed and bio-fuels; the rising price of energy; increasing land and water scarcity; and the effects of climate change. This pressure, in turn, is contributing to uncertainty about future food prices. The report recommends measures to achieve more sustainable production systems and outlines incentives to protect the environment.

---
SCAPEMA: A regional framework to enhance knowledge management
The new regional grant programme, Strengthening Support Capacity for Enhanced Market Access and Knowledge Management (SCAPEMA), will provide a strategic framework to share knowledge and results across the region from projects conducted at the national level.
The overall purpose of the programme is to improve the effectiveness of projects and to support market linkage initiatives over two and a half years.
The first programme component will focus on sharing knowledge about market access at the regional and national levels. It will concentrate on developing tools and systems for generating and sharing information, and will organize exchange visits and workshops. The second component will look at improving the capacity of service providers through training and learning platforms organized at the national level on topics including the value chain, and enterprise and business development. Activities related to a policy dialogue component will start in 2008. The programme will be linked to other regional grant programmes with similar capacity-building and knowledge management elements, such as the Improved Management of Agricultural Water in Eastern and Southern Africa project.
The grant, which is implemented in partnership with the SNV Netherlands Development Organization, was approved by the Executive Board in December 2006 and the agreement was signed in March 2007. Implementation started soon after, and activities during the first two months focused on consultations in eight countries: Ethiopia, Kenya, Mozambique, Rwanda, Tanzania, Uganda, Zambia and Zimbabwe. Following the consultations, each country produced a Country Positioning Paper which described key constraints and issues relating to market access in the country and plans on how to address them.
For more information, please contact: Martin Rokitzki, Regional Grants Coordinator or Fumiko Nakai, Country Programme Manager, Eastern and Southern Division
Email: m.rokitzki@ifad.org
Email: f.nakai@ifad.org
---
Grants and loans approved by the September Executive Board
Regional grants
AFRACA: US$1.1 million to support the African Rural and Agricultural Credit Association (AFRACA) Development Programme for the period 2008-2012.

IFDC: US$1 million to the International Fertilizer Development Center (IFDC) for extending agro-input dealers networks in Kenya, the United Republic of Tanzania and Uganda.

ICRISAT: US$1.4 million to the International Crop Research Institute for the Semi-Arid Tropics (ICRISAT) for the Integrated Innovations for Improving Legume Productivity, Market Linkages and Risk Management in Eastern and Southern Africa.
Country grants and loans
Lesotho: Rural Finance Programme, US$4.35 million loan and US$4.35 million grant.

Uganda: Community Agricultural Infrastructure Improvement Programme, US$15 million loan.
Grants and loans to be presented to the December Executive Board
Angola: Market-Oriented Smallholder Project, US$8.2 million

Malawi: Rural Livelihoods & Economic Enhancement Programme, US$8.2 million in loan and US$8.20 million in grant

Madagascar:

Support for Rural Micro-Enterprises Poles and Regional Economies, US$17.76 million in loan and US$250,000 in grant
Microenterprise grant of US$290,000
---
Workshops
Managing for Impact in Eastern and Southern Africa: Second regional training workshop
The second training workshop on Managing for Impact, organized by the Regional Programme for Strengthening Management for Impact, took place in Lesotho on 17-27 September 2007. The purpose of the workshop was to work with participants to develop a shared understanding of what Managing for Impact means in practice. This included principles and methodologies to empower poor rural people to fully engage in managing their own development, by actively participating in the design, implementation, monitoring and evaluation of interventions. To read more about the workshop.
For further information, please contact:
Fumiko Nakai, Country Programme Manager, Eastern and Southern Africa Division
Email: f.nakai@ifad.org
---
Regional Implementation Workshop 2007 – Swaziland, 12-16 November
The Government of Swaziland hosted the 2007 regional implementation workshop for IFAD-assisted projects in Eastern and Southern Africa on 12-16 November 2007.
This annual workshop provides the opportunity to exchange knowledge and share experience about projects in the region. During the workshop, participants attended sessions on issues such as climate change, rural finance and effectiveness of IFAD-assisted projects. They also had an opportunity to visit projects in the field.
For further information, please contact:
Louise McDonald, Country Programme Manager, Swaziland
E-mail: l.mcdonald@ifad.org
---
Start-Up Workshop in Eritrea
A start-up workshop for the Post Crisis Rural Recovery and Development Programme was held in Asmara on 1-3 November 2007 with the participation of the government. An IFAD mission team composed of staff from the Loan and Administration Division, the Eastern and Southern Africa Division and the Programme Management Department joined the launching event.
---